I think we all have those days when muscle relaxing massage oils would be hugely beneficial.
We've been using This One by Nature's Sunshine. It's like a natural Icy Hot. It's awesome! We've used it on sore necks, backs, ankles, knees….After a few minutes the area will feel cold and hot at the same time. It's great!
But, you know me. I'm not satisfied until I can make it myself.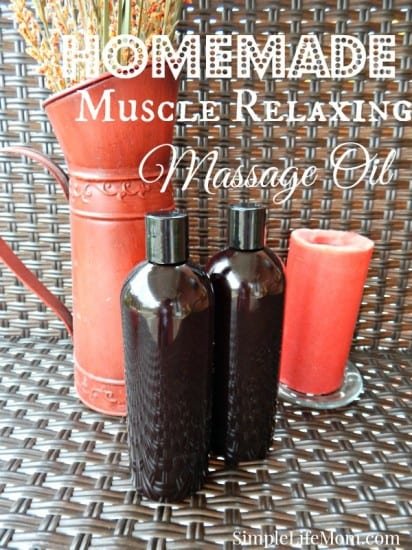 There are a number of essential oils that have a warming and relaxing effect on muscles. By combining what I know of essential oils and doing some more research, I came up with this recipe for an effective Muscle Relaxing Massage Oil with essential oils. I'm so happy with the results, so I thought I'd share 🙂
The Essential Oils
No random choices here. These are the best of the best for muscle relaxation.
As you can see, these oils focus on reducing inflammation, increasing blood flow, calming the nerves, and decreasing pain. Combined together, they make a powerful Muscle Relaxing Massage Oil.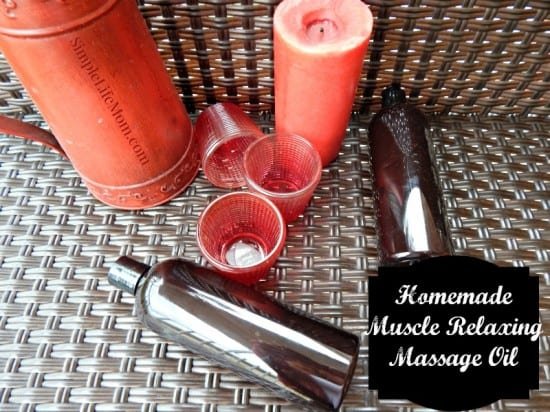 Muscle Relaxing Massage Oil
Muscle Relaxing Massage Oil
A massage oil created to relax muscles through essential oils that warm and soothe muscles.
Instructions
Combine all ingredients into a dark bottle to help preserve oils.

2 oz Sweet almond oil,

2 oz Avocado oil,

10 drops Peppermint essential oil,

10 drops Wintergreen essential oil,

5 drops Camphor essential oil,

2 drops Sandalwood essential oil,

2 drops Juniper berry essential oil,

2 drops Ginger essential oil

Massage into needed areas.
Notes
To simplify, you can just add one carrier oil and use peppermint, wintergreen, and camphor essential oils only.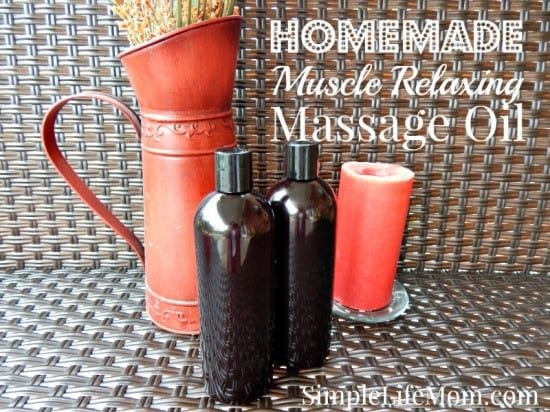 Warning: As with every essential oil recipe on this site, you must do your own research before using! I am not a licensed doctor. If you are having pain, see your local physician. Some of the oils should not be used if you are pregnant or if you have seizures, or are on prescription drugs. So, ask your doc. first.
Save