If you haven's heard, deodorant is a big toxin that can easily be avoided by using and making natural deodorant or making your own herbal deodorant spray.
I have a number of recipes for natural deodorant on Simple Life Mom. There's a simple natural recipe with baking soda, a detoxing deodorant recipe without baking soda, and an essential oil deodorant spray.
So what could be next?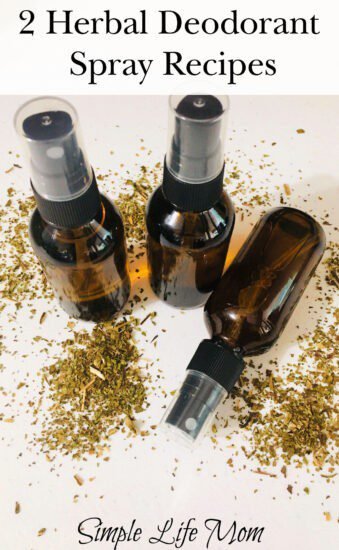 These recipes are WONDERFUL natural herbal spray deodorant recipes. That means, no essential oils needed. They are gentle, but effective, cheaper, easy to make, and last just as long.
Herbal Deodorant Ingredients
There are a number of herbs that do very well to minimize sweating and cut odors.
Sweating is a good thing. You never want to use something that blocks your pores. Antiperspirant does this with aluminum and is very harsh on your lymph nodes as they then have to deal with this heavy metal overload to the body. Your lymph needs to flow and cleanse the blood.
These ingredients don't block pores, but they do help you not to sweat quite as profusely. The anti-bacterial element then makes sure that the proteins that come out in your sweat don't begin to grow bacteria and stink.
What are these great ingredients?
These are natural, healthy, great for killing bacteria and odors, and usually easy to get at a good price (YAY for frugality!).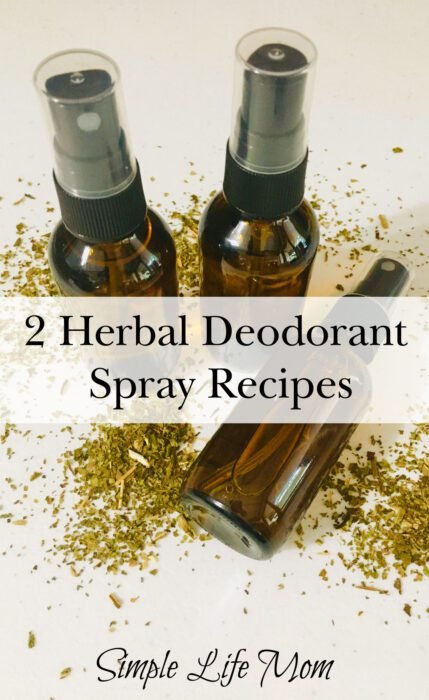 Herbal Deodorant Spray Recipes
Herbal Lemon Deodorant Spray
This recipe makes 8 ounces. It works great in two 4oz glass amber or cobalt spray bottles like these.
Ingredients:
Directions:
Bring water to a boil and remove from heat.
Place lemonbalm, lemongrass, and lemon peel in a bowl.
Pour hot water over herbs and peel and allow to steep until cool.
Remove herbs using a fine cloth in a sieve or a cheese cloth. Keep the liquid! The liquid is your deodorant!
Add witch hazel and aloe to the retained liquid and mix well.
Pour liquid into glass spray bottles and keep in a cool dark location. This will keep for 4-6 weeks.
Herbal Deodorant Spray
This recipe has alcohol in it. If you want to leave it out, that's fine. You just need to switch it with the water and witch hazel method above. It'll cut the shelf life to a fraction of what it is with glycerin and vodka.
This makes 12 ounces. You can cut it in half. I just kept it at 12 ounces because it's easier to deal with the herbs in the vodka at that amount.
Ingredients:
Directions:
Combine all ingredients except glycerin in a mason jar. Seal, shake, and place in a dark location for 2 weeks, taking it out and shaking occasionally.
After two weeks, add the glycerin and shake well.
Strain herbs and add to glass spray bottles.
Store in a cool, dark location for up to a year.
If you want other deodorant recipes to suit your taste and need, then check out my body recipes here.
You can also purchase natural deodorant in my shop.