I apparently love tinkering with my deodorant recipes. This homemade clay deodorant recipe had to go through many tests in order to make it glide nicely, work wonderfully, and also not be a melting mess.
My Coconut oil and baking soda deodorant recipe is easy, frugal, and fun because you get to add the scents that you like using essential oils that will also kill bacteria. I have never had a problem and LOVE it, as do most people. It really works! Get the Recipe here.
You can also make spray on deodorant, which is also easy and frugal. There are a lot of options too. Get the Recipes.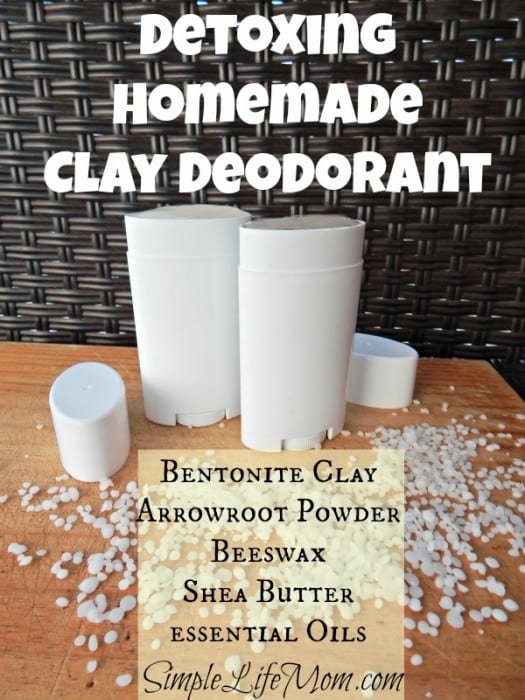 I know 3 people who have had difficulties wearing homemade deodorant. The reason behind this? I believe they have a sensitivity to the baking soda.  Baking soda can be chaffing if you are an active person or get super hot under the arms.  For this reason, I also have a no baking soda deodorant recipe that you can get here.
Added Benefits of Bentonite Clay
Yes, along with nice smelling underarms, you get added benefits! Bonus!
By making a clay based deodorant, you are incorporating a detoxing element to your daily routine. How? Bentonite Clay has many benefits:
It absorbs odors
It absorbs toxins from the skin by creating a leaching effect around the under arm lymph nodes (where a lot of toxins are stored).
It extracts heavy metals from the skin.
It is calming and soothing to the skin (so no more under arm chaffing).
Bentonite Clay is a sedimentary volcanic ash that swells when it comes in contact with water. "Once it becomes hydrated, the electrical and molecular components of the clay rapidly change and produce an 'electrical charge'."1 It is this negative electrical charge that will bond to the positive charge of toxins, absorbing them into the clay as it releases its nutrients.
»»It is a light grey in color. If you want a lighter deodorant, substitute some of the bentonite with a white clay like kaolin.««
IMPORTANT: As stated in my Anti Aging Clay Mask Recipe, Bentonite clay loses some of its potency when it comes in contact with metals (If it has already absorbed some of those metals, it will not be able to absorb as much from our bodies), so use a glass bowl and wooden spoon to mix this deodorant.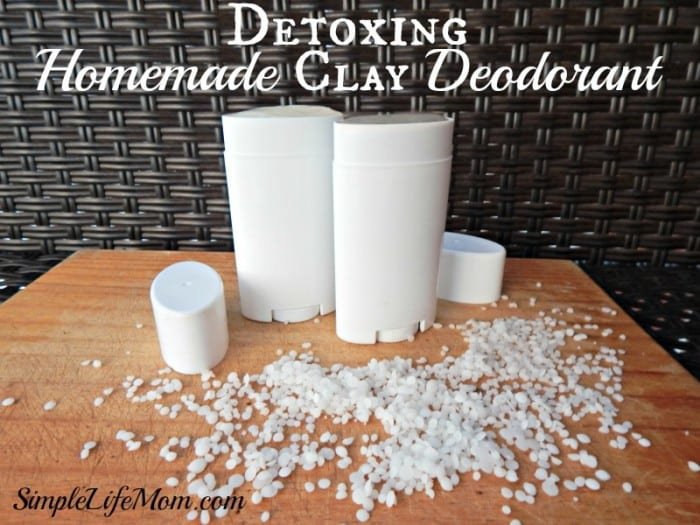 Homemade Clay Deodorant Recipe
This recipe is quick and easy. It really works and is one of my favorite deodorant recipes. I even sell it in my shop.
Makes: 1
Ingredients:
Directions:
Combine coconut oil, shea butter, and bees wax in a double boiler and melt, stirring occasionally.
Combine baking soda, arrowroot and bentonite clay in a separate glass bowl.
Add bentonite clay and arrowroot powder and essential oils to oils and combine well with a whisk.
Pour into an empty deodorant container and allow to cool until hardened.
Below is a printable recipe version.
Detoxing Homemade Deodorant Recipe
A great, detoxing, no baking soda deodorant recipe that doesn't melt and really works!
Equipment
1

whisk

silicone coated if possible
Instructions
Combine wax, coconut oil, and shea butter in a glass bowl (or glass measuring cup).

1 teaspoons Beeswax,

2 tablespoons Coconut oil,

2 teaspoons Shea butter

Place glass bowl over saucepan that is half full of water. Heat over medium high heat. Stir until all ingredients are melted and combined.

Combine baking soda, arrowroot powder, and clay in a separate bowl and add to oils. Stir until there are no lumps.

3 tablespoons Arrowroot Powder,

1 teaspoon Bentonite clay,

4 tablespoons Baking Soda

Add essential oils and stir.

5-10 drops Essential oil of choice

Pour into an empty deodorant container and let cool until hardened.
Notes
Fills 1 standard 2.5oz deodorant container.
If it's the middle of a hot summer, consider buying 92 degree coconut oil which has some of the MTC oil removed, making it harder at higher temperatures. Otherwise, you may need to use it as a paste or keep in the fridge until the season cools down a bit again.
Essential oil suggestions: Tea Tree is good at killing bacteria, as is lemon, grapefruit, and orange. Clary sage has an astringent effect, helping you to stay dry. Ylang ylang just smells amazing 🙂 Choose what you love and enjoy.
Save
Save