My husband finally broke down and got a new car. Well, it's a lightly used car…and I insisted. The thing is, his lovely 1995 Toyota Corolla was so rusted that when he went to get a shock replaced (he couldn't budge it himself… and we found out why), our friend said that he was not going to touch it because it was so rusted together that all kinds of things would break off if he tried to. PLUS, it had a crack in the manifold – which means that during the winter when he has the windows up he would be sucking down exhaust fumes. He told me he would crack the window. Oh my.
Anyway, he feels like he's riding in the lap of luxury now. He won't let the kids eat in his new car, vacuums it out often, and now he's asking me for some natural, healthy air freshener to put in it. I was actually super happy that he didn't just go out and buy some toxic filled, fake fragrance car air freshener.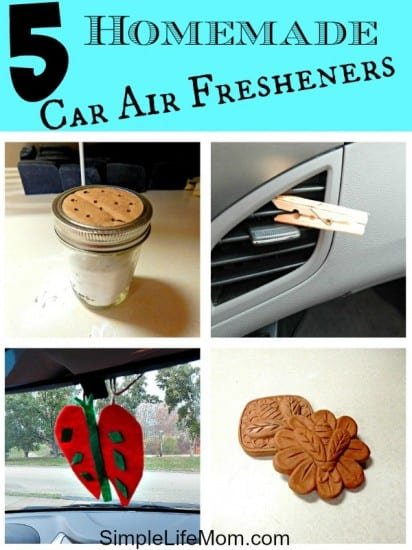 Reality is, if you can smell something, it means that you are breathing in tiny particles of whatever is making that smell (brings a whole new level of disgust into gross bathrooms). So if you are smelling an air freshener that was made with man made chemicals, you are breathing those chemicals into your lungs and your body has to deal with it.
Now, as I've noted a zillion times, if it were that one thing, I'm sure these wonderful bodies of ours could deal with it. No problem. But the fact is that the list for what we put ourselves through daily is 20 feet long and counting. So, if we can choose a better way (a more frugal, healthy way), then it is totally worth it!
This would be a fun gift for the kids to make for Grandparents, Mom, or Dad.

5 Homemade Car Air Fresheners
Felt and Essential Oil Air Freshener
One method that is circling the internet is using felt. We tried this and really liked it. Most people will tell you to use wool felt because of its absorbency. The regular cheap kind absorbs just as well in my opinion, so that's up to you.
What You Need:
Directions:
Cut the felt into the size and shape that you want.
Punch a hole toward the top of it for the yarn.
Place 10 drops or so of essential oils of your choice onto the felt. It will absorb them after a few seconds.
Put the yarn through the hole and hang in your vehicle.
**A Variation on this is to cut out two identical pieces of felt and sew them together, leaving a small hole to squeeze a cotton ball into. Then drip a few drops of essential oils onto the cotton ball and close. To reload, sprinkle on the felt and it will soak through into the cotton ball.
Felt and Herbs Air Freshener
Herbs are so wonderful and fresh. They make great air fresheners. To refresh, just crumple the air freshener a few times to crush the leaves slightly and release the scent again.
What You Need:
Directions:
Cut out two identical pieces of felt in the size and shape you desire.
Sew the two pieces together, leaving a hole to insert herbs.
Insert herbs and sew hole together.
Use a hole punch to make a hole toward the top for the yarn.
Thread the yarn through the hole and hang in your vehicle.
Clothes Pin Air Freshener
Another idea that I love is using a tiny clothes pin. This is super easy and works whether you have the air on, off, hot or cold. I actually found a bag of little ones with cork on them at a craft store on clearance for a dollar. Score!
What You Need:
Directions:
Place 5-10 drops of essential oils on the clothes pin.
Clip onto the air vent in your vehicle.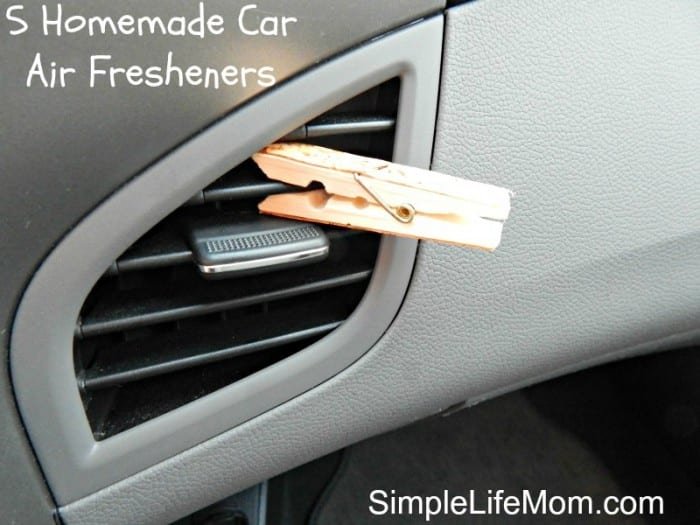 Air Freshener in a Jar
This idea is simple and great for those who want to put something under a seat and not see it.
What You Need:
Directions:
Remove the lid from the jar.
Trace the metal lid on the cardboard and cut out the circle. Set aside the metal lid for another use, but keep the ring.
Poke holes into the cardboard ring with the nail (about 15)
Fill the jar half full with baking soda.
Add 15-20 drops of your favorite essential oils.
Close lid with cardboard and metal ring and place in your vehicle, either in a cup holder or under a seat (though if it tips over it a little baking soda may come out).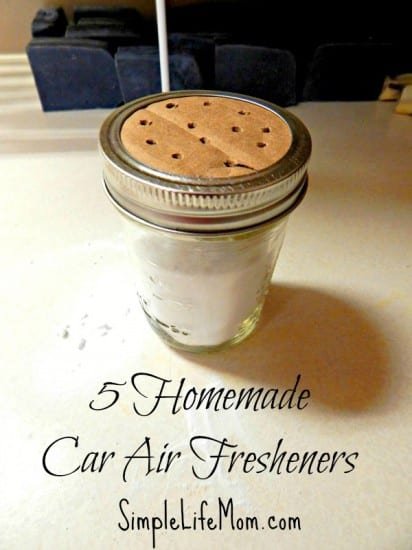 Clay Disc Air Fresheners
A lot of times at craft or kitchen specialty store you can find some small clay discs. I have one like THIS. This method is so easy and actually lasts a long time. It's probably my favorite.
What You Need:
Directions:
Drop 10-15 drops onto clay disc.
Allow the oils to absorb and then place in your vehicle.
Save
Save