I'm a summer girl. I'll outright admit that. Anyone who knows me well also knows that Kelly and cold don't do well together. But I have definitely come to love Fall. These DIY Fall Decorations add to the fun of the changing of the seasons and are easy and frugal.
These decorating ideas, plus many recipes and homemade gift ideas are part of the Frugal & Healthy DIY Holidays event.
Autumn, the falling of the leaves, the turning of the colors from green to bright yellows, reds, orange, and brown. We see all the beauty of the changing season up in Pennsylvania. And it truly is beautiful. Maple leaves show off. Maple syrup is collected. Pumpkins and final squash varieties are harvested. Gardens are put to sleep. And, for a lot of people, the excitement of a few big holidays within weeks of one another set the ton for some really great times.
With everything being as crazy as it has been, my kids didn't want us to skip out on putting out the Fall decorations. They signify warmth, home, good memories, and good food (and for teenage girls: the beloved hoodie weather).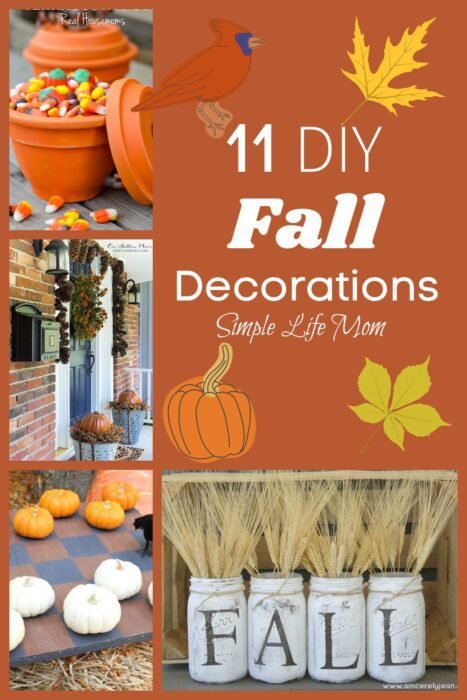 11 DIY Fall Decorations
Fall decorations can be expensive. Either that or they look like plastic junk. It's hard to find a well priced cute decoration without looking tacky (Though, I'm a sucker for some goofy faced pumpkins.).
What I've found to often be the best Fall decoration is one that is homemade, or half purchased and then spruced up (sometimes literally).
I've put together a few of our favorites. These are decorations we've tried ourselves in the past, or ones we plan on making this year. I hope you enjoy this beautiful list and that it brings some joy to your life and home.
1. 10 Minute Fall Dough Ball Arrangement
The reason I love this centerpiece so much is that it's something you can make with what's around your home, what you're growing in your garden, or what you've collected with your children. Kids can have a hand in creating and being proud of a bounty centerpiece representing the many blessings we have received. Learn more about it here.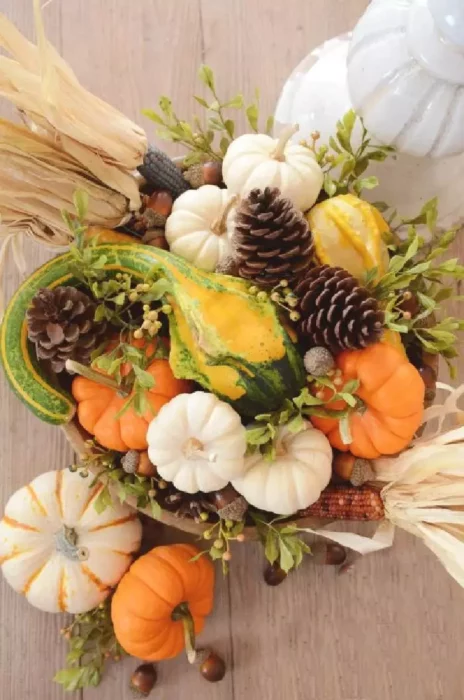 2. Fall Glow Jar
My kids and I made this Fall Jar a few years ago and love to put it out with some white Christmas lights inside to add a pretty glow to the living room or entry way at night. You can learn how to make it yourself by clicking here.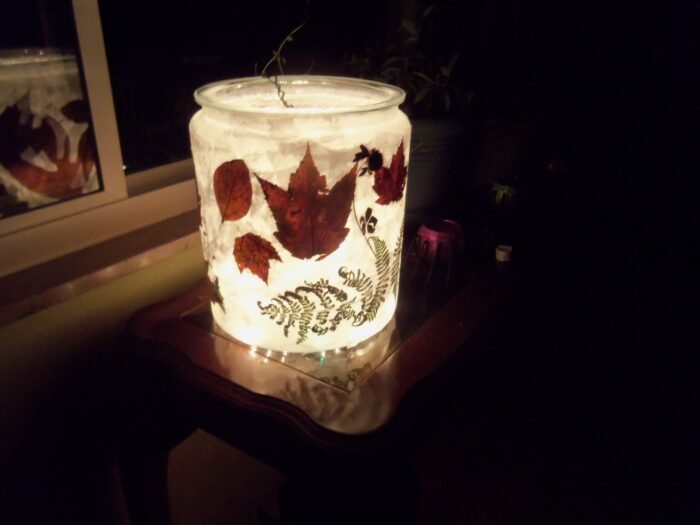 3. Pumpkin Checker Board
This is a craft that we're excited about making this year. Plywood is very expensive right now, but you can definitely make this by painting burlap. It will look great sitting on a bale of hay with a scar crow standing nearby. You can learn how to make it by clicking here.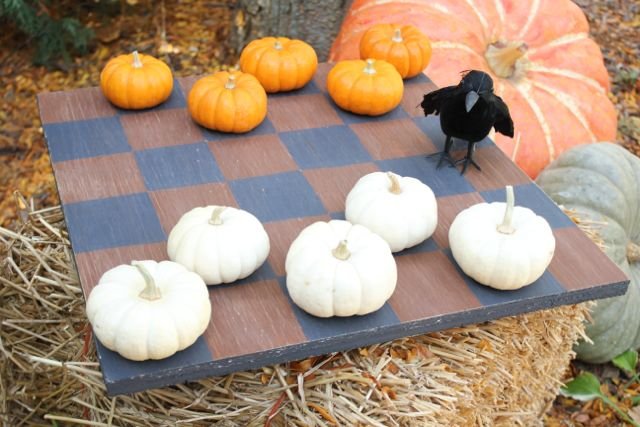 4. Terracotta Pumpkins
We have a number of pots around our home, including my stack of empty planting pots that I have in my garage. These do not have to be terracotta. Use what you have. Simply paint these and create the "tops" following the steps. They are fun looking and, as the picture shows, are great for creating a candy display. Click here to learn more.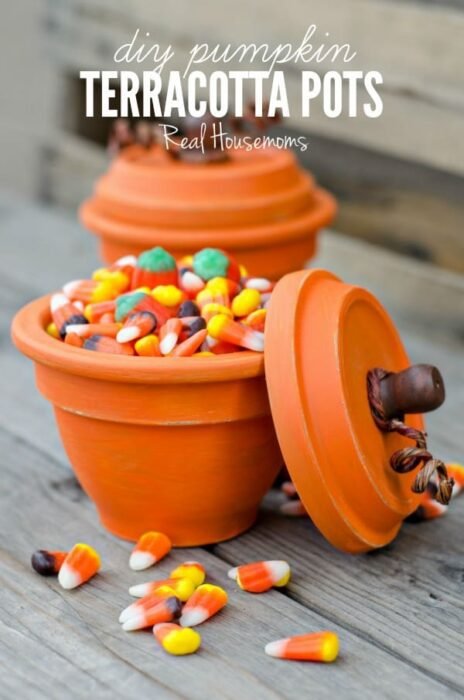 5. Monogrammed Pumpkin
Pumpkins are always fun. They are actually a lot easier to use and make a decent looking decoration because of their size. Monogramming light colored pumpkin can add an extra flare. Learn how by going here.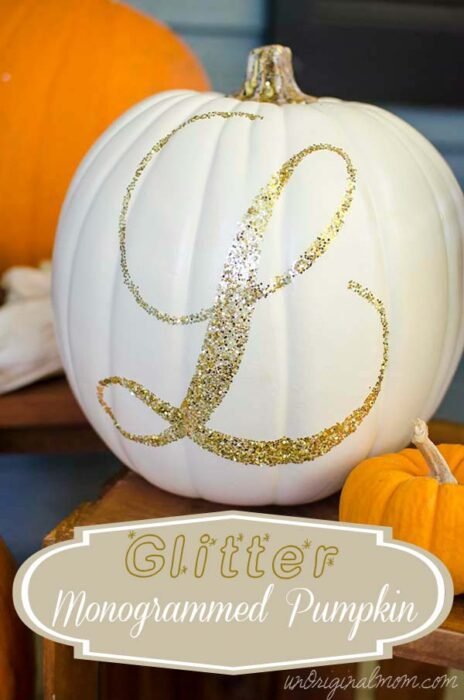 6. Glittery Pumpkins
To go with your monogram pumpkin, add a few glittery topped pumpkins to complete the look. This is a lot easier than a clear monogram and is fun. I keep these outside so glitter doesn't get all over the house, but they make a wonderful porch decoration. Learn how here.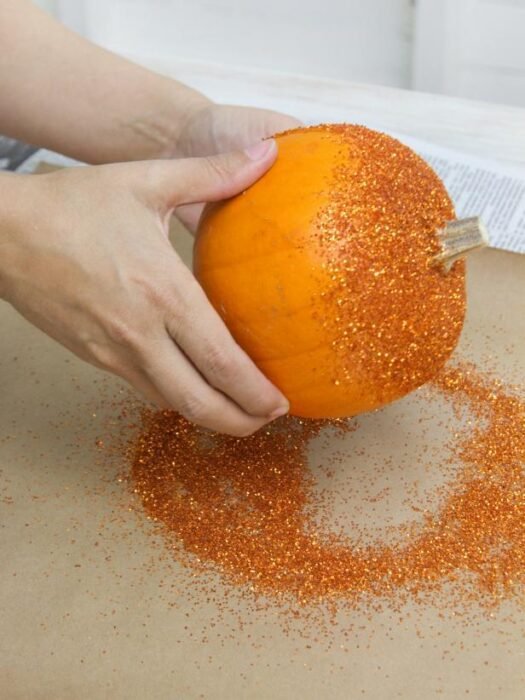 7. Thanksgiving Tree
Making a Thanksgiving Tree doesn't have to start in November. Put the "tree" up early and slowly add to it over the weeks. When family and friends come by, ask them to add to it as well. Enjoy the blessing of encouragement and positive notes. Learn how to put it together here.
8. Pine Cone Garland
This is another project that we can't wait to make this year. It is so beautiful. I'll let you know how it goes. Get the instructions (as well as other porch decoration ideas) here.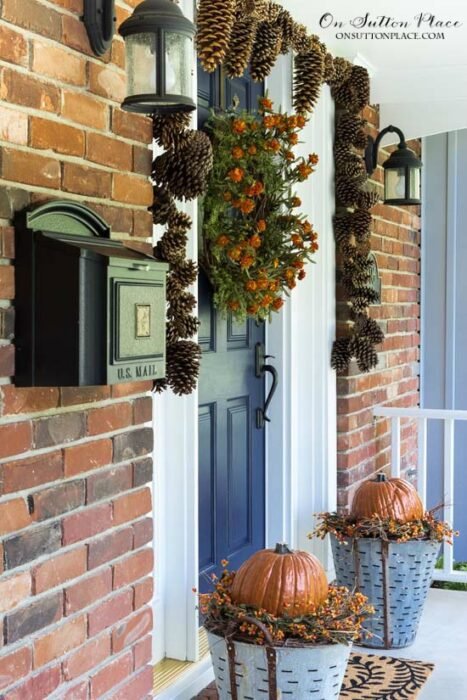 9. Fall Rustic Mason Jars
This is one that we've done before. It's a simple craft that your kids can definitely help with, and it looks very classy as a table centerpiece, stair pieces, window, or front porch decoration. Learn how to make them here.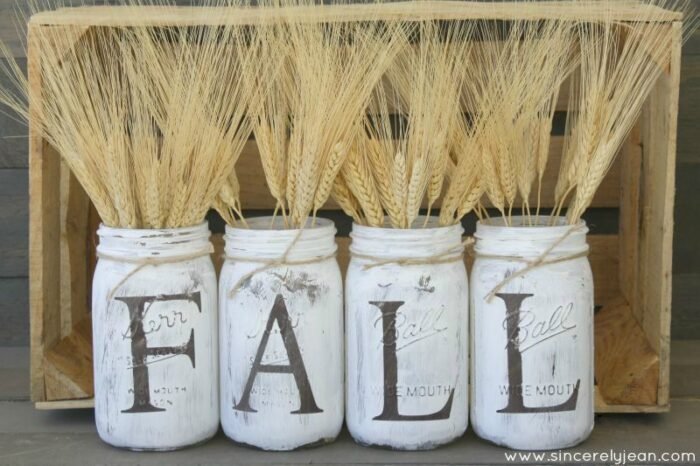 10. Butcher Block Tablecloth for Thanksgiving Day or just Fall Time
We haven't done this specific idea at our house, but my mom did one year and let me tell you. The funny comments and drawings all over the tablecloth was hilarious. All PG teasing and silliness. I highly recommend the butcher block tablecloth idea.
Have it set up on Thanksgiving Day or set it up for people to create on throughout the season by hanging it up on a wall. Be creative and have fun with it. Get specific ideas and details by clicking here.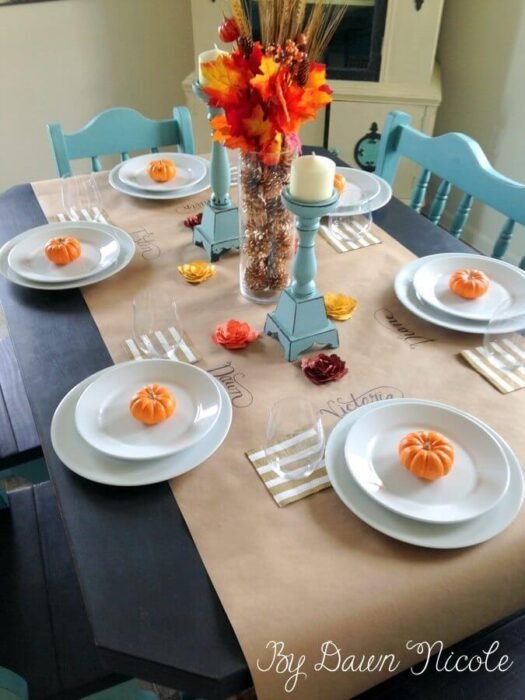 11. Hand Painted Pumpkins
And of course the classic: hand painted pumpkins.
This is a craft that we love to have available for the kids to work on during Fall get togethers. They can then take them home when they are dry, making a great memorable decoration for the season. The older or more artistic you are, the more sophisticated the designs can be. Check out these pretty ideas here.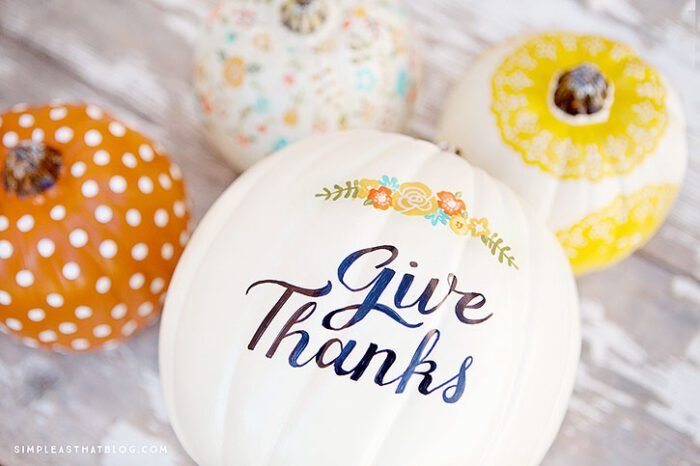 I hope you've enjoyed the first article in my Healthy & Frugal Holiday DIY Collection.
There's a lot more to come. Every week I'll be sharing DIYs, recipes, and guides for making healthy and frugal gifts and decorations, as well as partnering with other homestead and craft bloggers to bring you a huge list of tried and true recipes and ideas. Enjoy!
For Holdiay Soap ideas see: