When it comes to talking about the benefits of Kombucha, people are usually in 3 categories: they've never heard of kombucha ("Scoby what?"), they've tasted a friend's batch of Kombucha but know little about it, or they make their own and love to talk about all the varieties they make and its benefits if you get them going.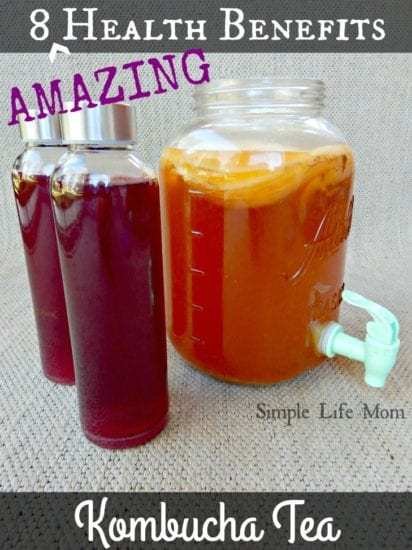 Not everyone who knows about Kombucha knows about all of its benefits though. The health benefits of Kombucha tea are HUGE, not to mention when you find your perfect fermentation and recipe it tastes crazy amazing! For all my friends out there that think I'm nuts for growing what looks like a large mushroom (or as my husband says, something from the pond where he grew up) in my kitchen, here's why!
I've been drinking Kombucha for some time now and am totally in love with it! So I was thrilled to take the Craft of Herbal Fermentation course to learn even more about the Benefits of Kombucha, as well as water kefir, and brewing herbal ale, beer, and mead. The medicinal properties of doing things "the old fashioned way", of fermenting them yourself, are just huge. Not to mention the joy of learning something new and learning more about herbs. If you'd like to learn all about how to make your on Kombucha, check out the link below.
What is Kombucha?
Kombucha is simply a tea that is allowed to ferment. A combination of yeast (not the type that build in the gut) and bacteria grow on top of and within the fermenting batch. We call that top layer a Scoby (symbiotic culture of bacteria and yeasts). It is made out of gluconic acid, acetic acid, and fructose. (1)
The exact bacteria and yeast cultures that grow in Kombucha are different depending on where you live, what type of tea and sugar you use, temperatures, and your starter culture.
8 Health Benefits of Kombucha Tea
1. Probitotics
In an age where our natural gut bacteria is constantly threatened by antibiotic medicines, having a natural probiotic handy is not only very frugal, but very handy and tasty.
What do probiotics do?
Break down sugars and carbohydrates (aid in digestion)
Control harmful bacteria
Boost your immune system
Lower Inflammation of the stomach and gut (often healing ulcers and replacing medication). (2)
Drinking Kombucha makes a lot of sense just after understanding the probiotic benefits.
2. Heals Stomach and Gut Ailments
Kombucha not only gives your body needed probiotics, it also provides beneficial acids and enzymes that aid in digestion. Because Kombucha helps to balance gut bacteria and provides these needed enzymes, many people have had their stomach ulcers disappear, as well as leaky gut and acid reflux issues. (3, 4)
3. Full of Vitamins, especially Vitamin B
More benefits of Kombucha lie in the micronutrients, including: Thiamin (B1), Riboflavin (B2), Niacin & Niacinmide (B3), Pantothenic Acid (B5), Pyradoxine (B6), Biotin (B7), Folic Acid (B9), B-12, and Vitamin C.
While amounts are small compared to a supplement amounts, these small daily amounts are bioavailable!
Your body absorbs them all!!
That being said, Kombucha has up to 6 times the amount of vitamin C than orange juice. (5)
4. Full of Minerals
Kombucha has magnesium, potassium, calcium, zinc, copper, manganese, iron, and more. Again, biolavailable.
5. Antioxidants
Kombucha contains antioxidants called polyphenols that continue to increase during fermentation.

6. Little to No Sugar after fermentation
But it tastes sweet! I have a friend who is diabetic and has tested her Kombucha after second fermentation (after adding juice and letting it ferment again) and found such a tiny amount of sugar that she can drink Kombucha without worry. The initial sugar added during first fermentation, and the sugar in the juice added during the second fermentation is consumed by the bacteria and yeast, just as sugar is used to feed yeast when you bake bread.
If you choose not to ferment your kombucha as long, the average drink still has only 1/10 the amount of sugar as a glass of orange juice (5).
7. Incorporation of Medicinal Herbs
There are unlimited possibilities of benefits when incorporating herbs into your Kombucha. Herbs like ginger root, nettle, rooibos, lavender, or hibiscus can easily be added for added nutrition and medicinal purposes. They are usually added in the second fermentation so that they do not harm the Scoby, and like I said, open up a world of possibilities.
8. Increase in Bioavailability of Medicinal Compounds
Sadly, often when we consume "healthy" foods and drinks, some of the vitamins and minerals are not bioavailable. In other words, we cannot absorb them well. People have combined certain foods to better absorb them (e.g. pepper with curcumin or vitamin D with calcium). The fermentation of Kombucha helps to provide enzymes that aid in bioavailability. As mentioned above when discussing the vitamins and minerals, even though the amount are not as huge as you may find in a supplement, the fact that they are so easily bioavailable make them as valuable as gold.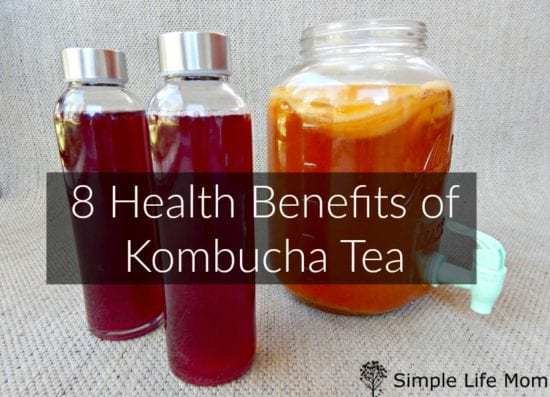 So, find a friend with a scoby and get started making and drinking your own Kombucha. It's as easy as making sweet tea.
References
Ai Leng Teoha,, Gillian Heard, Julian Cox.(2044). Yeast ecology of Kombucha fermentation. International Journal of Food Microbiology, 95(2), 119-126. doi:10.1016/j.ijfoodmicro.2003.12.020
http://probiotics.mercola.com/probiotics.html
https://www.ncbi.nlm.nih.gov/pubmed/21776478
http://www.culturesforhealth.com/learn/kombucha/water-kefir-vs-kombucha/
https://www.kombuchakamp.com/kombucha-benefits-vitamin-content-and-bioavailability-in-nutrition
Herbal Academy – https://theherbalacademy.com/