Kombucha has many amazing benefits for the body. I went into detail about these benefits in 8 Benefits of Kombucha Tea. It is a fermented tea that is full of probiotics (those good gut bacteria), vitamins, and minerals. Make sure you read all about it. You need to know how to make Kombucha so you can make your own. Knowing the benefits brings a lot of motivation. And it's easy!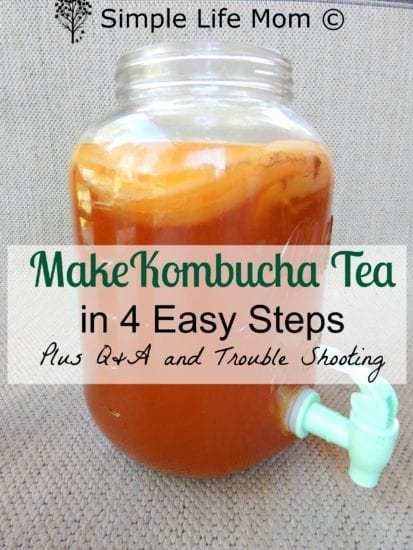 Making your own Kombucha is basically like making sweet tea. The wonderful part of it is that the bacteria/yeast growth within the tea (the "SCOBY" that grows on top) will eat all of the sugar so that this ends up being a healthy, fermented sugar free drink.
Ingredients Needed
You don't need very much to brew your own kombucha. Once you get comfortable, you can add all kinds of extras in your second fermentation (more on that later), but as a starter, you really only need the following for basic kombucha:
Organic Black Tea
Non-Bleached Cane Sugar
Filtered Water
One SCOBY
Most of those ingredients are easy to come by and they're not complicated. Sweet tea with a scoby 🙂
You can obtain a SCOBY three different ways
You may feel a little lost when it comes to the SCOBY. SCOBY stands for: Symbiotic Culture of Bacteria and Yeast. It's what grows in the sweet tea because of the fermentation process. It's not slimy, and is surprisingly firm. You WILL need to get one or develop one to make kombucha. Here are 3 ways:
Use a bottle of Raw Organic Kombucha as a starter. Make the Sweet recipe below and add the bottle of kombucha. Cover with a thin cloth that will allow air to get to the tea. You should start to see a film develop over the top in 2-4 weeks. After 4 weeks, add a half cup of sugar and stir until dissolved. Allow to grow a few millimeters thick. Use this as your SCOBY and starter to start a new batch as described below.
Find a friend who has one. You'd be surprised at how has one at home and just hasn't brought it up before. The SCOBYs are always growing and needing to be divided, so they should definitely be able to share within a few weeks of you asking them.
You can purchase a dehydrated SCOBY starter and kit from stores like Cultures for Health. I've purchased Kefir starters from them and am very happy with their products and service.
Materials Needed
One Gallon glass jug with wide mouth for Kombucha. A valve is nice, but not necessary since it just gets clogged anyway. Metal (especially aluminum) can hurt the SCOBY so use glass and wooden materials.
Measuring Cup
Large jug to make Iced Tea
Wooden Spoon
12-16oz glass bottles that seal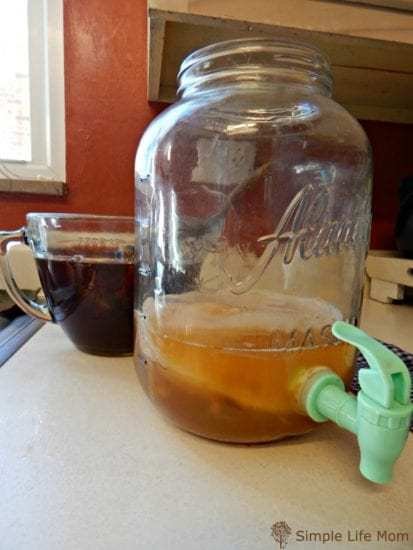 How to Make Kombucha: Step by Step
Step 1: Make Iced Tea
I like to use a large 14 cup glass measuring glass to make my iced tea, but you can use a large jug a well.
Pour hot water over 8 tea bags (or use 8 Tablespoons of tea).
Add 1 cup of organic cane sugar
Stir until dissolved and allow to cool to room temperature. This is very important. You can hurt the SCOBY by adding hot water to it or the starter.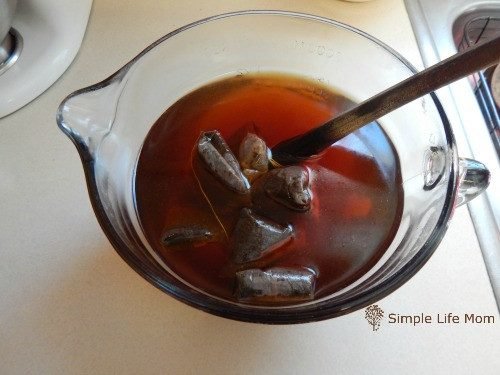 Step 2: Ferment
Add room temperature sweet Iced tea to 2 cups of starter liquid and SCOBY.
Cover with a thin cloth. I use a thin cloth napkin.
Allow to ferment for 7-30 days. That's a big time frame, but that's because temperature matters. The warmer your home is, the faster it will ferment. Taste it after 7 days. Does it taste different than normal iced tea? Can it ferment more (and you still want to drink it)? The longer you leave it, the more like apple cider vinegar it will get. You need to find your sweet spot.
Step 3: Bottle and Drink, or 2nd Fermentation
Once it is as fermented as you wish, it's time to bottle.

IMPORTANT: Always leave a 2in head space in your bottles (don't fill to the top). My current bottles don't seal very well so I don't get a lot of fizz, but I've heard a lot of stories of exploding bottles.
Leave 2 cups of kombucha with your SCOBY as a starter (don't bottle it all). You'll use it to get your next batch started later.

You have 3 choices.

You can bottle it and put it in the fridge so that the cold causes the fermentation to stop. It will still build a little carbonation over time if you have a good seal on the bottles.
You can leave it on the counter top for 2-3 days so it continues to ferment and build up strong carbonation in the bottle.
OR you can put the kombucha in bottles and add juice or herbs of your choice. As a beginner, I suggest that you start with a juice like grape or a combination of berry juices or mango pineapple.

A good ratio in the bottle is 80% kombucha, 20% juice.
Now that you've added a bunch of sugar, you'll need to let it sit on your counter top for 2-3 days so that it the cultures within the kombucha can eat the sugars in the juice. It will maintain the fruity flavor, but lose the impact that the sugar would otherwise give you. It will also build carbonation.
Step 4: Getting Another Batch Started
Make the sweet tea as you did before and allow it to cool to room temperature. Pour it into your jug with starter and SCOBY and start all over again. Mark on your calendar when you started your new batch to help you remember how long it's been fermenting. The longer the better, but if no one's going to drink it, then less fermentation is better.
How to Make Kombucha
Kombucha is a very healthy fermented sweet tea.
Ingredients
1

gallon

water

8

bags organic black tea

1

cup

granulated sugar

2

cups

starter tea

, or acv or bottle of store bought kombucha
Instructions
Boil around 10 cups of water (exact amount is not necessary at this point).

Add 8 tea bags and sugar and stir until dissolved and tea is strong. Allow to cool to room temperature (important).

8 bags organic black tea,

1 cup granulated sugar

Add room temperature sweet tea to 1 gallon jug with 2 cups starter kombucha and SCOBY.

Cover with a thin cloth so air can reach kombucha.

Allow to ferment for 7-30 days. Taste after 7 days and ferment to your liking (The longer, the more probiotics. But if no one can drink it because it's like vinegar, then it's not worth fermenting that long.)

Bottle, leaving 2 in head space so bottles don't build carbonation and break, and refrigerate. If you'd like to build more carbonation, leave sealed on counter top for 2-3 days before refrigerating.
Only 4 Steps? That's it. Sweet tea, fermented, bottled, fermented again with juice and drink! Enjoy.
Q &A
Do I need to clean the Gallon Jug each time?
No. It's just recommended to clean it every few months. Just put the scoby and starter in another container. Be careful to wash your hands well before touching the scoby.
My SCOBY is getting huge and taking over the jug. What do I do?
Your SCOBY will continue to grow, adding layer after layer. It's actually easy to peel these layers apart, leaving only one on in your gallon jug. Wash your hands carefully so that you do not introduce germs. put the SCOBY peels in your compost, share them with others, or throw them away.
I'm seeing colors in the Kombucha. Is it mold?
As the new layer forms on the surface of the tea, you will see multiple milky colors. In all of my experience, the only thing you need to worry about is if there are black spots or any kind of fuzz. Otherwise, you will see colors as the light hits the forming SCOBY.
Let me know if I missed anything. I'm happy to answer any questions.