Baby powder is to help prevent or heal diaper rash. But we also use it to help keep art projects dry, as well as to help keep feet from sticking to gel pads in pointe shoes. It's very versatile and is widely used. That's why this baby powder recipe is such a great DIY to have on hand.
The problem arises, as always, with ingredient choices in most brands of baby powder.
The best baby powder commonly found just contains cornstarch. But most baby powder recipes on the market these days also contain perfumes and other chemicals that I would not want any where near my baby.
What's wrong with Cornstarch?
Cornstarch baby powder is made from just that: starch from corn. The problem is not corn starch, but the source of corn starch.
Non-organic cornstarch in America is made from pesticide filled mass produced corn. Just look into the companies that have representatives in the highest agricultural government groups and you'll see that true research and safety is not their number one priority.
Pesticides can pass through the skin and into the blood stream, making anything riddled with it something to strongly avoid.
Cornstarch Alternatives
Organic Cornstarch – You can find organic corn starch. This, like everything else, does have loop holes, but for the most part still means that it was not significantly sprayed while being grown.
We have an organic farm down the road from us and his knowledge of how to produce vegetables without any pesticides whatsoever is so encouraging and impressive. These farmers work hard and have a knowledge that I'd love to tap into to become a better gardener. Organic corn starch will give you a clean, healthy product.
Arrowroot powder – Another alternative is arrowroot powder. It is also a starch that works in the same way on the skin. It is slightly more drying than cornstarch. I've never had issues with it, but I know someone who is more sensitive to it drying out their skin when used excessively. So watch how your skin responds and understand that it's more powerful in absorption than cornstarch.
Bentonite Clay – bentonite clay is great for pulling toxins from the skin and absorbing moisture. It is an ingredient that you'll want to combine with one of the ingredients above so that it works best.
What Not to Use!
You will NOT want to use baking soda, oat flour, or even kaolin clay as some recipes suggest. Baking soda is known to irritate skin over time, which is why so many people are asking for deodorants with no baking soda.
Kaolin clay is great in makeup, but when combined with liquid and left to sit on the skin for way too long, as in a hot wet diaper, it can irritate the skin. We found this out by some people using my face mask and keeping it on for a super long time. When washed off it left the skin bright red and irritated for a few hours.
Oat flour is very difficult to get fine enough not to irritate and rub skin raw with any movement.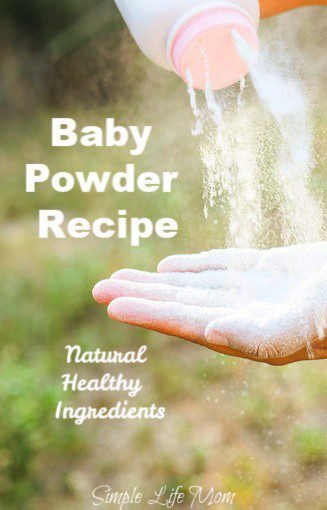 Baby Powder Recipe
Though you can use straight organic cornstarch, I like to use a combination of starch with other ingredients to boost healing quality and dryness without over drying and causing cracking. This is my favorite combination.
Makes 3 ounces
Ingredients:
Directions:
Measure all ingredients into a old baby powder container or spice jar with holes in the cap with an additional way to close it.
Seal and shake well to combine.
You can also make your own Baby Wipes: Learn How Here.