I recently received the cookbook Kid Chef Bakes: The Kids Cookbook for Aspiring Bakers by Lisa Huff in exchange for my honest review.  I liked it so much that I wanted to not only share a recipe, but also host a giveaway of the cookbook!
Before I even accepted the book for review I asked whether it used a lot of processed ingredients. For example, a can of dough, a roll of pie dough, a can of filling, etc. A lot of people who create cookbooks for children like to offer them unnecessary shortcuts. And this one does not! Wonderful! A book for young bakers actually teaches them how to bake with super easy step by step instructions.

Ease of Instruction
The ingredients are kept simple, without extra difficult steps. My daughter is 12 now and she's already made 5 recipes and loves it. My family has loved everything she has made: a lemon cake, blueberry peach crostatas, muffins, soft pretzels, and these buttermilk chive biscuits.
The book starts off with some Kitchen Rules(e.g. having to check with a parent, wash hands, cleaning up after yourself) and then turns to simple to understand descriptions common ingredients like the difference between baking powder and baking soda.
I love how it also describes utensils and appliances with little pictures next to each one to help younger bakers learn faster.
It then gives baking tips like separating eggs and mixing and folding ingredients.
When it comes to the recipes, my favorite part is that it is set up in a beautifully simple way to understand. Lisa Huff and the team at Callisto Media did a wonderful job. It says right away how much time it should take for prep and baking, as well as yield, lists the equipment needed, then lists ingredients and directions with bold headings for each section. If there are ingredients for a sweet bread and other ingredients for a glaze, they will be listed under separate headings. My daughter had no confusion of what to put in where. Love it! Highly recommend it. If you'd like to purchase it you can find it here: Kid Chef Bakes: The Kids Cookbook for Aspiring Bakers.
Types of Recipes
I expected a baking book to have nothing but sweet ingredients. That's not the case here at all. Kid Chef Bakes has a lot of cookies, muffins, and desserts with whole fruits, but it also has non sweet breads like white sandwich bread, these buttermilk chive biscuits, soft pretzels, and a number of lunch ideas like mini calzones, pepperoni pinwheels, and Mexican pizza.
Buttermilk Chive Biscuits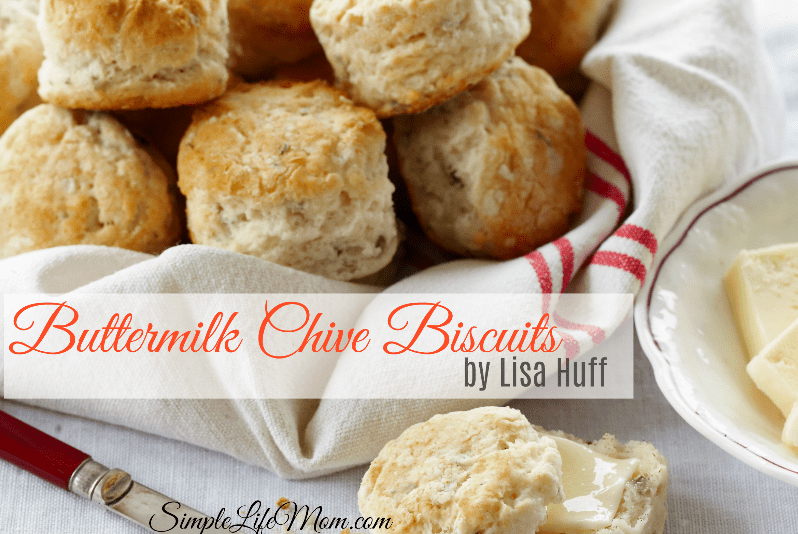 Ready for the Recipe? These Biscuits were delicious! They were moist and savory. My daughter made them while I made chicken and vegetables.  They were a hit.
Fluffy Buttermilk Chive Biscuits
Ingredients
Butter

for greasing the pan

2¾

cups

plus 2 tablespoons all-purpose flour

4 ½

teaspoons

baking powder

1

teaspoon

table salt

6

tablespoons

cold

cubed unsalted butter

½

cup

chopped fresh chives

1 to 1 ½

cups

cold buttermilk

Flour

for the work surface

3

tablespoons

melted unsalted butter for brushing tops
Instructions
Preheat the oven to 425˚F
Set the oven rack at the lowest level. Grease a cast-iron pan.
Mix the dry ingredients.
In a large bowl, mix together the flour, baking powder, and salt until combined.
Cut in the butter.
With a pastry cutter or back of a fork, cut in the 6 tablespoons of cold butter, until the mixture resembles coarse crumbs. Stir in the chives.
Add the wet ingredients.
Add 1 cup buttermilk to the flour mixture. Stir to combine, and add more milk as necessary until the dough just comes together but is still moist. Be careful not to overwork the dough or the biscuits may come out dry.
Form the biscuits.
Place the dough on a floured surface. Gently press the dough until 1 inch thick. With a 2-inch round cutter, cut the dough into 16 biscuits.
Bake the biscuits.
Place the biscuits next to each other in the prepared pan. Bake on the bottom rack for 12 to 17 minutes or until golden brown. Brush with the 3 tablespoons of melted butter. Cool slightly before serving.
Notes
Try Instead: Instead of chives, you can use chopped cooked bacon, shredded cheese, or even chopped precooked onion.
Kid Chef Bakes Cookbook Giveaway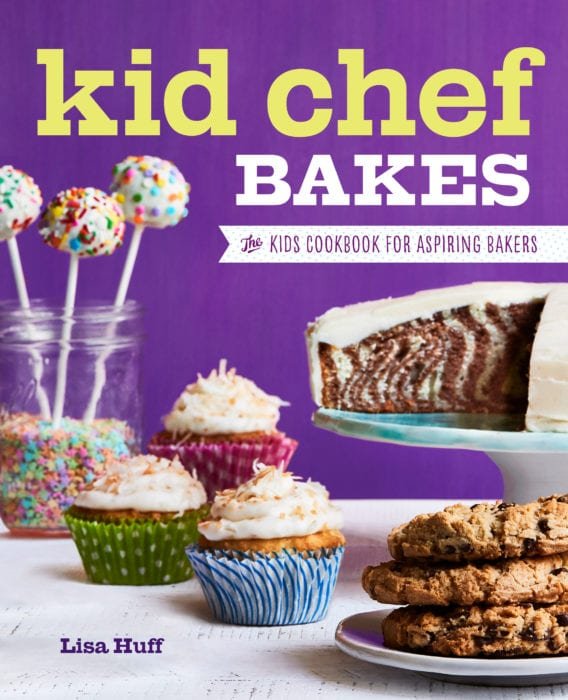 This giveaway is for one cookbook.According to the publisher's rules, it must be to a winner in the continental United States. If you live elsewhere you can still enter and I can offer you a 50% discount on your order from my shop.
Try More Real Food Recipes HERE.
Save
Save