Got any old pillowcases around? I have a large closet that sits over our porch. I don't think it has insulation, because it gets extremely cold in the winter time.  I decided to make a few door stoppers to help keep my bedroom warm.  The great news is, this DIY Door Draft Stopper project is very easy and can be adapted to any length door.
We used to live in a house that was over 100 years old.  It was beautiful; with 10 foot ceilings, amazing wood work, pocket doors, elaborate staircase….But it was cold! It was like living outside without any shelter whatsoever! Ok, maybe not that bad, but I still have a picture in my mind of my dad visiting us and sitting with shoes, sweater, blanket, etc. and shivering (He doesn't get cold often). How did my babies survive??!!
Anyway, the house we live in now is nice and small (the way I like it – less work), and is pretty well insulated.  Our bedroom, however, is built above the back porch and gets colder.  The closets are NOT insulated because all the cold air seems to be coming from there.  Until we can get that fixed, I decided a DIY project was in order.
What You Need:
An Old Pillowcase (or whatever one you don't mind cutting up)
Measuring tape
Marker
Sewing machine or needle and thread
Polyester Stuffing
Rice or Sand
DIY Door Draft Stopper
Step 1:
Turn your pillowcase inside out so that it lays flat.
Measure how wide your pillowcase is and divide by 4. For example, if your pillow case is 24 inches wide, make a mark every 6 inches so that you will have 4 strips.
Mark the pillow case and cut through both top and bottom, making 4 strips.
Step 2:
Sew a straight stitch up both sides (the bottom is already done).  Leave the top open for stuffing.
Step 3:
Make sure your door stopper is the right length.  Mine were too long once I put two to a long door so I needed to trim them first (They don't fold up corners well so you want to make them the right length.)
Pour at least 6 cups of rice into the door stopper (if you have more, add more! You want to give it some weight so it blocks the draft better).
Stuff with Polyester fill.
Step 4:
Sew the Door Draft Stopper Closed.
Work the rice along the bottom of the door stopper. Pull down on the bottom while pinching the polyester fill up and shake.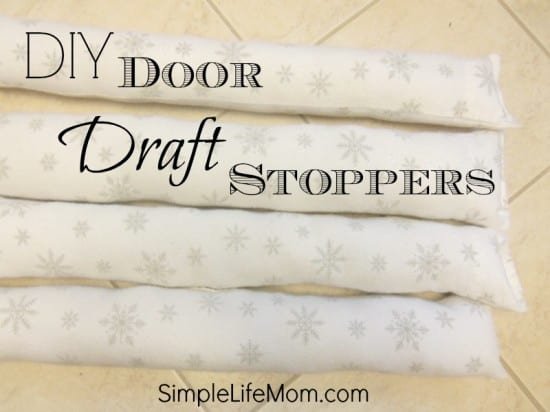 That's it! I like the idea of making them whatever design that I want.  You can always add some tassels, bedazzles, or whatever you like 😉
If you haven't yet, follow along with all our DIY ideas on Facebook and Pinterest.
We'd love to have you in on the conversation.
Save
Save