This winter has been dry. I always have a lip balm in my purse, pocket, car, kitchen, bed side…you get the picture. You need to take care of your lips. I mean, they're right there in the middle of your face and just shouldn't be neglected. That's why this easy lip balm recipe with herbs is great! It's easy, frugal, and is very healing due to the herbal ingredients and oils used.
A number of you already make your own lip balm. Some of you even add color to make your own lipstick, or even lip gloss! This is an easy next step. By steeping your oils in certain herbs you can make your favorite lip balm recipe and kick it's value up 10 notches.
Herbs to Use:
Information from the Herbal Academy of New England.
Use any combination of the herbs below (or if you only have one, that's ok too).
Where to Get the Herbs
Grow them and dry them yourself. Definitely my number one choice. You will know how they were grown, where the seeds are from, and how they were dried. Plus, it's easy and very frugal!
Amazon sells dried herbs – an affiliate, but most of us know we can find most everything there.
Starwest Botanicals– also an affiliate, but that's because they are a wonderful company with a huge variety of great products.
Easy Lip Balm Recipe
Easy Lip Balm with Herbs and Essential Oils
A natural lip balm with an herbal infusion
Instructions
In a double boiler (or I like to use a large glass measuring cup in a saucepan with water), add beeswax, cocoa butter, shea butter, and coconut oil and stir until melted.

2 tablespoons bees wax,

1 tablespoon cocoa butter,

1 tablespoon shea butter,

1 tablespoon coconut oil

Remove from heat and add herb infused oil and essential oil.

1 tablespoon herb infused oil,

10 drop lavender essential oil

Add any coloring like beet root powder, alkanet root powder, hibiscus powder, etc.

Pour into lip balm tubes and allow to cool – to avoid the hole in your lip balm, try to almost overfill containers.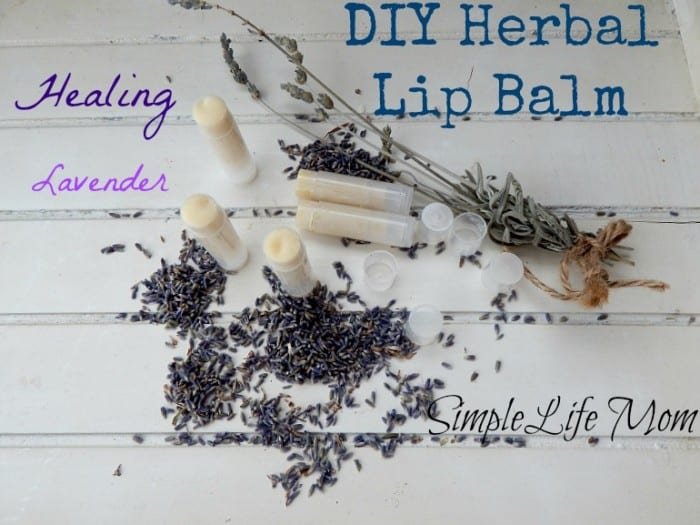 Directions for making infused oil:
Option 1: cover fresh or dried herbs in oil (olive, sweet almond oil, apricot kernel oil). Make sure they are covered in the oil, place lid on the jar and let sit in a window for 2-3 weeks. Strain and keep oil in a cool, dark place.
Option 2 (faster): Place oil in a sauce pan with herbs (enough to cover). Turn burner on LOW. You do not want to fry your herbs, just to speed the process of the herbs releasing their oils and goodness. When oil is hot, turn off and remove from burner. Let sit for 24 hours, then strain herbs. Keep oil in a cool, dark place.
Save
Save