A few of you have asked for my Christmas Soap recipes. I've shared my Pumpkin Spice Recipe. Over the next few days I'll share a few more Christmas Soap recipes. If you're just buying for gifts, you can find these in my shop. You may think these are coming out too early, but if you are going to make some soaps to use and give for the Holidays, you need to be making them NOW! So, here you go! A Golden Frankincense and Myrrh Soap Recipe.
I have these available in my shop for the Holidays, as well as other holiday soaps and gifts.
Color
I wanted this soap to be slightly golden instead of just creamy in color. Obviously, it's just more fun to call it Golden Frankincense and Myrrh!! That's easy enough. There are a number of things that can be added to make a more golden color. I have a color guide I've put together for anyone wanting something different.
Natural Additions to give you a yellow or golden color: turmeric, annato, ginger, and sometimes a bit of paprika to make it a bit richer in color. These don't add a physical texture or spiciness to the soap. Paprika can give it small speckles, depending on how it is mixed, cured, and the size of the paprika particles.  For this soap I'd suggest using turmeric with a small amount of paprika. I tried just turmeric the first time and it was a lovely "nacho cheese" color before it cured, so my daughter said. After curing it had only a slightly more golden color than my usual recipe. This is why I like to combine it with a little paprika to enrich the color.
Or Add milk! Milk (cow or goat) will naturally give your soap a more golden color. Substitute a small amount of your water with milk and add your lye SLOWLY.
Scent
Honestly, Myrrh stinks. I'm sure there are people who love it, but I'm not one of them. I don't hate it, but it's not something I'd like to smell all day. Frankincense on the other hand is a scent I just can't get enough of. Yet, I know it's not the favorite of everyone either. Everyone's different.
They both have a woody scent. After all, they both are tree saps. When you buy a good Myrrh essential oil it will be super thick. I actually dilute it 50% in a carrier oil and shake it like crazy before each use. I'll then double whatever I put in a recipe so I get the correct amount. If you don't, it will never come out of your dropper!
To make this into an AMAZING smelling soap, still getting the medicinal and "Christmasy" qualities you want, add another oil such as Orange, Lavender, Patchouli, Rose, Rosewood, or Sandalwood essential oil. I chose orange essential oil and it blended beautifully!
Frankincense and Myrrh Soap Recipe
This makes 24 – 4oz bars. If you'd like to recalculate for a smaller batch try a calculator like soapcalc.net
Handmade Frankincense and Myrrh Soap Recipe
A wonderful Christmas time (or any time) soap recipe.
Instructions
Weigh and combine tallow, olive oil coconut oil, and cocoa butter in a large stainless steel pot.

Melt and cool fats to 95-100 degrees F.

Weigh water and lye. Add lye to water (not the other way around) OUTSIDE, being careful not to breathe in fumes. Cool to 95-100 degrees F.

Add lye water to fats and stir with hand mixer on and off until light trace.

Remove a cups worth of soap and add turmeric and paprika. Combine until there are no clumps and add soap back into batch, mixing well (or wait and swirl it in after you pour your batch into your mold).

Add essential oils and mix until well combined.
What other soaps would you like to see? Any questions? Please leave a comment below!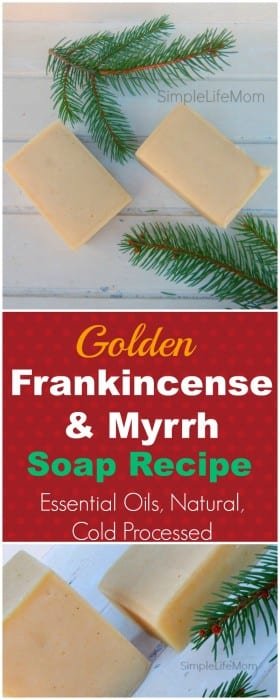 Save
Save
Save
Save