Berries are growing and summer is coming. Combine the beauty of blackberries with a nourishing goat milk soap and you have gold! I've put together a fun soap recipe for you. Don't worry. If you're vegan then I've given you an alternative to make a goat milk blackberry soap recipe that works for you.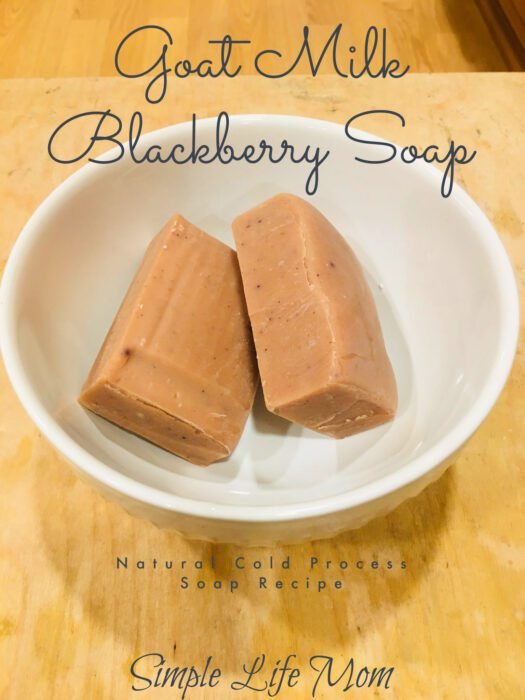 Making your own soap means you've got the ingredients under your full control. Even melt and pour soaps are very hard to find without nonsensical extra ingredients. So no additives or fragrances that you don't agree with are in this soap, because you make all the decisions. If you need to make changes, remember that you cannot just switch one oil for another in a soap recipe, because each soap brings a different quality to the soap, AND, most importantly, each oil has its own SAP value (rate at which it uses lye to change into soap).
If you need to learn how to make substitutions, check out my soap making oil properties article, as well as how to make substitutions article.
If you are brand new to soap making and need to get a background first there are lots of places to start:
Adding Milk to Soap and Shampoo
You may ask, "Why add milk to soap?"
That's a great question. Why bother? Milk has sugars that make the soap smooth. It also moisturizes an conditions. This is why you'll see a lot of shampoo bars with cow or goat milk added. It's great for all hair types, but especially thick, frizzy, or curly hair. *Hint* you can use this recipe as a shampoo bar with great success!
To add milk to a cold process recipe, remember that all sugars added to a recipe cause hotter temperatures during the saponification process. This is fine and usually doesn't cause any problems, but if you have a warmer workroom or add other sugars like blackberries, or "hot" oils like clove or cinnamon to the soap bar, you need to watch for overheating.
Because this recipe has blackberries and goat milk, watch for overheating. You can choose to just not cover it and/or check on it every 15-30 minutes for the first few hours of curing time.
What does overheating look like?
Cold process soap naturally goes through a gel phase where the soap will become more transparent and darker in color. The difference is when it begins to wrinkle or split. If that begin to happen, keep the covering off of the soap and even consider placing in the refrigerator for a short time.
How do you add milk to soap?
Milk is exchanged in a percentage of choice for water in a recipe. If the recipe calls for 10 ounces of water, 0-10 ounces can be substituted for milk. Your choice. The more milk you exchange for water, the more likely you need to chill your milk or milk/water before adding lye so that the lye doesn't scorch the milk solids. If you're only adding a small amount of milk, then add the lye to the water and add the milk to the mixture after it cools. If you're adding a large amount of milk, then chill the milk or milk water mixture until it is frozen or slushy before adding lye to it. This will help the scorch.
If your milk does scorch a little bit, it will look curdled and turn yellow, orange, or brown, depending on how badly it is scorched. It will also smell bad. Fortunately, a little scorching doesn't ruin the soap and the scent does not carry over if you are adding essential oils to scent your soap.
Adding Berries to Soap
Berries add sugar. So, again, watch for overheating and don't insulate the soap unless the room is very cold.
These berries are blended. Juice will turn brown, so don't expect it to add a pretty color. Instead, blend and let it sit in a fine mesh sieve for a few minutes to drain off the excess juice. This way you are adding the berries for texture and goodness, without making your soap very brown. The blended berries will then be weighed. This amount is subtracted from the water amount of the recipe (unless the recipe has already accounted for that weight like this one. Just remember that rule when adding berries or purees to your own recipes.).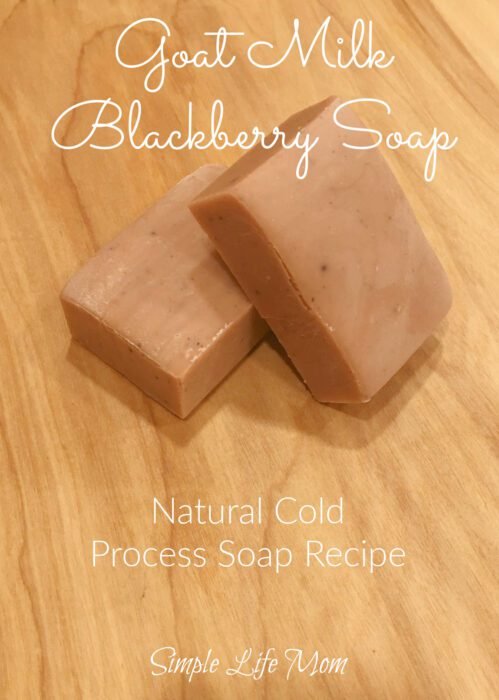 Goat Milk Blackberry Soap Recipe
Makes: 2 pounds (8 four ounce bars)
Superfat: 5%
Ingredients:
Directions:
Prepare 2lb mold by lining with wax paper if needed.
Combine olive, coconut, avocado, and sweet almond oil and cocoa butter in a stainless steel pot. Heat to melt the cocoa butter and then cool oil mixture until around 90 degrees Fahrenheit.
While oils are melting and cooling, weigh goat milk and freeze until hard or slushy. Using gloves, charcoal mask, and goggles, weigh lye into a zip close bag, take milk and lye bag outside and pour lye onto goat milk. The lye will melt the goat milk. Stir until fully dissolved and cool to around 90 degrees Fahrenheit.
Puree blackberries and place in a fine mesh sieve to remove some of the juice. Discard or drink juice.
Pour lye milk into pot of oils and blend with a stick blender. If you don't have one, then use a hand mixer. Blend on and off until soap begins to thicken.
At thin trace, add rose clay, blackberry puree, and essential oils and blend.
Pour into mold and cover lightly. After 24 hours, remove from mold, cut if necessary, and let cure 3-6 weeks or until soap is hard.
Remember to watch for over heating. Remove the cover and place in the refrigerator if it begins to wrinkle with heat.
I hope you enjoy this recipe.