So now you've made the basic soap recipes and you want to add some color and fun to your soap.  Adding Color to homemade soap is not difficult.  It's a matter of finding out what to put in.
There are a lot of ideas on the internet that I would not recommend simply because of toxicity…a big thing!
In my mind, why go to all the hard work of making soap if you're going to ruin the whole batch by adding fragrance oils and dyes.  When you make your own soap, you have a great opportunity to make something nourishing for your family.
I've added hints below for adding color to homemade soap, as well as all kinds of wonderful natural colors to try.
To Add:
Most can be added by mixing directly into batch at trace
by spooning out a bit of soap at trace to mix with color and then swirl in to soap after it is poured into a mold
or by mixing and steeping in an oil before use (I will mention if this is the best method below)
Natural Colors



Black
Brown
Cinnamon – while cinnamon oil burns the skin, cinnamon powder adds a nice light brown color.  Some people are sensitive to it though.
Beet Root Powder – grey to brown color.  It does not keep it's beautiful pink color.  A lot of colors are changed in coming in contact with lye.
Cocoa powder – light to dark brown, depending on concentration
Cloves – dark brown
Coffee – use instant coffee to produce dark brown specs.  It is exfoliating, but will not smell like coffee.
Green
Spirulina – This is a blue-green algae used as a supplement by people.  You can buy the capsules and break them open to add to your soap.  It makes a pretty green color.
Chlorophyll– also adds a green color.
Alfalfa – dried and ground.
Burdock Leaf – infuse in oil.
Comfrey Leaf – can be infused in oil or added at trace.
Dandelion Leaf – Yes, right out of your yard!  Dry, grind to powder and add at trace.
Purple
Yellow
Calendula Powder – calendula has a lot of great medicinal purposes, makes a pretty yellow, and can also be added as a flower instead of powder.  The flower will give your soap yellow spots and streaks.
Annato – infuse in oil
Ginger – muted yellow
Blue
Indigo Powder – creates a deep blue.
Woad Powder – creates a lighter blue.
Red
Moroccan Red Clay – This makes a beautiful orange/red color and also draws out impurities of the skin.
Madder Root Powder – add at trace, can be vibrant red or more muted pink depending on how much you add.
Orange
Paprika – I like this best infused in oil and then the excess strained out.  Makes a pretty orange color.
Annato – infuse in oil
Fresh Tomato Puree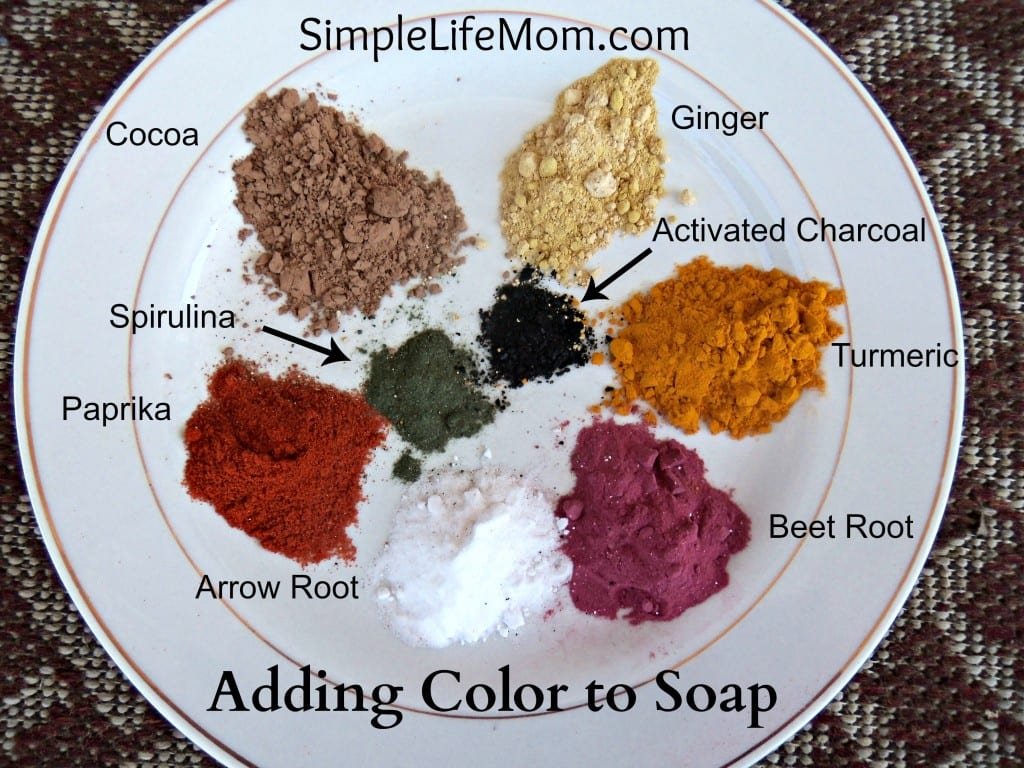 As you can see, these colors are vibrant!
Many change when you add them to soap, but make a new beautiful color so double check the chart before you think pretty beet root will make pink or something. 🙂  Arrow root powder is in the picture because this is also a picture I use for making Homemade Eye Shadow and Blush.  Arrow root powder is used in soap making to help enhance a silky feel and slippery texture.
Methods I choose not to use:
Carmine or Cochineal for pink – this dye is considered natural, but has to go through a heavy processing to derive the finished product from the South American insect.
Melted Crayons – crayons are made from "wax" – no they are made from paraffin (the sludge left over from making petroleum), and mystery pigments…not going on our skin!
Mica – mica is often colored with who knows what to make it that pretty bright color.  Unless you know what that mystery colorant is, don't use it.
Save
Save
Save
Save
Save
Save