My skin tends toward being dry no matter what time of year it may be, but winters are always hard. Having an Herbal Hand Salve Recipe on hand is very important. It insures that I will have something to soothe those finger tips, heels, knees, and wherever else gets dry. No one likes cracking or splitting fingers or heels!
Don't want to make it yourself? You can find this in My Shop!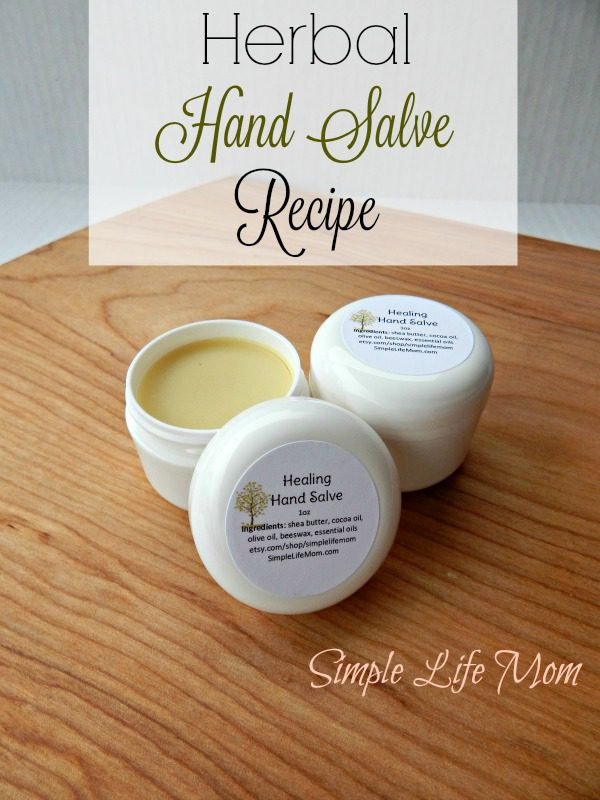 This recipe is relatively easy, as long as you have all of the ingredients. If you make your own bath and body products then you probably have bees wax, shea butter, coconut oil, and a few of your favorite essential oils already. If not, Amazon and StarWest Botanical are your new friends 😉
What You Need:
Beeswax – beeswax helps this recipe set up nicely so that it's similar to the texture of lip balm. If you are vegan you can use carnauba or candelilla wax.
Cocoa Butter – cocoa butter has vitamins that are excellent for the skin and also helps the texture of this salve stay hard enough to set up nicely (Not to mention, it smells amazing!).
Shea Butter – shea butter adds an extra skin softening element and also helps the salve to stay where you want it and soak in really well.
Coconut Oil – Coconut oil does not spoil as fast as a lot of other oils and is great for the skin, but you can substitute coconut oil for other carrier oils like olive, sweet almond, grapeseed, apricot kernel, jojoba, etc.
Dried Calendula Flowers  – You can get dried Calendula flowers, as well as Calendula oil if you would like to skip the steeping step. Traditionally, calendula has been used to speed healing of skin conditions and soothe irritation.
Essential Oils – I like to use essential oils that will increase blood flow to the area (increasing the speed of healing), as well as oils that will help keep any splits or cracks from getting infected. I use eucalyptus, rosemary, tea tree, and peppermint.
All of these ingredients put together make a wonderful salve that will truly soothe irritated skin and moisturize your hands, feet, knees, and even protect ears, lips, and cheeks from harsh winter winds.
Herbal Hand Salve Recipe
Herbal Hand Salve Recipe
Instructions
To create your calendula oil, you can use two methods: (1) put about 1 cup of flowers into a 1 pint jar and fill with an oil (olive is fine). Seal and set this in a warm window for 2 weeks, shaking occasionally. Strain and put in the fridge to help it last longer. (2) Place 1 cup of flowers and 2 -3 cups of oil in a sauce pan and heat very low for 20 minutes. I will strain it with a cheese cloth while it is still very hot and pour it into a mason jar. Put the lid on tight and listen for it to seal (that wonderful pop). Refrigerate after breaking the seal.

Ready a double boiler over medium heat. I use a glass measuring cup in a small saucepan with about 2 in. of water.

Add the beeswax, cocoa butter, shea butter, coconut oil, and calendula oil to your double boiler over medium heat.

Stir until all ingredients are melted and combined.

Remove from heat and add essential oils. I use 5 drops each of rosemary, peppermint, eucalyptus, and 2 drops of tea tree essential oils.

Pour into a wide mouth container and let it cool. Keep sealed to help it last longer. Typically lasts 4 months.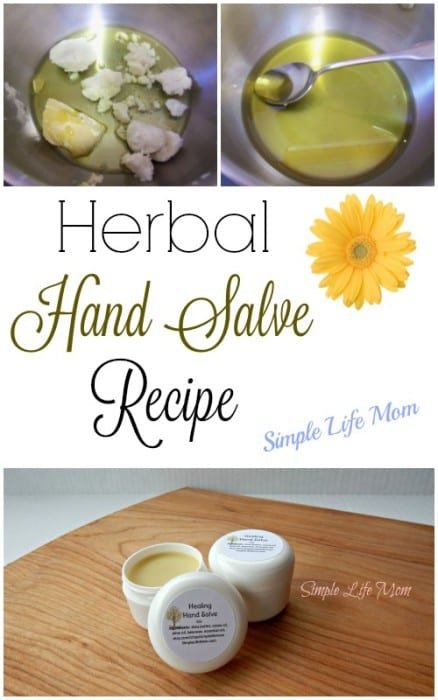 Give this a try and tell us below how you liked this recipe.
Make sure to share this page with you friends!
Don't want to make it yourself? You can find this in My Shop!
Save