I wanted to take a few moments to show you how you can make your very own homemade essential oil diffuser and air fresheners. These are all ideas that I've tried before and really like. We all have our favorites, and I'll tell you mine. I'll also give you some recipes to get you going so that you can either add a freshening scent, holiday scent, or use your diffuser for medicinal purposes.
Talk about Frugal! These are methods that cost pennies and can be reused over and over again.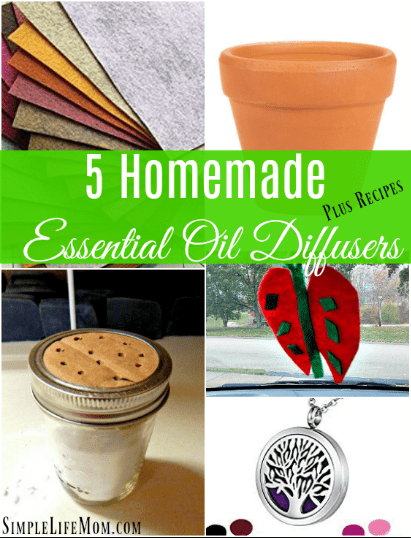 Why Use a Homemade Essential Oil Diffuser?
First, why diffuse essential oils at all? I can answer this easily. If you can smell something, then you are breathing in small particles of that substance; whether that be cookies, essential oils, or more harsh chemicals that have to be filtered by your liver. Our livers are already in overload from our environment and food that we consume. Why give it more to deal with? Instead, use cleaners and air fresheners that are not only non-toxic when used properly, but are actually beneficial to the body and can even help purify our liver and encourage proper adrenal flow.
Now that you know it is healthier, think of essential oil diffusing as cleansing the air in the home, creating a beautiful scent, and a way to kill germs and boost the immune system all in one go.
I have to mention frugality again. These are easy ideas that may save a lot in the long run on medical bills and pharmaceuticals drugs. Plus, once you have a few of your favorite essential oils on hand you can literally have three drops last hours or days, depending on the diffuser you make. Diffusing means using only a few drops that will be inhaled and incorporated into your blood stream. A little goes a long way.
Why not buy a diffuser? Well of course you can. Even the cheaper ones like this do a pretty good job. I have found that I like the features and the quality of diffusing in some more expensive brands a bit better.
But the following homemade diffuser methods are designed to be made and left in nooks, crannies, under sinks, under beds, in closets, even in a pair of shoes. Don't forget your car too (like these methods)!
5 Homemade Essential Oil Diffuser Methods
These first two can look really rustic or, if you're creative, can look very beautiful. They also make wonderful crafts to do with kids.
1) The Necklace
Diffuser necklaces used to be very expensive. Now you can find a diffuser necklace online for under $10 (like this one) and add your own piece of felt inside where you will place a few drop of your favorite essential oils.
Make your own by buying or using an old necklace with a mall charm on the end. Use naturally hardening clay, like this kind, and roll a small piece into a small ball. Push the charm into the clay ball. Change the shape if you like and allow it to harden. Do not paint or seal it in an way. To use, place one to two drops of essential oil on the clay and allow it to absorb so it doesn't get on your clothes. It will fade over time. If you want to change the scent before it has faded, just make another charm and attach it to your necklace.
2) The Bracelet
In the same way you can cover a charm with clay for a necklace, you can cover a charm for a bracelet. Follow the instructions above to make a homemade essential oil diffuser bracelet, or find one here or here.
3) Baking Soda
Baking soda alone absorbs odors. To add an additional scent to the room, replace a mason jar lid with cardboard (just trace the metal lid and cut out the cardboard). Punch holes into the cardboard and screw it on with the metal ring after adding baking soda to the jar. You now have baking soda in a jar with a cardboard lid with holes in it. Add a few drops of essential oil to the lid. Place under the sink or wherever needed. You can see a picture of one here.
4) Miniature Terracotta Pot
Little terracotta pots like this one are cute and can be painted to fit your decor. Either put a few drops of essential oil directly on the terracotta or add a few pieces of felt into the pot and add the essential oil drops to the felt.
5) Felt or Wool
Wool Felt can be cut into any shape. My daughter made a butterfly to hang in her dad's car. Felt or wool can be placed in shoes, drawers, car doors, even under a couch to be out of the way and yet still give a great scent.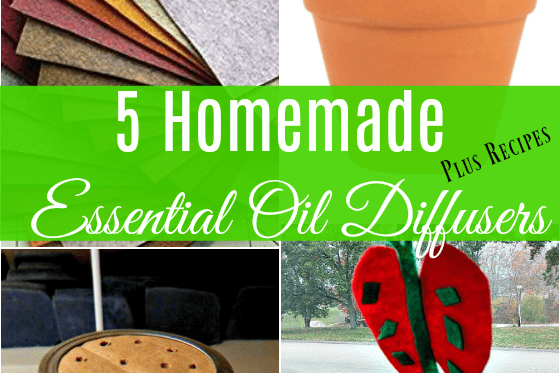 What Essential Oils to Use
Remember, what you breathe in must be processed by your body. You do not want to use fragrance oils! They are toxic. Not all essential oils are the same either. Try Mountain Rose Herbs, Starwest Botanicals, D0Terra on Amazon, or Bulk Apothecary Organics. I've also heard some good things about Plant Therapy, but I did recently try an essential oil from them and it was not as strong as it should be.
Homemade Essential Oil Diffuser Recipes
Here are a few recipes to get you going.
Light and Fresh Blend
Holiday Blend
Cleansing Cold and Flu Blend
For more Essential Oil Blends, try: