One of the top questions I get on my blog and social media is how to deep condition hair.  I grew up in Africa with friends who deep conditioned their hair weekly because of their beautiful hair type. If you don't have African descent, you don't necessarily have to deep condition your hair weekly, but it definitely won't hurt.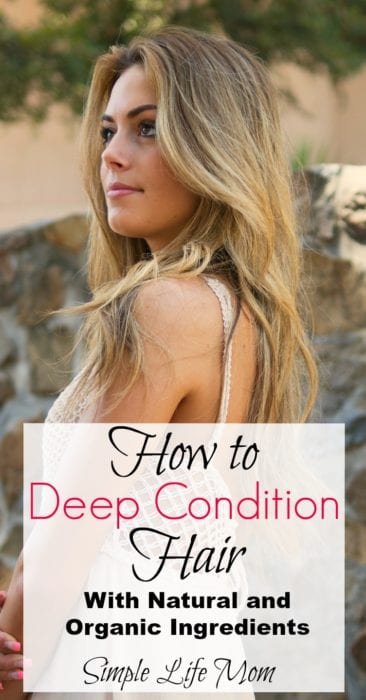 Knowing how to deep condition hair is very beneficial. Understanding that you don't have to buy a $67 deep conditioner is even more important! That's worth saying again! You can use oils and proteins found in your kitchen and they will do the same thing as an expensive brand deep conditioner.
I'll first give you the step by step instructions and tips for how to deep condition hair, then I'll give you a few recipes and ideas to get you going on making your own.
How to Deep Condition Hair
Easy Step by Step Process
1.  Apply homemade deep conditioner, focusing on scalp and roots, or any dry areas.
2.  If possible, use a shower cap or wrap your head in plastic wrap to retain heat escaping from your head. This little extra heat will help your hair respond better to the conditioning ingredients.
3.  Leave on for 15-30 minutes.
4.  Wash your hair gently with a natural shampoo like a homemade shampoo bar.
5.  Finish with an apple cider vinegar rinse (50% water, 50% apple cider vinegar) to balance the ph of your hair and make sure your hair shafts are closed and moisture is sealed in.
It's really that simple – apply it, wait, wash it out.
If you use a natural shampoo bar and feel that you have too much oil left in your hair after washing, you can always use a small amount of baking soda to the oily areas. You must follow up with an apple cider vinegar rinse afterwards though in order to return your hair's ph levels to normal. Don't use too much baking soda. You don't want to undo the conditioning you just did.

Deep Conditioning Hair Recipe
This deep conditioning hair oil recipe is made with oils specifically chosen to hydrate and heal damaged hair. If your hair is severely damaged, trim the ends before conditioning. A conditioner can only do so much.
The coconut oil and avocado oil are the highest rated for hair shaft penetration.
Jojoba oil is actually a type of wax and lightly coats the outside of the hair. You don't want to add a lot of jojoba oil or your hair will look oily.
The essential oils (cypress, rosemary, and cedar wood) were also chosen for a very specific reason. Each of these will help increase circulation in the scalp and improve the strength of hair.
This recipe is very similar to my hair growth oil I have in my shop. You can try it there first if you like, use it as a styling oil or a deep conditioner as described below. I am fascinated with kamado grills as well and I know your struggle all too well when it comes to purchasing a new kamado. You will find dozens of different ceramic grills on the market, which makes the final choice all the more difficult. Choosing a new kamado gets complicated by the fact that the difference in their prices is very big. Best kamado grill smokers cost from $100 to as much as few thousand dollars. So how to buy one that is 100% worth the price and will live up to your expectations? First and foremost, you have to understand what excatly you need and how much you are planning to spend on a new kamado.
How to Deep Condition Hair - Deep Conditioning Recipe
Instructions
Combine all oils.

Apply to roots and ends of hair.

Apply hair cap or wrap.

Wait 15-30 minutes.

Wash normally. If using a natural shampoo, apply apple cider vinegar rinse (50% water, 50% apple cider vinegar) afterwards.
Save
Save
Save
Save
Save