Going no 'poo is a huge topic. Not only are there a zillion options, but it also varies depending on hair types and situations. That being said, I'm going to attempt to answer some of your questions on how to use natural shampoo bars or go "no 'poo" altogether.
How to Go No 'Poo: What You Need To Know
1) What You've Done to Your Hair
If you've regularly used shampoos and conditioners from the store, then you've most likely been using products that are full of waxes and silicones to coat your hair and fool you into believing your hair is healthy.
In reality, you have been stripping your hair of its natural oils and replacing those perfect, God given oils with waxes and plastics. These, and other ingredients, are a big reason why there is a "no 'poo" movement.
Add the fact that many women (and men) blow dry their hair, use various irons, and color their hair with harsh colorants, and you end up with a large group of people who are frustrated with their broken, frizzy, or even balding hair (discounting genetics of course).
2) What No 'Poo Means
Going No 'Poo means not using commercial shampoos and conditioners. It can mean:
using a baking soda and vinegar method
using natural shampoo bars and other natural conditioning methods
rarely using natural shampoos, only rinsing with water and conditioning occasionally
I'm sure there are other people using clays, herbal tinctures and other methods, but the above are the most commonly used today. Here is my take on those methods.
Baking Soda and Apple Cider Vinegar Method
First, if you are using baking soda and apple cider vinegar on your hair daily, please stop! This has become an internet fad, but it doesn't account for your natural hair needs. Here is why: You hair has a natural pH level of about 5.0 (anything below 7.0 is considered acidic). Baking soda in water is around 8.0 (more alkaline), though it can be higher, depending on how hard your water is. This is damaging to your hair. Without being too technical, it disrupts certain bonds, making your hair brittle. This is why the organic apple cider vinegar application afterwards is highly recommended. Apple Cider Vinegar has a pH of about 3.0, bringing your hair's pH level back down.
Using baking soda on your hair occasionally is perfectly fine, as long as you follow up with a 1/2 water, 1/2 organic apple cider vinegar spray. In fact, it can be extremely beneficial to get build up out of your hair. I use it once a month for that very reason even though I do not use shampoo (I'll explain below). The problem arises when you use it daily. The yo yo effect on your hair is not beneficial.
Shampoo Bar Method
I started out on the baking soda vinegar method and failed repeatedly before switching to shampoo bars. Shampoo bars are made with enough wholesome oil content for the lye to convert most of the oil into soap, yet leaving the extra oil (the superfat content) to nourish your hair.
To use shampoo bars, you need to know about the hardness of your water. If you have soft water, you'll probably have great success with shampoo bars. If you have moderately hard water, you might get a squeaky clean feeling. If you have super hard water, then your hair may feel like straw. What happened?? Well, the soap molecules are interacting with the magnesium, iron, calcium, etc. to form a film that over time will become thick on your hair, weighing it down.
To avoid or get rid of this, there are three things you can do.
You can wash your hair in purified bottled water
You can get a shower head filter (which would be great to filter out chlorine and other harsh chemicals from the mist you breathe in the shower anyway)
You can follow up after using your shampoo bar by spraying your hair with a 1:1 ratio of filtered water and organic apple cider vinegar. This change will allow the water to rinse the film back out of your hair and bring down your pH level that might have risen due to a higher pH level shampoo bar or hard water.
Rarely Using Natural Shampoos, Mainly Using Just Water
There are a number of people who have been off of commercial shampoos and conditioners for years and have gotten to the place where they can rinse their hair with water, or herbal teas (being careful of pH levels), and occasionally condition with coconut oil, jojoba oil, or something of the kind.
This is where I am at right now. I wash my hair with a shampoo bar occasionally, rinse with water occasionally, and condition occasionally. That's as specific as I can be, because I honestly don't wash my hair more than 2 times a week. There's just no need unless it's in the middle of summer and I am running daily. Then I will rinse it and perhaps condition more often. My hair is healthier than it ever has been, and I get more compliments now then ever.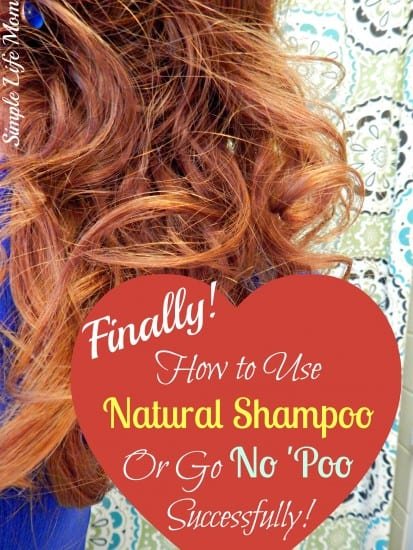 How to Start
Everyone is different. Some people wash their hair with commercial shampoos daily or even twice a day, use a blow drier, have dyed their hair, and use an iron on top of that! If this is you, you'll have a longer transition time than those who wash their hair every three days, let it dry naturally, and don't use irons.
If you wash daily, then your hair is so used to being stripped of all it's natural oils that your scalp will over produce those oils for days, even a week or two until it realizes that this over production is no longer needed. This means you may have an oily head for a week. But believe me, if you can get past this and learn how to get rid of build up and condition naturally, you will have fabulous hair!
Here's What I Recommend:
1. Remove build up from your hair.
Get your hair wet and sprinkle baking soda all over your head, or make a paste in your hand. Work this into your hair, getting at those places where build up seems to occur the worst (underneath in the back, behind your ears, temples). You may need to do this 2 or 3 times.
IMPORTANT: follow up by spraying your hair with 1:1 ratio of filtered water and organic apple cider vinegar. I have a spray bottle that I keep in the shower for this purpose. Work this into your hair, leave for a minute or two, then rinse.
2. Deep condition – If you have dry, dyed, or brittle hair this is especially important.
Melt 2 Tbsp organic coconut oil and work into your hair (you may need to use more depending on your length and damage). I work it into the ends of my hair and about half way up. For those with very damaged hair, you may want to work from the scalp down.
Leave this in for an hour to all night (protect your pillow of course), followed by a wash with a shampoo bar and apple cider vinegar rinse.
3. Cut Down on Washes
If you are used to washing your hair daily, you may want to try a slow transition instead of cold turkey. Instead of washing every day, wash every other day. If you must, rinse with water in between washes. Do this until your hair adjusts. Then go to washing only every 3-5 days. This may sound crazy right now, but once you get there, you will hardly believe how much you were washing your hair before! It just won't make sense any more.
Once you've gotten rid of build up, deep conditioned, and are washing your hair less, then you can try to find the routine that works best for you.  I have naturally curly hair.  More so since I've gone all natural.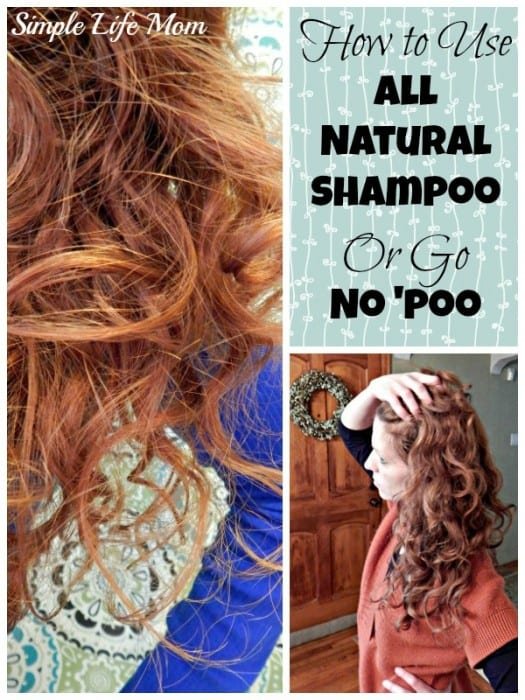 My routine goes something like this:
Day 1: Wash hair with shampoo bar, spray with apple cider vinegar and water rinse.
Day 2: run fingers through hair and go (yes, it's fun saying that when people talk about how beautiful your hair is).
Day 3-4: place some jojoba oil (or organic coconut oil) in hand, rub hands together, run hands through ends of hair and anywhere that's flying away. Scrunch for pretty curls and go.
Day 5: Rinse with filtered water or wash, depending on work out, dirt, or sweat level.
Repeat.
Baking soda and organic apple cider vinegar rinse once a month (I have hard water).
Deep condition once a month (because I use oil between washes, I don't need to deep condition as often)
If you've tried to go no 'poo and have had build up problems or dry hair/scalp then you've probably not accounted for pH, hard water, or the fact that you need to condition your hair (more often depending on the hardness of your water).
I do make and use my own shampoo bars.  If you're interested you can get your own HERE, or you can make your own!  Here are some recipes.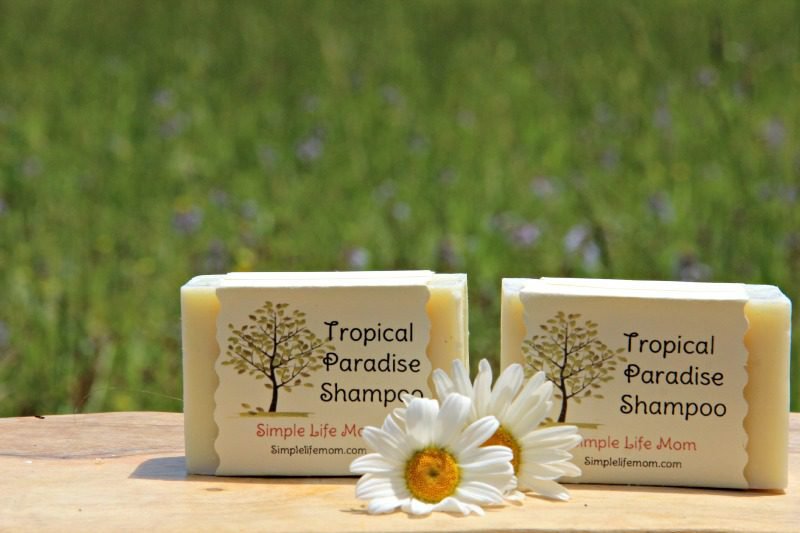 I hope this information helps you in your transition.
If you have questions or have had success with different methods, please let us know. We can definitely learn from each other!