I've put together 3 Laundry Soap Recipes.  I have not called them detergent recipes, because detergents are surfactants, which I do not believe are healthy.  Instead, here are some healthier options for you and your family.
Why make your own laundry soap?
Cost. It is a lot cheaper to make your own.
Safety. Store detergents are filled with optical brighteners, synthetic fragrances, dyes, surfactants, and lots of other harsh chemicals. They have been blamed for effecting all kinds of health issues.
Main Ingredients:
When cleaning, it's all about temperature and ph levels.
Washing Soda (Sodium Carbonate or sodium salt of carbonic acid) is basically the same as baking soda (Sodium Bicarbonate) except that the molecules are larger. These larger molecules will help clean your washing load better. It will also absorb all odors. It is highly alkaline, but water helps to neutralize it (Which helps to soften water). Scientifically, it stops magnesium and calcium ions from bonding. It also neutralizes the acidity of chlorine in your water. Like any other powder of this sort, you don't want to breathe it in.
Borax (Sodium Borate) is also an analyzing agent that has been used for thousands of years. It breaks down some of the water molecules in your washing into hydrogen peroxide. Borax does its job better in hot or warm water.
Soaps are used in some recipes. Make sure you use a pure soap. Soaps are made through a chemical reaction between fats and sodium hydroxide. Basically, the sodium hydroxide is neutralized as it changes the fat molecules into soap molecules. Then, by curing, the process can complete until the soap has a neutral ph level. The soaps add an extra cleaning power to your laundry soap.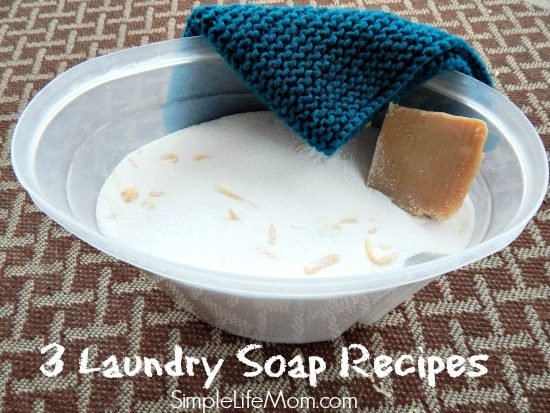 Laundry Powder #1
Ingredients:
1 part Washing Soda (or Baking Soda)
1 part Borax
Instructions:
Mix baking soda and borax together and
Use: Add 1/4 cup to your washing load. Add 1/2 cup vinegar in rinse (optional). Use hot water on whites.
Laundry Powder #2
Ingredients:
1 Part Washing Soda
1 Part grated homemade soap (castile or tallow based lye soap)
Instructions:
Grate the soap finely (harder lard soaps are easier to grind).
Add equivalent of washing powder.
Use: 1/4 cup per load. Add 1/2 cup vinegar in rinse. Use hot water on whites.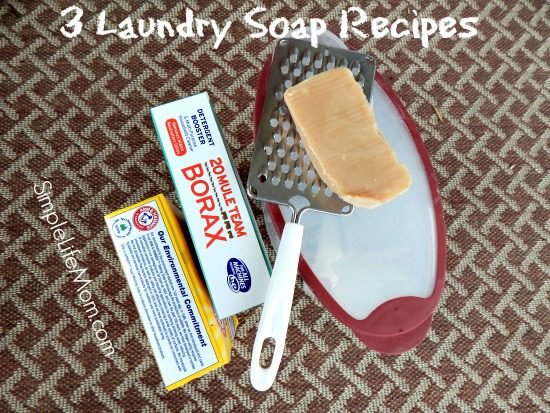 Liquid Laundry Soap
This makes 2 gallons; use ¼ cup per load (HE machine), 1/2 cup per load (regular)
Ingredients:
1 oz grated bar of soap (lard or castile)
1/4 cup washing soda
1/4 cup borax
2 Gallons water
Optional – add 15-30 drops essential oil of choice
Instructions:
Place grated soap into a saucepan with 1 cup water.
Heat on low and stir until melted.
Fill a gallon jug half full with hot water.
Pour melted soap, borax, and washing powder and shake until dissolved.
Divide this mixture between the two 1 gallon jugs
Add enough hot water to fill each jug, shake and replace lid.
Use: ¼ cup per load (HE machine), 1/2 cup per load (regular)
Click here for more natural cleaning recipes: Natural CleaningSaveSave