Monkey Bread is such a delicious treat for breakfast, tea, or any 'ol time. Making Monkey Bread from Scratch is kind of a rarity today, though. If you look for recipes online you will find plenty that are made from pre-made raw dough which is full of food coloring (yes, a lot have that lovely petroleum food coloring), gmo corn and soy, and preservatives.
Making your own monkey bread from scratch only takes about 5 extra minutes, is healthier for you, and the kids love it!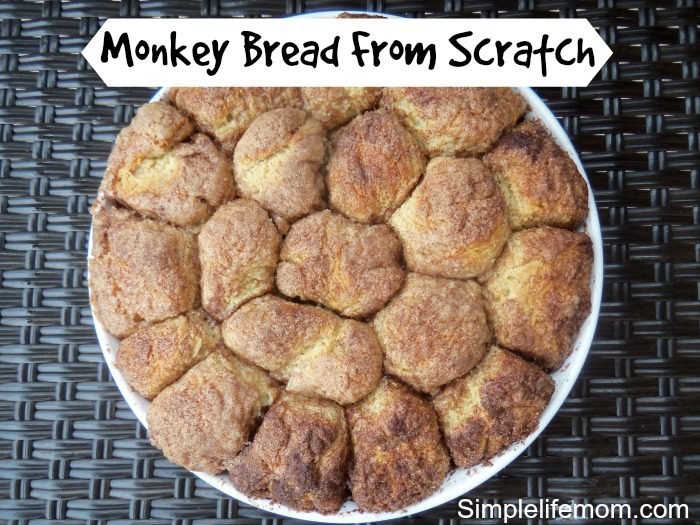 My kids were a lot younger the last time we made monkey bread so they don't remember it. But they had a blast when we made it the other day.  Not only do they get to help make the dough, but they get to tear off chunks, roll it in butter, cinnamon and sugar, pile it in a dish and see what happens.
It's definitely a kid friendly dish, because it pulls apart easily – no slicing etc.  And this also makes it great for get togethers, potlucks, and when your kids have friends over.
Monkey Bread From Scratch
Author:
Prep time:
Cook time:
Total time:
Ingredients
2 1/4 tsp yeast
1 cup warm water
1/4 cup sugar
2 tsp olive oil or melted coconut oil
1/2 cup whole wheat flour
1 egg
1/2 Tbsp salt
3-4 cups unbleached white flour
For the Outside
1/2 cup melted butter
1/2 cup sugar
2 Tbsp cinnamon
Instructions
Combine yeast, warm water, sugar, oil, and whole wheat flour in a large bowl.
Let set until it begins to bubble (5-10 minutes).
Whisk in egg.
Combine salt and flour and add to yeast mixture. Add enough flour so that you can handle the dough.
Knead until smooth.
Tear off chunks (about golf ball size) and roll them into a ball.
Roll dough balls in butter, then in cinnamon and sugar mixture.
Add to a greased shallow dish, or a bunt pan (really, anything works).
Let rise for 30 minutes.
Bake at 350 degrees F for 20 minutes.
Notes
** You can leave the egg out. We have egg allergies and have done that and it has worked great.[br]** You can put it in the oven without letting it rise. They still turn out great. Not quite as airy, but still wonderful.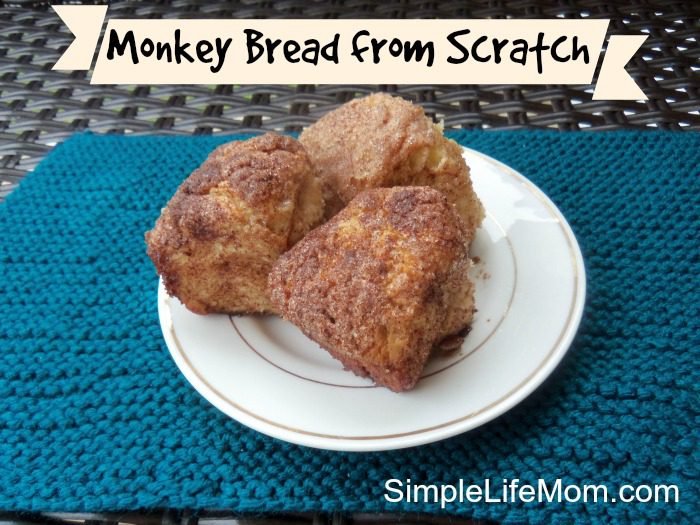 Save