Essential Oils are perfect in a Natural All Purpose Cleaner Recipe because they give it the anti-bacterial, disinfectant quality that we want. 
I use this Natural All Purpose Cleaning Recipe as I clean around the house; whether it be counter tops, table tops, floor spots, sinks, or even toilets. I add essential oils that disinfect so I know that I am killing all harmful germs.
Someone told me that they were concerned that I wasn't using anti-bacterial soaps and cleaners, especially during the winter, after all, wouldn't we get sick from germs that were not killed using anti bacterial soaps.  Yet the truth shows the contrary. Studies have shown that many essential oils are excellent at killing germs.  Essential oils have been shown to even get rid of very hard to kill bacteria like E. coli (See More Here).  So, you can use this natural all purpose cleaner recipe with confidence, even in the grimiest of places.
Here are some great disinfectant essential oil combinations to try:
Natural All Purpose Cleaner Recipe
This recipe makes 12 ounces. I use a spray bottle and use as you would any other all purpose cleaner. Shake before use.
Natural All Purpose Cleaner
Instructions
Add all ingredients to a spray bottle.

1-1/2 cups water,

1/2 cup vinegar,

1 tablespoon baking soda,

10 drops essential oil of choice

After it finishes fizzing, close the lid lightly. It may spurt if it's not done bubbling.

Shake before each use. Spray directly on cleaning surface and wipe or scrub gently. Always use first in a disclosed place to make sure no damage is done to materials.
For this amount, I usually add up to 10 drops total of essential oils (they vary in concentration by kind).
**Alternatives: leave out the baking soda and/or add 1 tablespoon lemon juice.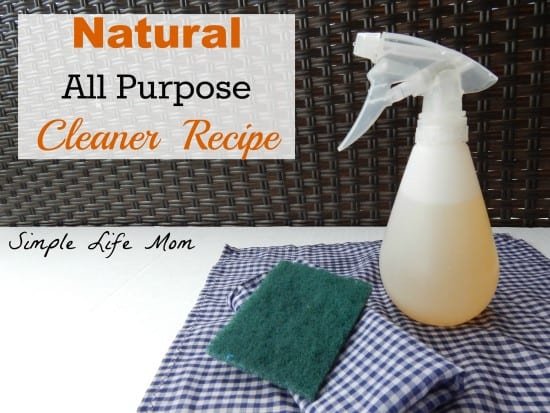 For other great cleaning recipes, see my Cleaning page.
Save