There is a good order to apply skin care products so that you get the maximum results from what you are applying. You want to make sure that your skin is absorbing everything you want it to absorb, blocking all that you want it to block, and able to blend products as you see fit. In order to do that, you need to pay attention to what each product does.
I often get the question of how and when to apply my skin care products like the Anti-Aging Serum or the Anti-Aging Eye Cream.  After all, one is an oil and one is a cream.  They each perform different functions for the skin. The serum is packed with potent essential oils that go in to heal and strengthen the bare skin.  The eye cream also has healing oils, but instead of being soaked immediately into the skin, the oils moisturize and help to heal the upper layers of skin before penetrating down into the lower layers.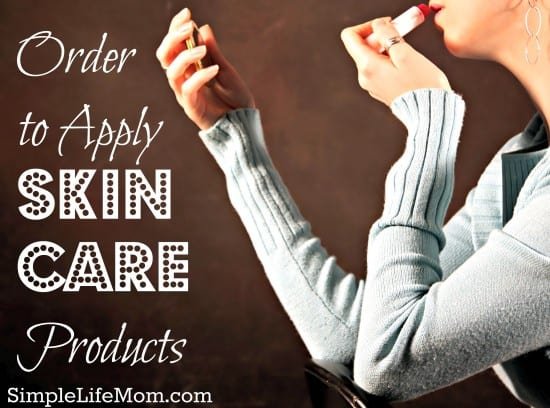 What about makeup? If you wear any foundation, concealer, eye shadow, blush, etc. then how and when should those be added? What about a night cream?
I've done the work for you by researching what should be put on the skin first, second, etc. for maximum effect.
Order to Apply Skin Care Products
Morning
Step 1: Cleanse
Make sure your skin is clean before doing anything else.  Dirt and oils can clog pores, preventing products from penetrating. You can make your own facial cleansers, sugar scrubs, salt scrubs.
Step 2: Skin Toner
Apply a pore shrinker by splashing your face with cold water, making an Herbal Rinse, or using Witch Hazel or other Recipes.
Step 3: Anti Aging Oils
Any Anti-Aging oils need to be the next thing you add onto your face.  Your face is prepped and ready to absorb.
Step 4: Moisturize
Any eye cream and whole face moisturizer should be added now.
Step 5: Sun Block
We need sun on our face.  Only add a sunblock to your skin if you know you are going to be under intense sun long enough to be burned.  Burns are not good either, but a lot of the time sun blocks are worse.  To be prepared, make your own Sun Block.
Step 6: Makeup
Check out the Natural Beauty Page for over 30 DIY makeup and Body recipes.
Evening
Step 1: Cleanse
Once again, the first step is to cleanse. Get your face ready for anything else that's to come.
Step 2: Skin Toners
These can be applied again to shrink pores back to normal size.
Step 3: Anti-Aging
Apply any night eye cream after your toner.
Step 4: Moisturize
Apply a complete face moisturizer (don't forget your neck).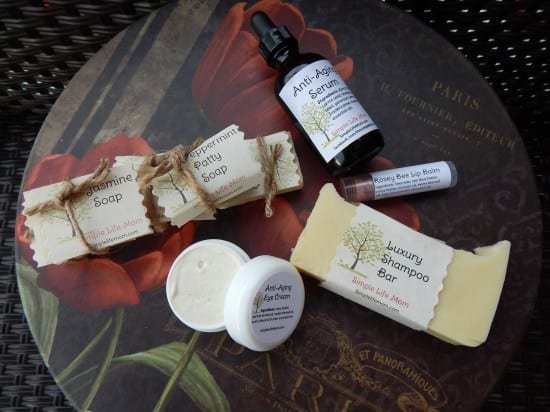 Find these recipes made especially for you in My Etsy Shop.
Click over and check it out!
Save