I'm always looking for new ways to add herbs and essential oils into products that we use in and around our bodies. A natural anti itch cream is actually not difficult to make and so wonderfully good for your skin.
We have a few allergies, though they are getting better this past year – I believe through the ways we have been building our immune systems.
And spider bites and other bug bites happen.
Don't forget Poison Ivy! (I have a great soap recipe to prevent poison ivy reactions here, or you can buy it in my shop)
Having a natural anti itch cream that soothes irritation, pain, and itch, means you're ready for those events.
Natural Anti Itch Cream Recipe
This natural anti itch cream is made with a lotion that has a shea butter base. You can use mango butter instead if you prefer.
The oil used in this recipe is infused with herbs and essential oils are added to give the lotion that natural herbal boost to soothe, take away inflammation, calm, kill bacteria, and speed healing.
Infusing oil is very simple. I actually had a hard time making exact measurements for the herbs because I throw them in until it looks right. Essential oils are a lot more potent and need to be more exact (click here for essential oil safety tips)
I chose these herbs because they are known to have properties that soothe itches, calm irritation, and kill bacteria or other issues caused by bites and stings.
The Herbal Ingredients:
Calendula has been used for centuries  for healing wounds. It has antifungal, anti-inflammatory, and antibacterial properties.
Chamomile on skin is believed to actually fade scarring. It also has anti-inflammatory and antiseptic properties.
Basil is a strong cleanser and anti inflammatory, making it soothing to sores and bites.
Cloves has eugenol (just like Basil). Eugenol is used as a local anesthetic in dentistry. The combination of basil and cloves will cleanse and slightly numb the area that is in pain or itching.
Peppermint essential oil has a strong cooing effect. Be aware of this is you are using this cream in the winter. It's wonderful during the summer months to cool a hot and irritated area of the skin. It also increases blood circulation in that area, which helps speed healing.
Wintergreen essential oil is also used as a numbing agent. Along with the soothing and cleansing ingredients, this combines to make a great cream for painful or itchy skin.
Juniper Berry essential oil increases circulation to the irritated area of the skin. It is an antioxidant, antibacterial and antifungal. It also works with the clove and basil to help numb itchy, painful skin.
Lavender Essential Oil is added to this anti itch cream to soothe the itchy, irritated skin. Lavender has been used for centuries and is safe for children as well.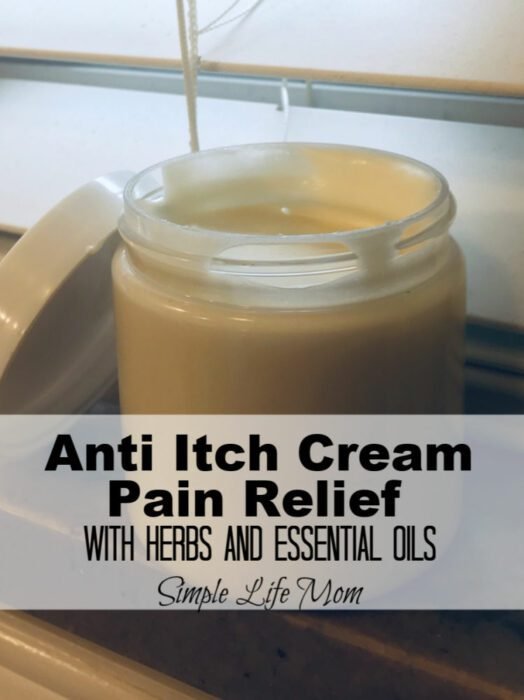 Anti Itch Cream
Ingredients:
Directions:
Place 1/3 cup coconut oil into a saucepan and add calendula, chamomile, basil, and cloves. Heat on low heat for 15-20 minutes. Allow to cool to room temperature. Sift through a cheese cloth (Or if you're like me you'll end up using a cloth napkin).
Measure and place shea butter into a mixing bowl and beat until smooth.
Add herbal oil and beat until fluffy (up to 5 minutes).
Add essential oils and beat until combined.
This recipe makes 8 ounces of anti itch cream. Fits great in an 8 ounce glass canning jar. Keep in a cool dark place. Medicine cabinets work great. Stay good for 4-6 months, depending on how sterile you keep it.