I recently had someone ask me to make them a postpartum spray for the perineum. I immediately wanted to research which essential oils would be the most skin soothing while aiding in healing. Some essential oils and herbs can increase bleeding, which is NOT what you want while trying to heal after a pregnancy. Doing your research and preparing before the birth is very important.
Note: Always make sure to do a skin patch test before hand so that you know if you or your children are allergic to any of the ingredients or if it needs to be diluted.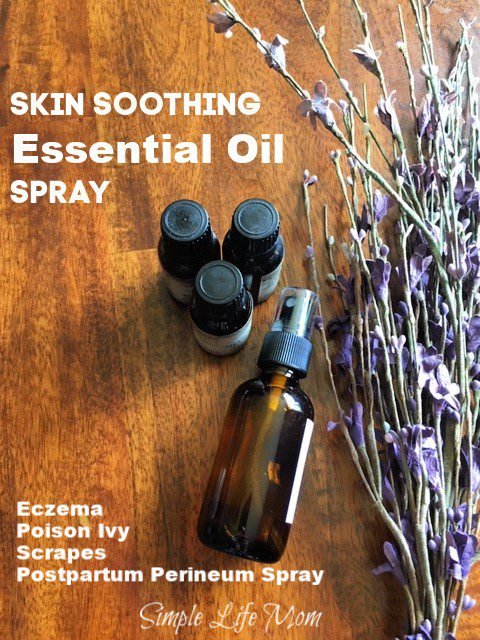 When to Use a Skin Soothing Essential Oil Spray
Postpartum
I actually wanted an extremely natural birth for all of my children. For my first I had tearing and a lot of swelling. So much so they brought in interns. Yep, all modesty gone. One of the nurses put a spray on my pads; soaked them! It was pure witch hazel and truly a life saver. This actually combines some other healthy benefits from aloe and essential oils to speed healing
Scrapes
When your kids fall down and get scraped up, this spray will help soothe the irritated and damaged skin and speed healing.
Poison Ivy
This won't dissolve the urushiol oils from the poison ivy leaves and root, but it will soothe the dry, oozing, itchy skin.
Eczema
Eczema causes irritated and itchy skin, as well as cracks, rashes, and sores, depending on the underlying cause and how the individual reacts. This spray definitely helps soothe the irritation and speed healing.
Sunburn
Aloe and witch hazel are already well known for helping to soothe sunburns, but myrrh is my top go to as well. The other essential oils just add to the soothing and nourishing properties of the spray.
Beauty
This spray is actually a fabulous toner and works wonderfully as a spray applied after washing.
Ingredients
Witch Hazel
Witch hazel is an astringent because of the tannins and galic acid. I use it as a skin toner after washing my face and it helps to close pores and keep in moisture.
Witch hazel can help postpartum because it is an anti-inflammatory. It also calms irritated and sensitive skin by calming the nerves around the area. It is very cooling to hot and hurt skin.
Aloe Vera
Aloe vera has anti viral, anti fungal, and anti inflammatory properties. Aloe also has polysaccharides that work with your body to help speed skin repair.
Skin Soothing Essential Oils
There are a number or essential oils that can be used in this spray, but I specifically chose myrrh, frankincense, lavender, and clary sage, because they help to stop bleeding, soothe irritated skin, reduce inflammation, and speed healing.
Myrrh – Myrrh is traditionally the wound oil for a reason. It is a thick brown liquid that is easier to work with after diluting with a carrier oil such as sweet almond.
Frankincense – Best known for its anti-inflammatory properties, frankincense is high on my list of essential oils I must have on hand. Lowering inflammation helps improve the healing process so that scarring is less likely to occur.
Lavender – Lavender is calming and relaxing, which is great after a stressful injury or after giving birth. It is also mild and considered safe for almost everyone (always test first though, of course). Lavender also speeds healing (1).
Clary Sage – Clary sage is a calming oil that has anti-inflammatory, astringent, and anti-septic properties, among others. Clary sage has been used during child birth to help alleviate pain, reduce cortisol levels, and balance hormones naturally (2).
Skin Soothing Essential Oil Spray (Postpartum Spray)
This is a simple recipe that is great to have on hand for scrapes, cuts, eczema, poison ivy, postpartum pain, and more. A great item to have on hand in your home.
Ingredients:
Directions:
Combine all ingredients in a 2oz amber glass spray bottle.
Shake well before each use.
Spray face as a toner, or spray wound or irritated area as needed. For use as a postpartum perineum spray, you can also spray pads for longer lasting relief.
Keep in a cool dark place.
If you have any questions, let me know. This does have a water base instead of an oil base so discard if it changes scent or starts to have a dusty scent that wasn't there before. Typically lasts 4 months.
Other Essential Oil/Herb Articles you may be interested in: