I've had a number of people ask me to write a post on Natural Hair Dye Ideas. The reason being that these people know how toxic the typical hair dyes tend to be and they are searching for a healthy alternative.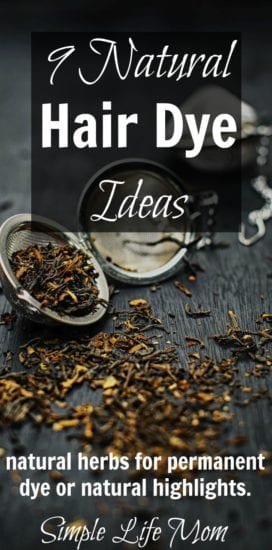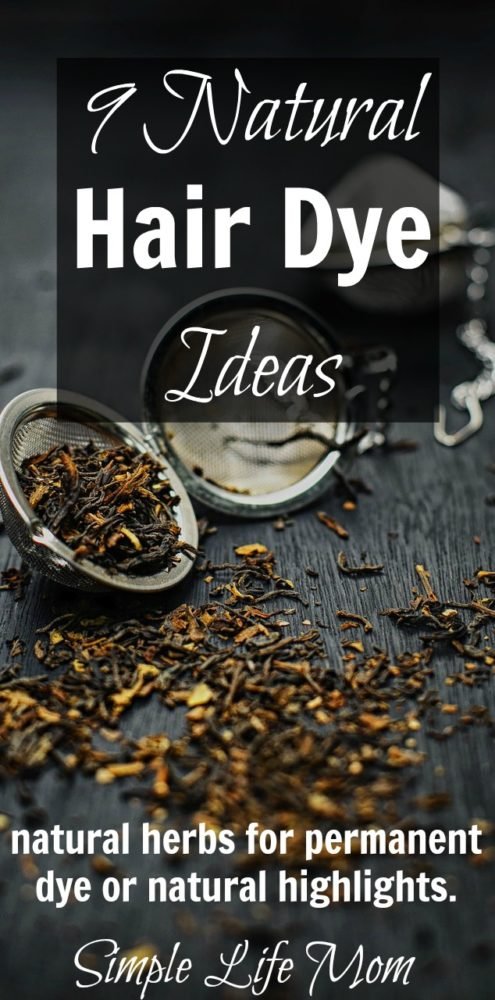 Most hair dyes that you will find in a box or in a salon have:
hydrogen peroxide
ammonia – responsible for the strong smell, ammonia opens the shaft and has been shown to weaken hair.
PPD (para-phenylenediamine) – coloring agent. EPA warns of many harmful effects like asthma, tremors, and coma!
Parabens – preservative
Resourcinol – coloring agent, considered toxic, harms immune system
I could go on, but you get the picture. Dying your hair can be fun and make you feel younger, fresh, and beautiful. The great thing is, you don't have to give up dying your hair.
I first want to talk about Henna, because it can be used with a combination of herbs to create many different colors. It is great for your hair! For more specific information about henna, see my post Henna Benefits and Uses.
Henna Natural Hair Dye Ideas

Henna is usually sold in a powder. Pure henna is simply leaves that have been dried and crushed and is often called Red henna because pure henna will give an orange/red color, though this varies depending on your natural hair color.
Other types of henna really mean that it is a natural hair dye that may have henna in it – combined with other ingredients. This is where you must be careful if you're looking for a natural hair dye.
Some companies who sell henna hair dyes will add preservatives and dye enhancers that are toxic. There are beautiful natural choices out there though! I get mine from Starwest Botanicals for this very reason.
Ingredients: Pure Red Henna Powder
Often used to obtain similar henna conditioning benefits. Though it's called nautral henna, it is not henna! It's actually Cassia obovata, or Senna. A wonderful herb for the hair, but not henna. They're not trying to trick you. It's just commonly called neutral henna in natural hair dying circles.

Ingredients: Neutral Henna Powder, Chamomile Flower Powder, Red Henna Powder, Goldenseal Root Powder
Ingredients: Red Henna Powder, Indigo Powder, and Coffee Powder
Ingredients: No henna, it's actually Indigo powder (commonly called black henna in hair dye circles)
Ingredients: a combination of Red Henna Powder and Indigo Powder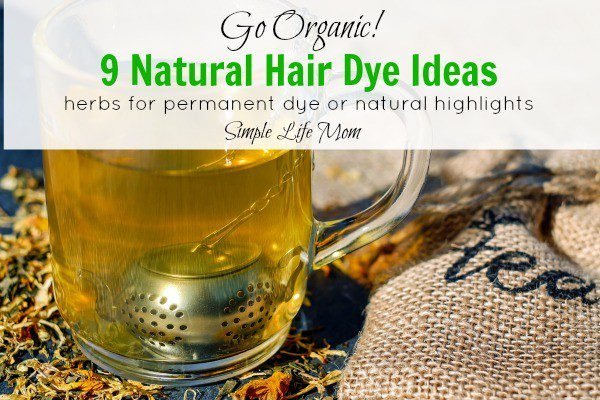 Other Herbal Natural Hair Dye Ideas
Other herbs can be used in the hair with a very subtle effect that takes place slowly over months of rinsing. I have used some of these and felt like they made my hair seem richer and more vibrant, but there was no noticeable color change. You're not going to change your hair from light brown to super dark, or from brown to red highlights. Instead, like I mentioned above, you'll gain a richness to your own hair color.
Many of us who are around or past the age of 40 start to see a change in hair color. As hormones change, hair can become dull, losing it's luster. These herb rinses help. For more Herbal Hair rinses see my post: 10 Herbal Organic Hair Rinses.
Herbal Instructions
You can easily buy these herbs in bulk and make "teas" with them that will enrich your hair over time. Simply steep 1 Tbsp of the herb in a cup of hot water. Allow it to cool and use in combination with other ingredients or teas.
Feel free to add other herbs for various highlights. For example, if you have dark hair and would like to add lighter tones, use the herbs for blonde hair. If you'd like red highlights or to enrich your blonde tones, add herbs for red hair.
For Blondes:
Use Equal parts lemon juice and calendula tea, and goldenseal tea (or add 2 Tbsp of each herb to 2 cups water
Wash hair normally and then rinse with the lemon juice and calendula tea. Let sit for as long as possible.
Because of the acidity of the lemon you will want to rinse your hair eventually. If you only use the calendula you can leave it in without rinsing.
For Brunette and Black Hair:
This should add richness to your hair whether you are a lighter brown or darker.
Use 2 tea bags and steep in hot water to make very dark tea.
Or make coffee and add coffee or espresso powder.
For Red Heads:
Use Hibiscus tea, or a beet root or alkanet root hot water infusion (make as you would tea)
Wash hair normally and apply the rinse. Leave on hair.
I like to use henna. My red hair was beginning to lose its vibrancy and red henna on my red hair makes it fiery and I LOVE it!
I am writing up a complete how to dye your hair with henna, step by step, and will get it to you in a few days in case you want to take the jump and get some really beautiful natural colors. As noted above, you can use henna and a combination of herbs for permanent colors of all shades.