Pets can be very sensitive to products that are applied to their skin. Their bodies have to filter out toxins, just like people. Even though they can handle a lot of bacteria in their gut, they can get sick and bogged down by perfumes and chemicals and lose energy and vibrancy. No one wants to do that to their pets.
There are so many more options!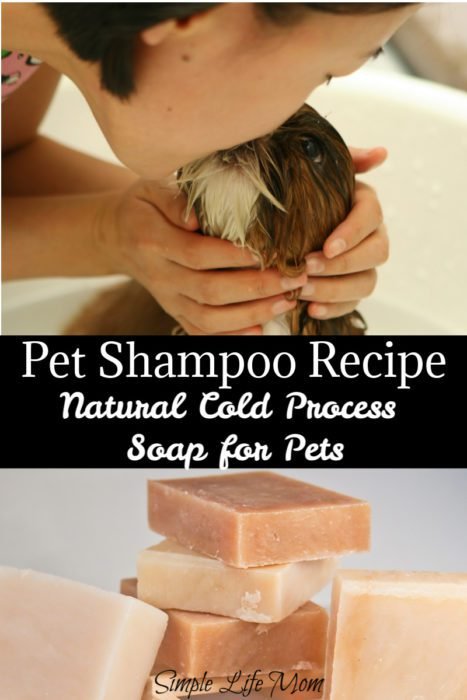 Just Getting Started?
If you've never made cold process soap before, then check out the Soap page and familiarize yourself with the recipes and tutorials that are offered.  My book Natural Soap Making Book for Beginners has detailed step by step instructions. A quick start guide can be found here: 7 Easy Steps to Homemade Lye Soap for Beginners
Essential Oils in Natural Pet Shampoo
Some animals are very sensitive to essential oils. That being said, there are many essential oils that can be used with confidence and have wonderful benefits. Plus, it's good to know that essential oils in soaps and shampoos are diluted as well. Always check with your veterinarian before applying any diluted essential oils for medicinal purposes.
I can confidently say that using essential oils in soaps on dogs has been beneficial and healthy for us, but if you have any doubts, leave them out.
Essential Oils Considered Safe for Dogs:
Geranium – great as a tick repellent
And Many more
Essential Oils to Avoid on Dogs:
Tea Tree
Wintergreen
Cinnamon
Oregano
Birch
Pine
Other "hot oils"
You can also use this natural pet shampoo recipe on horses and other farm animals. If you need a shampoo for something as sensitive as a cat (though I don't know why you'd wash a cat) just leave the essential oils out.
Natural Pet Shampoo Recipe
This recipe makes twelve 4 ounce bars with a 5% superfat content.
I've included my favorite essential oils for dogs: cedar wood and geranium. Cedar wood is great at killing odors and geranium is a good tick repellent.
Ingredients:
Instructions:
Weigh all ingredients.
Combine Olive Oil, Coconut Oil, Castor Oil, Jojoba, Cocoa Butter, and Shea Butter in a stainless steel pot and heat on low until all oils are melted and combined. Cool to 100 degrees Fahrenheit.
Outside, wearing proper safety equipment, add lye to water and stir to dissolve. Do not touch the liquid or breathe in the gas. The gas will dissipate in 1-2 minutes. Let it cool to 100 degrees Fahrenheit.
When all ingredients are around 100 degrees, add the lye water to the pot of oils and blend with a stick blender for a few minutes on and off. Check for trace (thickening). Continue to blend until light trace.
Add essential oils and blend.
Pour into prepared mold and allow to sit for 24 hours before removing.
Remove from mold, cut, and cure for 4-6 weeks.
Let me know what essential oils you've used with pets, as well as what your favorites are in shampoos.