Aromatherapy has been used for literally centuries with wonderful results. In fact, it has only been the past 100 years where people have begun turning to pharmaceuticals and have lost natural remedy knowledge. That has been changing lately as people have been fighting to bring back natural traditions combined with modern knowledge of medicine to give you such resources as this Natural Stretch Mark Cream recipe.
I'm excited to tell you about a great resource today: Aromatherapy for Beginners by Anne Kennedy. Rockridge Press is providing 3 copies of the book for a wonderful giveaway (see below) and is sponsoring me to give you my own opinion about the book.
What's I've found out? It's definitely not just another book on essential oils. The resources and recipes are fantastic!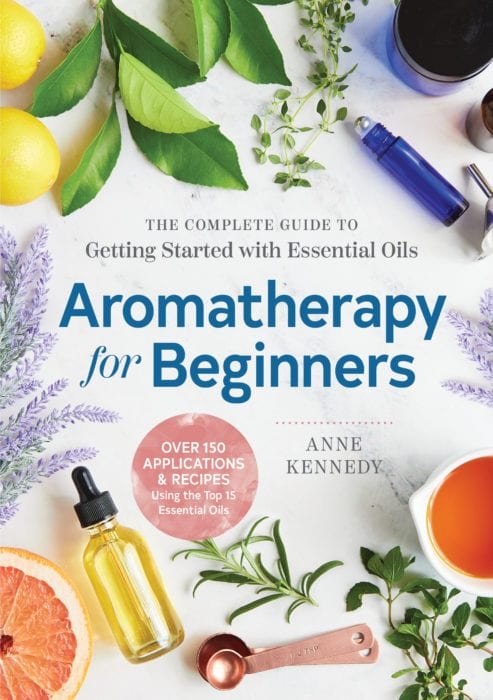 If you are skeptical concerning essential oils and herbal use for medicinal purposes, understand that you already use herbs for health by incorporating ginger, garlic, basil, oregano and other foods into your daily meals. Essential oils are simply a more concentrated version of these herbs.
What are Essential Oils?
Essential oils are highly concentrated oils from plants. Only a tiny percentage of the oil within a plant's leaves, bark, or root is actually the volatile, aromatic essential oil. Anne Kennedy in Aromatherapy for Beginners, says that it takes 60 roses to make just one drop of rose essential oil! 1
No wonder some essential oils are more expensive than others. If that plant only produces a small amount of essential oil, it can take many pounds of the plant to make a tiny bottle of essential oil.
The potency of essential oils should not be overlooked. In Aromatherapy for Beginners, Anne does a great job discussing the safety precautions that should be taken with essential oils and why. She explains how it is not only more beneficial to your body to follow her safety guidelines (and touches on the fact that people are becoming sensitive to oils after prolonged use without dilution), but also how it is more frugal.
How to Buy for Essential Oils for Aromatherapy
Essential oil companies are very controversial these days.
There have been a few, like Starwest Botanicals, that have been around longer than anyone else.
And there are a few others, like Young Living and DoTerra, who set themselves up as arch rivals and have aggressive marketing techniques stating that each is the ONLY company to use if you want top notch pure oils.
Then you have those mysterious ones that have popped up on Amazon that sell oils extremely cheap, yet for some reason the oils just don't smell as potent or quite right.
What's a person to do? How can you decide what's best when there are no outside regulatory groups or standards?
Anne gives you a list of those who have been around a while, what to avoid, and warning signs in order to help you make the best decision.
Creating Essential Oil Aromatherapy Blends
Anne Kennedy's recommendation for tools come in "Essential Tools", as well as "Nice to Have" extra options. I love that she helps the beginner know which tools are needed and which tools are just nice extras so that you can stick to your budget.
I can't rave about this book enough. Aromatherapy for Beginners gives you:
how to shop
how to prepare recipes
dilution charts
substitution charts
safety guidelines
troubleshooting Q&A for those with sensitive skin, children, elderly, etc.
in-depth profile of 15 essential oils
She also provides over 150 applications for problems like:
bruises, acne, pms, sleeplessness, burns, itchy skin, swelling, sunburns, tooth aches, anxiety, as well as skin and hair care!
Natural Stretch Mark Cream
Here is just one of the 150+ recipes that I found in Anne's book. She gave me permission to share the natural stretch cream recipe and hopes that you enjoy it and check out her book: Aromatherapy for Beginners.
Natural Stretch Mark Cream – Aromatherapy for Beginners
Topical, Safe for Ages 12+ This cream promotes healing, and it can reduce the appearance of stretch marks. The cocoa butter, coconut oil, and jojoba oil provide deep moisture. Don't be surprised if you find yourself applying this lovely moisturizer even to unaffected areas.
Instructions
In a small bottle, combine the geranium, lavender, patchouli, and roman chamomile essential oils. Let them rest overnight.

In a double boiler over medium-low heat, combine the cocoa butter and coconut oil. Stir until the ingredients are just melted.

Add the jojoba oil and the blended essential oils. Transfer the liquefied blend to a small bowl and refrigerate for 2 hours.

With a handheld mixer, whip the solidified cream until it has a light, silky texture. Transfer the balm to a bowl with a tight-fitting lid.

Use your fingertips to apply 1/2 teaspoon of the cream to each effected area and repeat at least twice daily.

Store the cream in a cool, dark place between uses.
Notes
Tip: You can use mango or shea butter instead of the cocoa butter, or leave out the jojoba oil and cocoa butter in favor of a simpler balm made with 1 cup coconut oil.
Fore more essential oil organic beauty product DIYs, see: