It's great to know how to make your own onion soap mix and dip recipes, not only so you know exactly what is in the food you are eating and giving to your family, but you can make a bunch and keep it in a mason jar in your cupboard and have it on hand whenever you need it.
It's also wonderful because it has wonderful ingredients; no msg, preservatives, artificial coloring, or any other junk.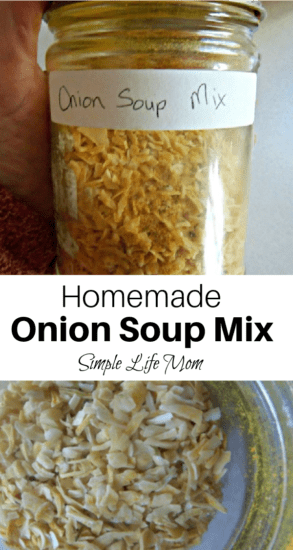 The turmeric added to the mix gives your food a beautiful color, but more importantly, turmeric is extremely good for you. Turmeric is anti-inflammatory, and some studies have shown that it can reduce the impact of carcinogens from grilling or smoking meats by up to 40% and may reduce the chances of developing Alzheimer's disease. (1)
Overall, turmeric is adds a great punch to a homemade onion soup mix and dip recipes!
I also use it in a lot more things than just dip, too.
Onion soup mix is great in:
creamy soups
dips
seasoning meat
seasoning potatoes
seasoning rice
crockpot cooking with things like pot roast and veggies or chicken and veggies
beef stroganoff
and more…let us know what you use it for!
You can use this in soups, meat and rice dishes, and of course veggie and chip dip!
Onion Soup Mix
Ingredients
1-1/2

tablespoon

onion powder

1-1/2

cups

dried, minced onion

2

tablespoons

dried parsley flakes

1-1/2

tablespoons

turmeric

2

teaspoons

celery salt

2

teaspoons

sea salt

1

teaspoon

pepper
Instructions
Add all ingredients into a mason jar with lid.

1-1/2 tablespoon onion powder,

1-1/2 cups dried, minced onion,

2 tablespoons dried parsley flakes,

1-1/2 tablespoons turmeric,

2 teaspoons celery salt,

2 teaspoons sea salt,

1 teaspoon pepper

Close jar tightly and shake until ingredients are mixed well. Shake before each use.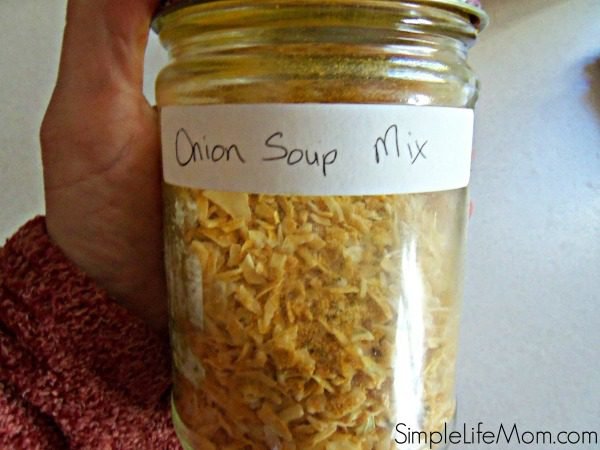 Creamy Onion Dip Recipe
As I said before, you can use this in casseroles and on meats and in soups, but it also makes a fabulous dip!
Creamy Onion Dip
Ingredients
2

cups

sour cream

¼

cup

homemade onion soup mix
Instructions
Mix ingredients together and enjoy with veggies, potato chips, on baked potatoes, etc.

2 cups sour cream,

1/4 cup homemade onion soup mix
Save