Stevia has become very popular over the past few years. It is plant derived and marketed as all natural and pure. The only problem is, most people are not noticing that real stevia is not white!
The Question
Sugar is very addicting.
A lot of cultures today are surrounded by sugar. It is a great product for marketers, because of its addicting effects. People will keep buying it…unless they can break the cycle.
Some people are turning to artificial sweeteners, though most people these days have heard how artificial sweeteners are carcinogenic. While others have been searching for more natural alternatives to lessen the impact of the sugar that we consume.
Stevia has become more and more popular over the past few years. It is 200 times sweeter than cane sugar, but doesn't affect your insulin levels like cane sugar does.
You can see it in stores everywhere now. There are soda cans, granola bars, even fruit cups, that boast that they contain stevia. It says "All Natural" or "In the Raw", but is it really?
I have a stevia plant. It is a beautiful green plant that grows well in warm climates (or inside during the winter). But I noticed something. It's definitely green. Not white. It's green.
It also has a strong distinct earthy taste mixed in with the sweetness.
So, what exactly happens so that the stevia package I open pours out those snow white crystals with very little stevia after-taste?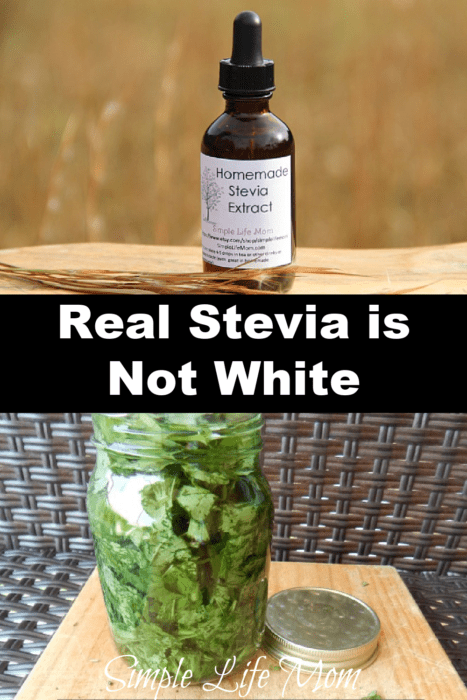 The Process
"Production of stevioside involves water extraction from the dried leaves, followed by clarification and crystalization processes. Most commercial processes consist of water extraction, de-coloration, and purification using ion-exchange resins, electrolytic techniques, or precipitating agents," (steviapowder.com)
"Some powdered forms of stevia extract can contain maltodextrin, a food additive derived from cornstarch that may contain MSG." (livestrong.com)
"Truvia, a stevia brand made by Coca-Cola, has approximately 40 steps in its extraction and manufacturing process, which uses chemicals including methanol, acetone, ethanol and isopropanol, several of which are known carcinogens." (thealternativedaily.com)
They add something called erythritol, which is a natural fruit sugar, but most companies do not use natural fruit sugar.  They start with GMO corn and go through a long sterilization and fermentation process to get to what they call erythritol. More on GMOs.
What This All Means
White stevia is still called natural because just like "natural flavoring". Either one can be called natural because it starts out as the natural ingredient in the lab. For example, look at stevia. After 40 different steps involving various chemicals for extraction, you have something that doesn't even resemble the real thing. If you are looking for an all natural diet, avoid all natural flavorings unless you know not only the ingredients, but also the process in which it was extracted.
Check the ingredient list and know the processing.
When looking at the processing, look for words like "dextrose", "erthritol", and "natural flavoring" (which is often all but natural). Then you know there is more than first meets the eye and it is worth your investigation.
When it comes to stevia, choose organic, whole stevia leaf.
Get started today by: