Can soap be romantic? Of course it can! Rose is traditionally known as the scent of love. But it has a lot of other benefits as well. With Valentine's Day coming up, I thought it would be perfect timing to give you a great facial rose soap recipe that doubles as a wonderful body bar.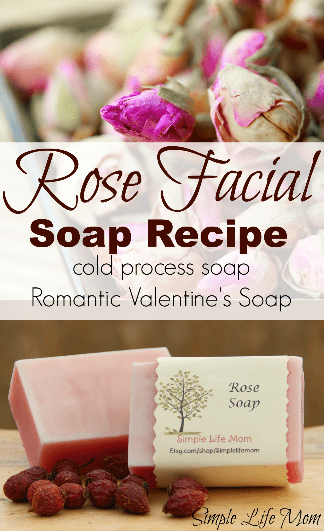 Benefits of Rose Essential Oil
Rose essential oil is extracted from the petals of roses. It takes about 60 roses to make one drop of rose essential oil.  That means it takes around 10,000 roses to make one 15ml bottle of rose oil.  SO, pure rose essential oil is no cheap! If you see some that is, question why? Often expensive oils are diluted (which is fine if this is clearly stated) and sometimes misrepresented by being replaced with a toxic or non-therapeutic fragrance oil.  So know your manufacturer! I like to use Starwest Botanicals for this oil, especially.
Rose Essential Oil for Aromatherapy
Therapeutically, rose essential oil is used to fight depression and anxiety. It is calming and uplifting, making it great for diffusing before bed or in a personal office when you need the benefits of a calming scent.
Rose Essential Oil in Soap
Rose has a lot of natural health benefits that make it wonderful for soap.
It is antimicrobial and antiseptic due to the cirtal and methyl eugenal content, and is a strong antioxidant due to the amount of eugenol.
Rose essential oil also has natural chemical components that are highly valued in the perfume industry (Phenyl Acetaldehyde and Phenyl Geraniol).
I use it in my puffy eye serum, because of its anti-inflammatory effects.
All of these benefits come together to make a great face bar addition.
I love this rose soap  and make it at home. You can find it in my shop: SimpleLifeMom.Etsy.com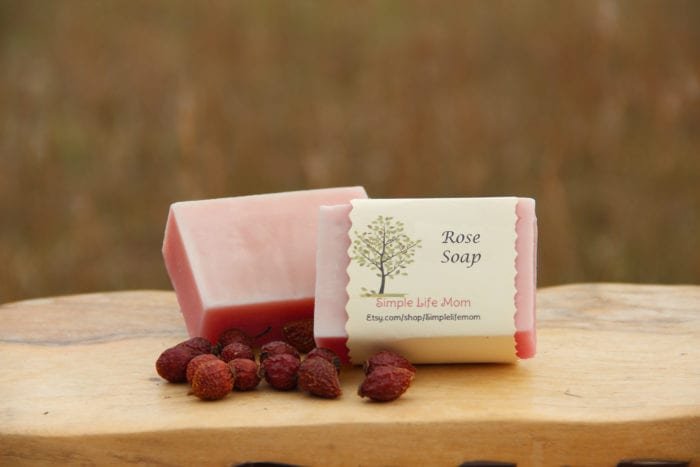 Rose Soap Recipe
Enjoy this beautiful, bubbly, creamy rose soap recipe. This recipe make s 2lb batch of soap, which can easily be cut into 8 four ounce bars. I've made this with a 12% superfat ratio for added moisturizing benefits for your sensitive facial skin. Obviously, this makes it a wonderful body bar as well.
If you need to learn more about cold process soap making, check out 7 Easy Steps to Homemade Soap, or one of my books: The Natural Soapmaking Book for Beginners and Natural Soap Making How-to and Recipe Book.
Ingredients:
Directions:
Combine olive oil, coconut oil, castor oil, shea butter, cocoa butter, and apricot kernel oil in a stainless steel pot and melt over medium/low heat. Remove from heat and allow to cool to 100 degrees Fahrenheit.
Outside, wearing proper safety gear including gloves and a mask, pour lye crystals into water and stir until dissolved. Allow to cool to 100 degrees Fahrenheit. If oils or lye water are not cooling at the same rate, use a cold water bath in the sink.
When both lye water and oils are at the correct temperature, pour lye water into oils and mix with a hand or stick mixer until medium trace.
Add essential oil and rose clay and blend well.
Pour into mold and insulate for 24 hours.
Remove from mold and cut.
Allow to cure for 4-6 weeks in a cool, non-humid location.
You can also find rose soap in my shop: SimpleLifeMom.Etsy.com