If you've been looking for a good all purpose shampoo bar recipe, then I've got you covered.
I've actually put together multiple options so that you can easily tweak this recipe without any trouble. It is a cold process soap recipe. If you've never made cold process, then check out my book Natural Soap Making Book for Beginners, or search the tutorials on my Soap Making home page (I also have a new book coming out on Melt and Pour, Hand-milling, and Cold Process).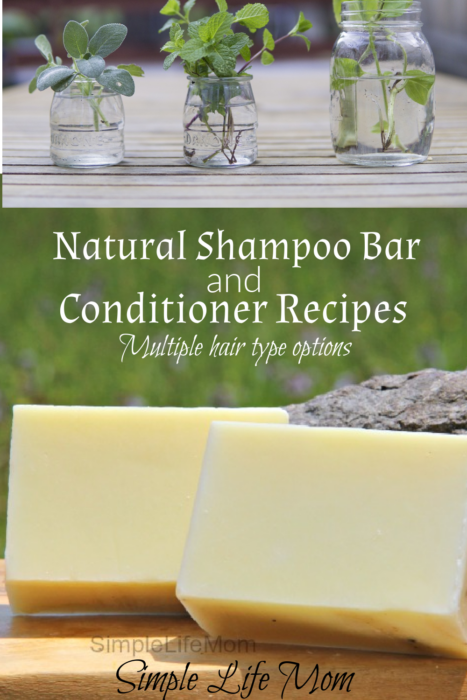 Soap making is like baking a cake and icing it too. If you have done that before, then you can make soap.
The Conditioner options I have on this page are not for bars, though I'll give you links to a few recipes. Conditioner bars really need some questionable ingredients to do well in bar form. You also need to have the right type of hair and use them properly. Too many people like to use them like they would a bar of soap on their skin, and then are upset that they don't get great results.
Instead, I'm giving you some amazing herbal options that are spray and rinse conditioners. They are great on all hair types and much easier to use.
Let's get right to it!
Natural Shampoo Bar Recipe
Oils and herbs make the shampoo bar. Most natural oils used in homemade soap bars are great in hair. Some just happen to be better for certain hair types. I'll give you the recipe, then tell you how to modify it to fit your specific needs.
This recipe makes 3lbs of shampoo or twelve 4-ounce shampoo bars.
Superfat: 7%
Ingredients:
Directions:
Weigh and combine cocoa butter, coconut oil, castor oil, apricot kernel oil, and avocado oil in a large stainless steel pot. Melt over low heat, stir, and remove from heat. Cool to around 90 F.
Weigh water in a plastic container and lye into a zip-top bag. Go outside wearing disposable gloves, goggles, and a charcoal mask (cloth masks do nothing) and pour the lye into the water and stir until it is dissolved (about 30 seconds). It will give off a gas for 1-2 minutes. Do not breathe the gas. The chemical reaction will cause the lye water to heat rapidly. Allow to cool until about 90 F.
When oils and lye water are around 90 F, pour lye water into oils and blend with an immersion blender until it begins to thicken (trace).
Add essential oils and blend.
Pour into a lined mold, cover and insulate if necessary and let sit for 24 hours to set. After 24 hours, remove from mold and cut. Cure for 3-6 weeks in a cool, dry location until hard.
To Use: Use a shampoo bar by lathering in your hand or a scrunchy and rub through your hair. Rinse.
Options:
For Curly Hair: Add 1 Tablespoon of honey at trace (the same time you add the essential oils). Substitute 1/2 of the water with cow or goat milk.
Use essential oils of your choice. Try lavender, orange, rose, rosemary and peppermint, or eucalyptus and lemon.
For Oily Hair: Add 1 tablespoon nettle powder at trace.
You have a lot of options for essential oils. I suggest trying tea tree and grapefruit, rosemary or geranium.
For Thin or Limp Hair: Substitute jojoba for the apricot kernel oil. You don't need to change the lye amount for that switch. Add 1 tablespoon of honey at trace.
Combine rosemary, cypress, clary sage, and lemon essential oils to increase circulation and revitalize scalp and hair.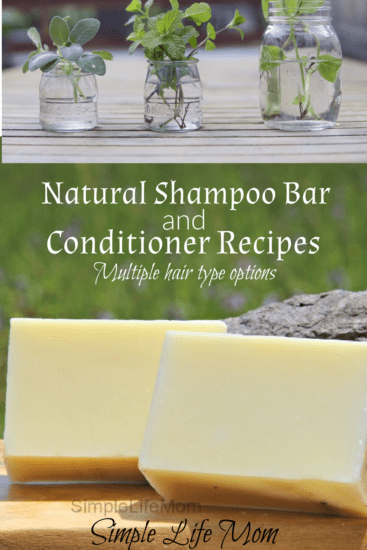 Herbal Conditioning Recipes
As I mentioned above, using a conditioner bar means you have to pay attention to your hair's needs, your hair type, and how much to use. Since most people are not used to being so particular about how they use a bar on their hair, I'm giving you some options that are spray and rinse that work wonderfully and are super easy to get great results!
If you'd like to check out the conditioner bar recipe, click here: Conditioner bar for all hair types.
I use a conditioner bar once every week or two and use a spray conditioner every time I wash without the conditioner bar.
It's important to remember that natural shampoo bars are slightly basic. Applying something that is slightly acidic will balance the hair and scalp for smoother, closed hair follicles and healthy hair.
Herbal Conditioner #1
Add ingredients to a spray bottle and shake to mix. After washing, spray with conditioner and rinse.
Herbal Conditioner #2
Heat water to a simmer and remove from heat. Add herbs. Cool, strain, add vinegar and pour all into a spray bottle. After washing, spray with conditioner and rinse.
Herbal Conditioner #3
Heat water and rose hips for 15 minutes on low heat and remove from heat. Cool and add vinegar and essential oil.
If you have questions, mention them in the comments below and I'll see if I can help.