At some point in our lives we notice that we have brittle nails that chip and crack easily or soft nails that bend and break. No one wants their nails breaking or splitting. But more than anything, what if brittle soft nails indicates an underlying health issue that needs to be addressed? Can you heal brittle nails?
If your nails are breaking and you don't know why, then you're in the right place. Let's dive into possible reasons of why you're experiencing nail issues and discover ways to heal brittle and soft nails.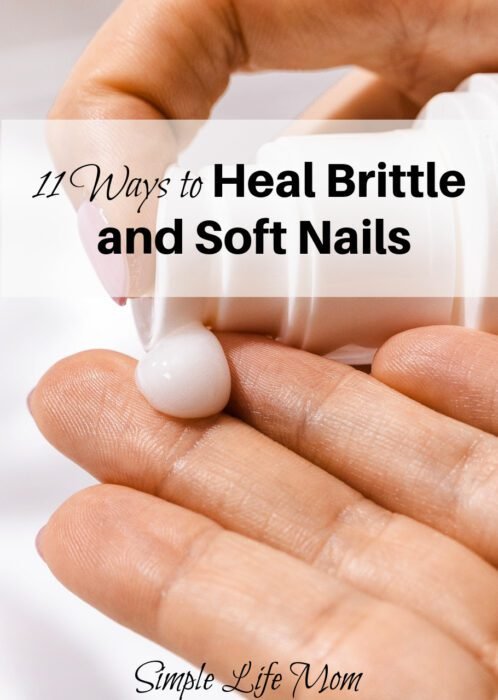 What Causes Brittle and Soft Nails?
Age and Moisture – First, it's important to understand that many times brittle and soft nails can be caused by age or just the need for moisture.
Washing and Cleansing – Another simple reason for breaking, peeling, chipping, soft and brittle nails is too much hand washing and use of hand sanitizer. Alcohol will over dry nails, as will constantly stripping off any moisture.
Wind and Sun – Are you out in the wind and sun a lot? Sunbathing in the summer and being out in winter wind can both cause brittle nails by sunburning your nails or over drying.
Damage – I have a nail that I split down the middle when I was 10 years old. No matter how I protect and file that nail, there are ties it will split in the exact same location again. It makes no sense because you cannot see or feel the split before it happens. I think I have finally healed it…then it splits. Sometimes there is damage that will not heal. That is not a health issue of concern, but something you just have to care for and be aware of.
Nail Polish Remover – Nail polish remover used often will definitely dry your nails, causing nails to be soft or brittle. Make sure to moisturize!
Internal Causes to Rule Out
Hyper and Hypothyroidism – Both low functioning and overactive thyroid can cause brittle nails.
Fungus – Some fungi can grow on your nails in a way that looks simply dry and flaky
Psoriasis and Allergy – I put these together, because they look very similar. A dermatologist was convinced we were dealing with psoriasis, only to have another one tell use it was an allergic reaction and help us cure the issue within 24 hours!
Iron Deficiency – iron deficiency can lead to anemia where your blood does not have enough hemoglobin to carry oxygen to the body due to lack of iron. Anemia causes fatigue, but it can also cause brittle nails.
Heal Brittle Nails and Soft Nails
If your fingernails have problems, but your toe nails are fine, chances are the problem is external (hand washing, sun burn, lack of moisture). Here are some things to keep in mind to help your nails:
Moisturize – when you moisturize your skin, work moisture on and around your nails as well
Hydrate – drink plenty of filtered water
Avoid – stay away from harsh chemicals, hand sanitizers, and nail polish removers. Wear gloves if you can if necessary to avoid washing hands too often. It goes to say that acrylics will also harm your nails because of the glue use in the process.
Vitamins – Eat a vitamin rich diet and take supplements if necessary to give your body everything it needs to make sure your hair and nails are healthy.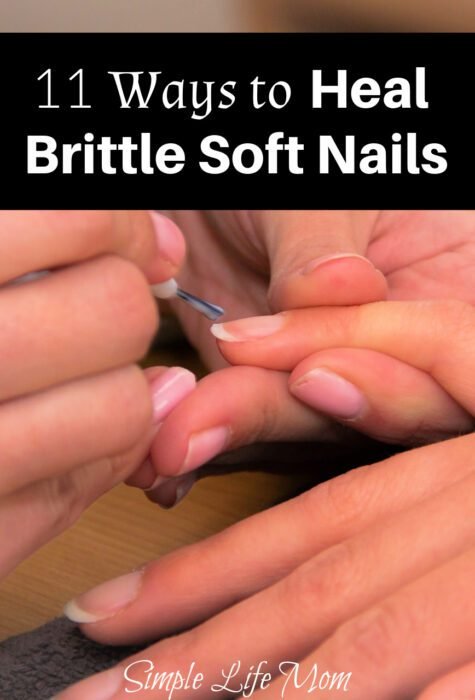 Other ways to really nourish your nails:
Start using a natural lotion. Most store bought lotions have so much water and alcohol that texture and absorption is the main focus, not hydration or any nourishment. Get rid of that junk and start making your own.
Another way to hydrate fingers and nails is by using a hand salve. Hand salves can be applies to hands while you're in bed so that it has all night to absorb.
You can also apply oils to the nails by gently massaging them into the nail and cuticles. Try oils like argan oil, vitamin e oil, or emu oil.