Start them young!
Ownership of knowledge is important whether you are a child or an adult. Whenever you are part of the learning process in a hands on way, you are much more likely to care and retain more information, whatever your learning style may be.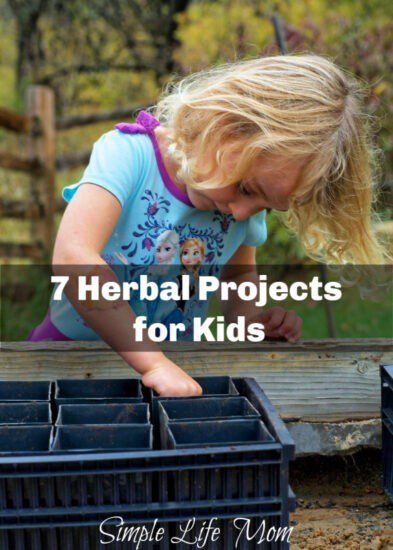 Creating herbal projects for kids is a great way to get your children or grandchildren to care more about growing herbs and what they do for the body.
I know growing my own herbs has helped ME understand more and remember that knowledge. After all, there are so many herbs that do different things in the body that it can feel overwhelming when first trying to categorize it all and remember what does what.
10 Herbal Projects for Kids
I've put together 10 herbal projects for kids. These are little ideas that you can do on an afternoon.
If you want a FULL Comprehensive, teach my kids amazing skills with little organizing effort on my part, program then you must check out Resource #1
1. Herb Fairies from Learning Herbs
Herb Fairies only opens for enrollment once a year. The reason is that your child will get a set of books and then activities each month of the year. As a parent, you can get involved by reading the books with your children and helping with the fun and simple herbal preparations, slipping easily into role of herbal mentor (even if you have no herbal experience). It is a fabulous project and adventure story reading based program that I highly recommend.
TODAY AND TOMORROW ONLY you can get the first book for free: Learn More About Herbal Fairies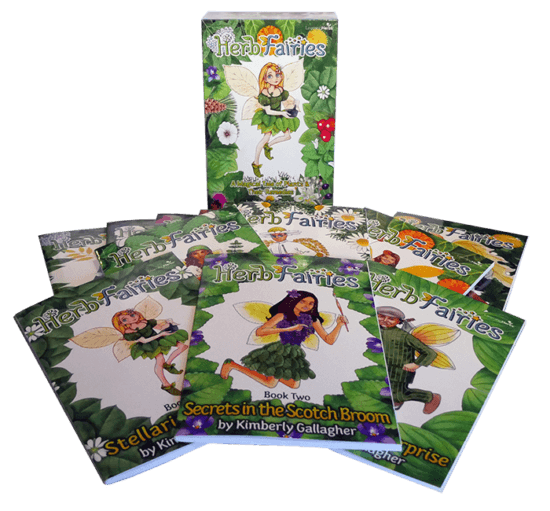 2. Start an Herb Garden
Make a little section of your garden or flower bed one child's section or purchase some small pots to designate as their own.
Help them choose herbs to grow in their garden. These don't have to start from seed as many herbs are hard to start from seed. Instead, feel free to visit a nursery and choose plants together. If you don't know much about a plant that they choose, then tell them that you all can study about it together.
Choose a variety of herbs that are available, or if your child likes to help you cook, make it an cooking herbal garden.
Teach them how to take care of them and check the soil for moisture. Talk about whether it is getting enough sun or too much.
3. Observe Over Time
Make a chart to observe their herb garden or plants that you already have started for them, depending on their age. This can be as simple as measuring with a tape measure to see how much it has grown in a week to drawing weekly pictures for those herbs that grow faster.
You can also have two identical herbs and grow them in different environments. Place one in a cooler shaded area and one in full sun. Record observations regularly.
3. Start a Backyard Notebook
Give each child a notebook and go into your yard to try and identify plants and "weeds" that are found. Choose to study ground plants or trees or let them choose what they want to identify.
Start by choosing a plant and drawing it. Tell them to pay attention to the shape of the leaf, the color, whether the leaves are across from each other or are staggered on the stem.
Help them look up what plant it is and write down some interesting facts, such as if it is edible and what it can do for the body.
4. Find Books on Herbs
Visit local libraries and bring home books on herbs or trees. Bring these books home and read. See if you can find any local plant books so that you can go out and search for those plants. I did this with my kids and they were so proud to be able to identify various trees and plant life in our area.
5. Explore Culinary Herbs
Find a book that has culinary herbs. Read about them, then explore those herbs in your kitchen. Taste them fresh and dried. Smell and describe. Find a recipe where you add that herb and make it.
6. Herbal Bath and Body
Use herbs in everyday living. Children need to learn young that they can make their own products better than what they can find most prevalent around them. Learn to make lotion with essential oils, makeup recipe, soap, hair products, herbal lip balm, and more. If it's a bath and body product then I probably have the recipe for it here on Simple Life Mom. Have fun making these things while your children are young so that they can take the value of it with them into their own families when they are older.
7. Play Herbal Games
Learning Herbs has a game called Wildcraft that is a lot of fun. My daughter is a teenager and we brought it out the other day and couldn't stop laughing at our adventure as we trouped at the mountain to gather berries. Let's just say we needed a lot of natural remedies along the way. It's a lot of fun and I know my daughter won't forget the remedies that we used in the game. It's an excellent resource. Find it here.