One thing that soap makers figure out quickly, is that even though they love various recipes because of the different qualities various oils bring to soap, we usually end up with one cold process soap recipe that we tweak with various scents and colors.
If you're making soap for your family, then this is exactly what I would advise you to do.
What is most important to you? Bubbles? Hardness? Moisturizing qualities?
When you find that recipe that you love, hold onto it. Make it with only 1% superfat and grate it to use for laundry soap. Up the superfat to make it more moisturizing for winter. Add various scents and colors in different batches so that you have fun with holiday scents and learn new skills. Add herbs for your hair, skin problems, or even make jewelweed soap for poison ivy.
You don't have to have a different recipe for each batch of soap that you make. I make a number of recipes, because different oils bring different properties to soap. Learn more about what oils do in soap here. But if I wasn't selling soap in my shop, I'd probably use this recipe almost every time for my family.
It's one of those "go to" recipes. I really like this recipe because it is simple, and it has always worked out great. It makes a wonderfully hard bar that lasts a very long time.
Remember, you can add whatever kinds of lovely extras to it like essential oils, flowers to the top, herbs blended in, or exfoliators like ground oats or coffee grains. Be creative and have fun. These additives will not change the basic oil, water, and lye amounts in the recipe.
For more information on soap making see 7 Steps to Homemade Soap for Beginners and the "Handmade Soap" tab in the Navigation menu at the top of the page.
Ingredients and Substitutions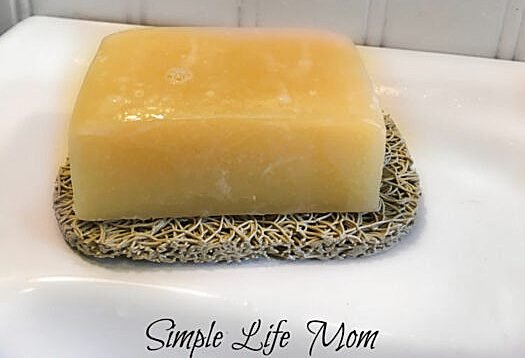 Tallow:
Keep in mind that you can substitute vegetable shortening and lard for the Tallow if you like. Just make sure it is of high quality. A lot of vegetable shortening or lard that you buy in the store has extra ingredients to stabilize and preserve it. Those go into the soap and then your skin will absorb them.
Coconut Oil:
If you cannot use coconut because of a nut allergy, then feel free to substitute the coconut oil with babassu oil (Find some here). You don't need to change anything else in the recipe because of this change.
Lye:
If you are searching for Lye, you can find some HERE. As long as it's pure crystals, you don't need to look for a label that says "food grade". That doesn't really make sense to me. It may cure olives at a seriously diluted consistency, but don't go putting it near your skin!
If you're looking for some lye locally, try a hardware store and look in the plumbing section. I've had a few mishaps with lye having rocks where I had to sift it, or even had my lye water turn neon blue from some crazy chemical they added. So find a brand that works.
Vegan Cold Process Soap
If you are a vegan or cannot get your hands on some good tallow, you cannot just replace the tallow with another oil. It will change everything in the recipe. Some substitutions are easy and a 1:1 change. Others will make the recipe too cleansing and drying to the skin, or make the recipe lye heavy and harsh on the skin. You can learn more about substituting oils in soap here.
If you need a vegan recipe, try one of these:
Any of these can be changed as mentioned above. Change the essential oils used. Add some clay or herbs for color and medicinal needs.
Easy Cold Process Soap Recipe
Cold Process Soap Recipe
A great tallow soap recipe that makes a great base soap.
Instructions
Combine tallow, olive oil, and coconut oil in a stainless steel pot and heat over medium heat until fully melted. Cool to 90 degrees Fahrenheit.

12 ounces tallow,

12 ounces Olive Oil,

8 ounces Coconut Oil

Wearing gloves, weigh lye into a disposable bag. Weigh water. Take both outside and wearing a mask, pour the lye into the water. Stir until dissolved and let cool to around 90 degrees Fahrenheit.

12 ounces water,

4.6 ounces Lye

Pour lye water into oils when both are the correct temperatures and mix with a hand or stick blender until it begins to thicken (reaches trace).

Add essential oils if desired and blend well.

Pour into a prepared 3lb mold (lined if necessary) and insulate for 24 hours.

Remove from the mold and cut. Allow to cure for 3-6 weeks to harden.
If you'd like to make shampoo bars, try onw of these recipes:Save