These cookies really are the best ever oatmeal chocolate chip cookies! The recipe has been asked for over and over again.
It's an amazing recipe that is always a hit. I make other types of cookies and my family says they are good, but asks why I didn't make these oatmeal chocolate chip. They are that good.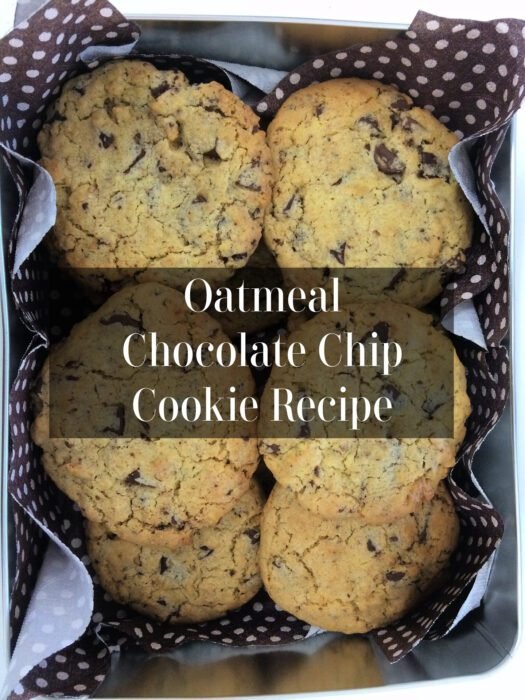 So if you ever find yourself searching for the perfect chocolate chip cookie recipe, this is it! This recipe delivers deliciously chewy cookies every time, with a crunchy outside and chewy inside.
I'll give you the key ingredients, step-by-step instructions, tips for customization, and storage suggestions to ensure your cookies stay fresh. Get ready to make the only oatmeal chocolate chip cookie recipe you'll ever need.
Ingredients
To make the perfect batch of oatmeal chocolate chip cookies, you'll need a few key ingredients. First, you'll need butter, which gives the cookies their rich and buttery flavor. You'll also need both granulated and brown sugar for sweetness and texture. For the oatmeal component, use old-fashioned oats for a chewy texture. The chocolate chips are, of course, a crucial ingredient – use high-quality chocolate chips for the best results. Lastly, you'll need some flour, eggs, and a few other basic baking ingredients.
I make my own homemade vanilla extract. It adds extra delicious flavor. If you've never made your own Vanilla extract you can find the recipe HERE or you can buy some from my shop HERE.
Now that you have your ingredients assembled, it's time to get started on the fun part – making the cookies!
Instructions for Oatmeal Chocolate Chip Cookies
Now it's time to get down to business and bake some delicious oatmeal chocolate chip cookies! Follow these instructions for the perfect batch:
Preheat your oven to 375°F. I don't line my baking sheet, because these cookies have enough butter that they don't stick.
In a large mixing bowl, cream together the butter, granulated sugar, and brown sugar until light and fluffy.
Beat in the eggs and vanilla extract until well combined.
In a separate bowl, whisk together the flour, oats, baking soda, baking powder, and salt. I've added a grated chocolate bar and nuts as options if you want to take these over the top (see recipe).
Gradually mix the dry ingredients into the wet ingredients until just combined.
Stir in chocolate chips until evenly distributed throughout the dough.
Using a cookie scoop or spoon, drop rounded balls of dough onto the prepared baking sheet, spacing them about 2 inches apart.
Bake for 8-10 minutes, or until the edges are lightly golden brown and the centers are set.
Remove from the oven and let cool on the baking sheet for 5 minutes before transferring to a wire rack to cool completely.
Now that you know how to make the basic recipe, it's time to put your own spin on it with some customization tips.
Oatmeal Chocolate Chip Cookies
a crunch on the outside and chewy on the inside chocolate chip cookie
Ingredients
1

cup

unsalted butter

1

cup

unbleached white sugar

1

cup

brown sugar

2

large

eggs

1-1/2

teaspoons

vanilla extract

2

cups

unbleached white flour

, or 1 cup whole wheat and 1 cup white

1

teaspoon

baking soda

1

teaspoon

baking powder

½

teaspoon

salt

2-1/2

cups

rolled or cut oats

, blended for a smoother texture

12

ounces

semi sweet chocolate chips

1

8 ounce

grated chocolate bar

, optional

1-1/2

cups

chopped

, optional
Instructions
Combine in a large mixing bowl the butter, sugars, eggs, and vanilla extract.

1 cup unsalted butter,

1 cup unbleached white sugar,

1 cup brown sugar,

2 large eggs,

1-1/2 teaspoons vanilla extract

In a separate bowl, combine the flour, baking soda, baking powder, salt, oats, chocolate chips, grated chocolate bar and nuts (if adding).

2 cups unbleached white flour,

1 teaspoon baking soda,

1 teaspoon baking powder,

1/2 teaspoon salt,

2-1/2 cups rolled or cut oats,

12 ounces semi sweet chocolate chips,

1 8 ounce grated chocolate bar,

1-1/2 cups chopped

Spoon onto cookie sheet 2 inches apart.

Bake for 8 minutes. They should just be beginning to brown. This will keep them soft and gooey. Bake longer for a harder, crunchier cookie.
Customization Tips
Since we don't eat a lot of sugar, I take the amount of white sugar down to a 1/2 cup. If you're looking for a standard cookie sweetness you'll want to keep it at 1 cup. For a "breakfast cookie" I've made them with only the brown sugar and my kids still ate them up. The chocolate chips add enough sweetness.
You can add your own personal touch to these delicious cookies too. Here are some customization tips to make them truly your own:
Switch up the chocolate chips: Instead of using traditional milk chocolate chips, try using dark chocolate, white chocolate, or even peanut butter chips for a unique twist.
Add nuts: For some added crunch, chop up your favorite nuts such as walnuts, pecans, or almonds and mix them into the dough before baking.
Mix in dried fruit: Adding dried cranberries, raisins, or cherries can give your cookies a sweet and tangy flavor. Fruit can sometimes add to the cooking time, so watch them.
Experiment with spices: Try adding a dash of cinnamon, nutmeg, or ginger to your dough for a warm and cozy taste.
Use different types of sugar: Instead of using white sugar, try using maple, honey, or agave for a richer flavor.
By customizing your oatmeal chocolate chip cookies, you can create a unique flavor profile that fits your tastes. Enjoy them fresh out of the oven or store them for later using our storage suggestions below.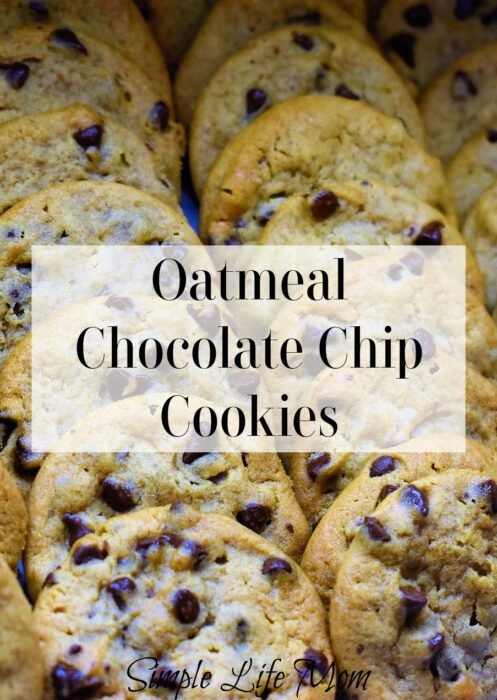 Storage Suggestions
To ensure your oatmeal chocolate chip cookies stay fresh and delicious for as long as possible, it's important to store them properly (If they last that long before being eaten). Here are some storage suggestions to keep in mind:
Firstly, make sure the cookies have cooled completely before storing them. If they are still warm, they can create condensation inside the storage container and become soggy.
Secondly, choose an airtight container that will keep air and moisture out. A plastic container with a tight-fitting lid or a resealable plastic bag would work well. Avoid using aluminum foil or plastic wrap, as these can easily tear and allow air in.
Thirdly, consider adding a slice of bread to the container or bag with the cookies. The bread will absorb any excess moisture and prevent the cookies from becoming stale.
Lastly, store the container of cookies in a cool, dry place, away from direct sunlight. Avoid storing them in the refrigerator, as the cold temperature can dry them out and affect the texture.
By following these storage suggestions, your oatmeal chocolate chip cookies will stay fresh and delicious for several days. Whether you enjoy them right away or save them for later, you'll be able to savor the unique flavor profile you created.Save