I had to say it is the Best Salmon Rub Recipe…because it just is.
My husband found a salmon rub recipe about 15 years ago and decided to change it up. He added a little bit more of this, less of that, and completely new ingredients as well. Our friends started calling it "Matthew's Delight".
So this is his recipe, not mine. He's very proud of it, and for good reason. It's full of developed flavor, balanced with spice and acids, easy to make, and makes salmon one of our favorite proteins! All of our family (and friends) now use this recipe.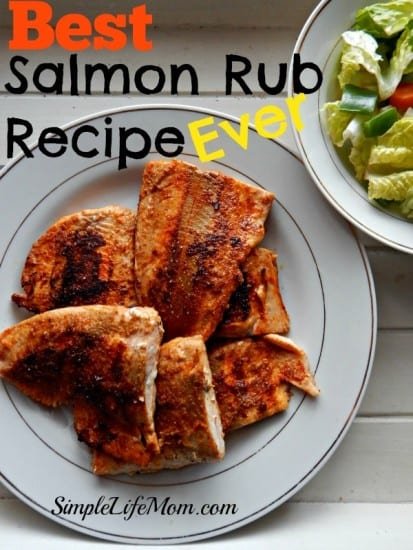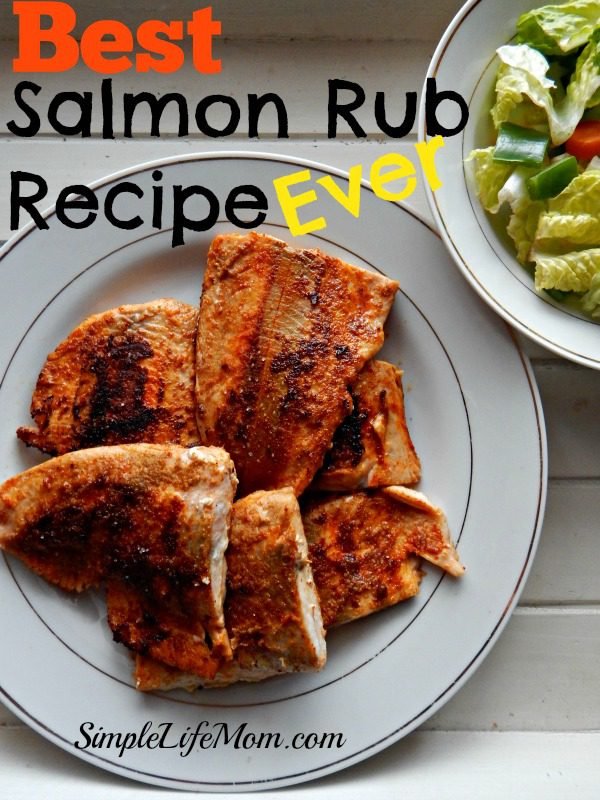 Side Ideas and Pointers
I like to keep it simple (of course), so I actually triple this recipe and keep it in a jar in my cupboard so that it's ready to go the next time we need it. It keeps very well without caking, and is a time saver to have as a ready made mix.
Usually in the winter we will have steamed brown rice and stir fried broccoli cooked with ghee instead of oil. In the summer, I may put a piece of foil on our grill and grill the salmon next to fresh asparagus, lightly salted (I could eat that stuff like candy!). Mashed potatoes are always good with salmon as well.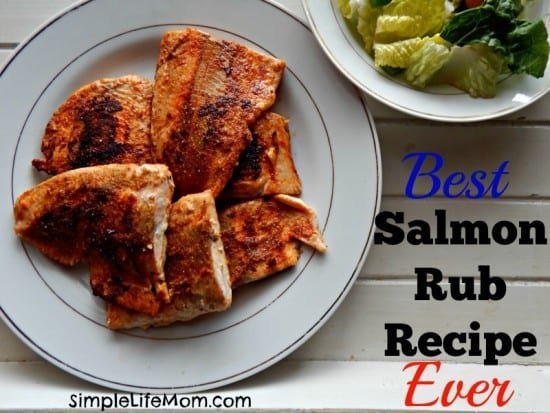 Best Salmon Rub Recipe
Simple and delicious, this recipe has cumin, paprika, and non spicy chili powder, though choose the chili powder that your family loves. Add salt and pepper and garlic powder.
Optional: add a pinch of smoked paprika
The lemon juice is important. I prefer to use fresh lemon, because bottled lemon juice often has a lot of preservatives. The lemon juice adds an uplifting acid that rounds out the entire dish.
If you don't have coconut oil, you can use olive, but I think the coconut oil adds a beautiful, healthy flavor.
Best Salmon Rub Recipe Ever
An amazing rub that brings out the flavors of the juicy salmon, while giving it a nice outside crust.
Instructions
Combine all ingredients and store in airtight jar.
To Make:
Rub onto both sides of thawed or fresh salmon.

Heat large skillet over medium heat and add 2-4 Tbsp coconut oil.

After oil is melted and skillet is hot, gently lay salmon flat.

Grill 3-5 minutes each side (depending on thickness). You will see that it is no longer bright pink, but a more opaque whitish pink. Do not over cook.

Serve immediately, bringing extra lemon juice to the table (we like the added zing from the lemon).
Want more recipes?
Check out my Real Food Recipes page for more From Scratch Recipes and ideas.
Save