I obviously like to keep things simple; simple and homemade as much as possible. So you know that when I tell you these chocolate cupcakes are easy, that I am being serious. When you see them with the Easter decorations they look like they are so difficult, yet were so fun and easy. and the kids absolutely loved making them!
My kids helped, which was fun, and then we took them to our Sunday church gathering and everyone loved them!
Easter Egg Nest Chocolate Cupcakes Decorating Instructions:
Pipe the icing in a circle to cover the entire top surface. If you don't have a cake decorating tool, cut a small hole into a zip-top bag.
Pipe an extra few circles around the outer edges to build up the "nest". Place chocolate candy eggs in the middle.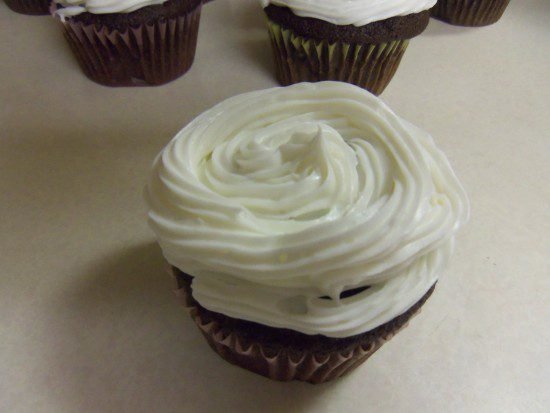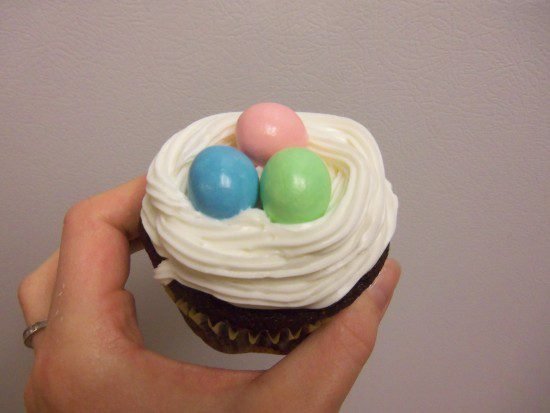 If you want to make the nest look even better, add toasted coconut.
Just place the coconut on a cookie sheet and put it toward the bottom of the oven under the broiler (It browns fast). Watch it carefully and remove when browned. Sprinkle over cupcakes. Place chocolate candy eggs in the middle.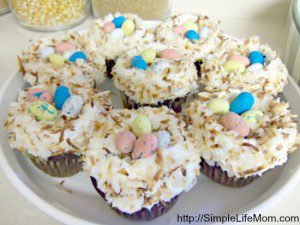 Chocolate Cupcake Recipe
This recipe makes a lot! Feel free to cut the recipe in half. The recipe deals with that really easily and still makes amazing chocolate cupcakes.Save
Chocolate Cupcakes – Easter Nest Egg
Instructions
Preheat oven to 350 degrees Fahrenheit.

Combine butter, chocolate chips, and cocoa powder in a double boiler over med-low heat and stir until melted. If you don't have a double boiler, put a glass bowl over a saucepan with water. Stir until melted and remove from heat.

3 sticks unsalted butter,

3/4 cup chocolate chips,

1-1/2 cups cocoa powder

While your chocolate is cooling, combine flour, baking soda and baking powder in a bowl.

2-1/4 cups unbleached all purpose flour,

1-1/2 teaspoons baking soda,

2-1/4 teaspoons baking powder

Add the eggs, sugar, vanilla, and yogurt to the cooled chocolate mixture and mix. Add flour mixture and stir until combined.

6 eggs,

2-1/4 cups granulated sugar,

3 teaspoons vanilla extract,

1-1/2 cups plain yogurt

Place muffin cup liners in muffin pan and fill 3/4 full. Bake for 18-20 minutes or until fork inserted comes out clean. Remove from pan and allow to cool fully.
Icing Recipe
This is a simple butter cream frosting that is perfect for whether you are adding toasted coconut and chocolate eggs to the top or just making delicious chocolate cupcakes.
Vanilla Icing
A simple vanilla icing recipe.
Instructions
Add butter, vanilla, and milk to a large bowl or stand mixer.

1 cup butter,

2 teaspoons vanilla extract,

4 tablespoons milk

Beat in confectioner's sugar one cup at a time until fluffy.

8 cups confectioner's sugar