As my children get older, I have them choose a meal that they learn to make all by themselves.  My daughter was very quick to choose Fettuccine Alfredo, or as it's more commonly made in our house: Spaghetti Alfredo.
I got this recipe from an Italian lady when I first got married.  It's been a family favorite for years, thus my daughter asking for it weekly and learning to make it herself.   I've been making it for so long, I really had to stop and think about the quantities that I use so that I could put together the recipe for her. Since I wrote it down, I decided it would be an easy one to share with you as well.
Fettuccine Alfredo
This Alfredo sauce is packed with flavor! The garlic and herbs make it a holiday for your taste buds. I hope you enjoy it.
Fettuccine Alfredo
Author:
Prep time:
Cook time:
Total time:
Ingredients
2 Tbsp butter
1/2 cup flour
2 large garlic cloves, minced
4 cups milk (whole gives a richer flavor, but you can use skim)
2 oz cream cheese
4 oz mozzarella cheese, grated
1/2 cup Parmesan cheese, grated
1 tsp salt
1/4 tsp pepper
1 tsp dried basil
2 tsp dried oregano
Instructions
Place butter and garlic in a medium sized sauce pan and heat over medium low heat until the butter is melted and the garlic releases its scent.
Add flour and stir. It may be dry, but that's ok. Brown the flour slightly.
Whisk in milk.
Add cream cheese, mozzarella cheese, Parmesan cheese, and salt, stirring until all is melted.
Add basil and oregano.
Cook until thickened. If it is not thickening, you can cook it a little longer, add more cheese, or cream cheese. Sometimes if you have it very hot it will seem thinner, but thicken quickly as it starts to cool.
Notes
Optional: Add baby spinach to the sauce right before serving.
Fettuccine Alfredo Step by Step with Pictures:
I have started this recipe only to find out that I am short one of the cheeses.  It still works, as long as you just add more of another.  I am very loose with the quantities.  If it is not thick enough, stir in more grated mozzarella or cream cheese.  If you still want it thicker, cook it down a bit, or add some more cheese.  Don't be afraid to play around with it.
First, melt the butter in a saucepan on low heat.  Add the garlic and begin to brown.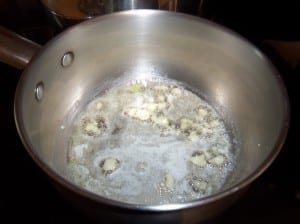 Add the flour and stir.  It will be dry,  but that's ok.  Stir for 3-5 minutes to toast the flour before adding the milk.
Add milk and cheeses.  Stir until the cheeses melt.  Keep on medium low heat and don't forget to stir or your cheeses, flour, and milk will clump and burn on the bottom.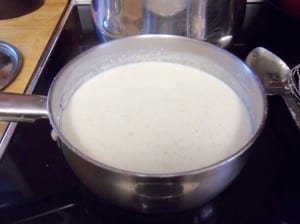 Add salt and basil and stir until it becomes the right consistency.
Serve with noodles of choice!  Ta Da!!  Family favorite!  You can also place fresh spinach or steamed broccoli on the noodles just before pouring the sauce.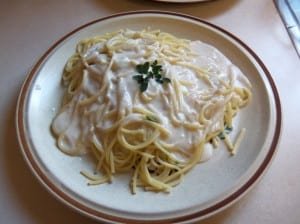 Save