So what's all the rage about goat milk and honey shampoo and soap? What's so special about goat's milk compared to cow's milk? And what does honey do for a soap?
These are the questions I'm going to answer for you. Plus, I have a fabulous recipe that you've got to try!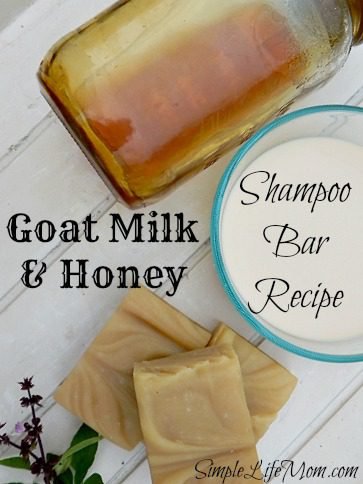 Why Goat Milk Shampoo?
So, why is goat's milk even better than cow's milk in shampoo and soap? After all, cow's milk definitely makes a smooth, creamy, nourishing soap (One reason why I LOVE my Raw Milk and Honey Shampoo Bar).
Cow's milk and goat's milk are both wonderful for skin and hair, but there are some key differences.
Moisturizing – Goat's milk is even more moisturizing than cow's milk because of its high beta-casein (fat content). This ups the super-fat content of your soap and moisturizes skin as well as nourishes the scalp. It's moisturizing ability makes it great for hair that tends to frizz or thick and curly hair. It also helps fight against dandruff.
Anti-Aging – Goat's milk has alpha-hydroxy acids. Alpha-Hydroxy acids soften skin by helping to break the bond between dead skin cells. This helps to remove dead skin cells from the surface of your skin while you wash, making your skin look younger and more healthy.
Vitamins and Minerals – Goat's milk also has Vitamins A, B6, B12, E as well as minerals like magnesium, potassium, and selenium. These are wonderful for your hair; nourishing and making hair shafts stronger.
Anti-Bacterial – Goat's milk is naturally anti-bacterial. This, combined with the honey makes this an amazing soap for sensitive skin, those who are acne prone, or those who have scalp issues.
Don't have a goat?
You can get goat milk at most grocery stores now beside the powdered or canned cow's milk. You can also buy powdered goat's milk in bulk. You can add it to drinks, etc. so it's well worth the purchase and much better for you than cow's milk. Here's Goat Whey Protein from one good company.
Why Honey Shampoo?
Raw Honey also has a number of wonderful benefits:
Humectant or Hygroscopic – absorbs moisture from the air. Humectants are used in cosmetic products to help moisturize and smooth the skin.  Honey does that naturally. It also adds bubbles to shampoo bars because of its sugar content.
Antioxidant  – by destroying free radicals, antioxidants on the skin will help protect the skin from sun damage and help it look younger longer.
Dry or Damaged Skin – because of its antioxidant and humectant properties, honey soap is great for dry or damaged skin and hair.
Antimicrobial – prevents the growth of certain bacteria. Because of its antimicrobial and antioxidant properties, raw honey helps kill bacteria that may cause acne and will help skin heal faster.
Shampoo and Soap Benefits: Honey adds to the lather, giving you a nice bubbly shampoo bar because of its sugar content.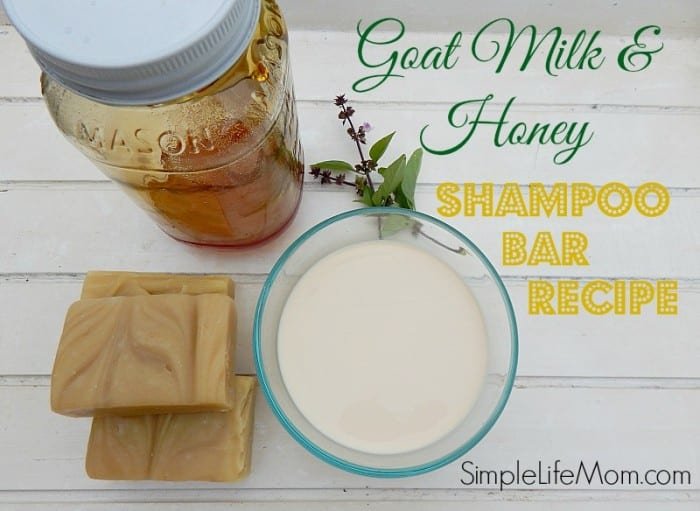 Goat Milk and Honey Shampoo Recipe
This is my go to recipe that I modify for different purposes. In this instance, I change out all or part of the water with goat's milk, and add beeswax to help seal and protect the hair.
Makes: 3 pounds or 12 four ounce bars
Superfat: 5%
Goat Milk and Honey Shampoo Recipe
A natural shampoo bar that really nourishes your hair and skin. Makes a great body bar too!
Instructions
Weigh the coconut oil, olive oil, shea butter, cocoa butter, beeswax, castor oil, and jojoba in a large stainless steel pot.

9 ounces Coconut Oil,

9 ounces olive oil,

2 ounces Shea Butter,

2 ounces Cocoa Butter,

1 ounces Beeswax,

5 ounces Castor Oil,

3 ounces Jojoba or Sweet Almond oil

Heat until contents in pot are melted, then remove from heat and cool to 90 degrees F.

Partially freeze goat's milk until it is slushy in a plastic container.

Weigh lye into a disposable zip close bag. Over a period of 20 minutes and while outside in a well ventilated area wearing a mask, gloves, and eye gear, little by little add the lye to the goat's milk.

4.3 ounces Lye,

11 ounces Goat Milk

Once the lye milk is also at 90 degrees F (you may have to put one or the other pot in an ice bath to make sure they reach this temp. at the same time), pour the lye milk into the melted oils and blend with a stick blender on and off until trace (it begins to thicken).

Before it gets too thick, add your essential oils and honey. Mix very well so you don't end up with any pockets of honey in your shampoo.

1 ounce Essential Oils,

1 Tablespoon Raw Honey

Scrape into your prepared mold (line if necessary) and insulate for 24 hours.
Notes
Alternative:

If you use powdered goat's milk, then just use regular water in place of the goat's milk and add lye to it. Add the powdered goat's milk to the oils at this time instead of to the water and lye.
As for essential oils, use what you love! You can try:
Thank you so much for stopping by and for sharing my website with your friends. You all mean a lot to me and I love to hear from you!
You can also try this soap in my shop.
Save