One thing that I don't have on my website is a liquid shampoo recipe made with potassium hydroxide. I have a method for making hand soap that uses pre-made soap bars that are grated into a pot of water and melted and then cooled and blended. But what if you don't have shampoo or body bars to grate for that method? Plus, making from scratch is always exciting and new skills are wonderful!
If you're interested in recipes like this but are just getting started, you may want to get my book Easy Soap Making by Kelly Cable. With over 30 vegan recipes to get you started, it builds (but still stays at beginner levels) from melt and pour and hand milling to cold process recipes for shampoo, shaving bars, and more.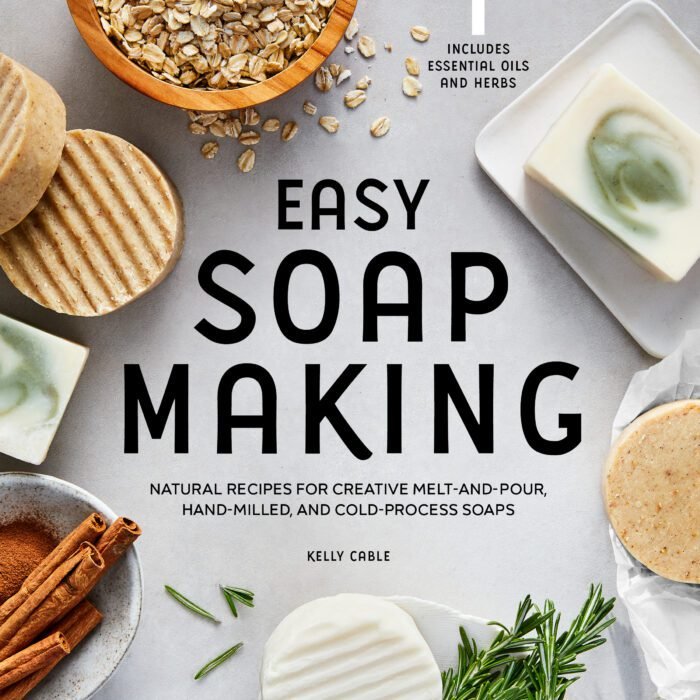 After you get the book, stop by and get the SOAP BONUSES here. There are videos, extra recipes, a group to help answer questions, printables and more.
Liquid Soap Methods
Potassium hydroxide is used as an alternative to sodium hydroxide in soap making when the end result is a softer soap. Since we will be making a shampoo that will be liquified, it's the best option.
I will say right now that what is available online for liquid shampoo tutorials is a mess. The instructions use incorrect and therefore confusing terminology (e.g. calling the gel phase vaseline instead) and have a lot of unnecessary time and steps. Some of those women take days and days to make shampoo from scratch. I applaud that they're doing it! That's fantastic. But if you're sharing with the world, it's good to simplify and refine the process.
When I first started making liquid soap or shampoo I tried adding all of the extra water at once within the lye water. This not only made it very difficult to make sure that the saponification process fully occurred, but my shampoo felt slightly oily. I know that it finished hot processing. No lye was left over. But it also told me that you don't need as much superfat within liquid shampoo as you would within a bar soap. It also, after being left overnight, separated into a more watery, clear liquid shampoo on the bottom and a white thick upper layer that contained most of the superfat content.
Lessons learned, I went back to simply making a hot process recipe and then adding more water to it. It's really that simple.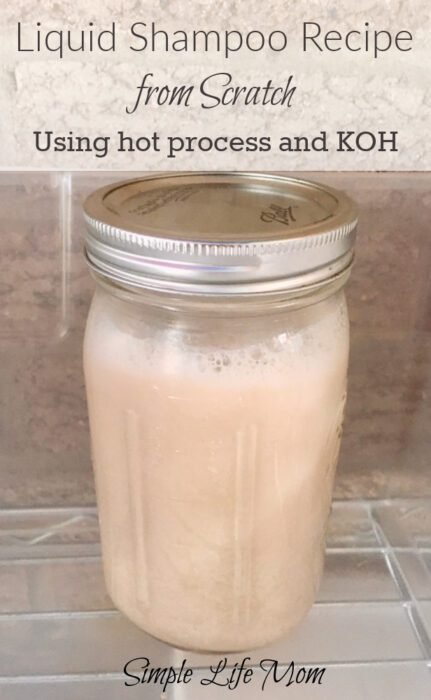 What You'll Need
If you have ever hot processed, you know that you need a slow cooker that has a low setting (Some have a warming setting.). You'll also need a lid that seals very well or plastic wrap so that moisture doesn't escape during the process.
Along with a slow cooker and lid, you'll need oils, water, and KOH (potassium hydroxide, not sodium hydroxide for this recipe), as well as any essential oils you'd like to use for scent. That's it! Pretty straight forward and simple.
Steps to Making Liquid Shampoo from Scratch
Equipment Needed
slow cooker
plastic wrap or well sealing lid for slow cooker
Immersion blender
large spoon/rubber spatula
scale
large glass bowl
Step 1
Place the glass bowl on a kitchen scale and press the tare button to set the scale to zero. Weigh oils and butters and place them in the slow cooker on low.
Step 2
Using another glass bowl or plastic container, weigh smaller weight of water and set aside. Use a zip top bag to weigh the correct potassium hydroxide (KOH) amount. Take the water, KOH, and a stainless steel spoon outside.
Go outside, even in winter. Do not mix lye into water within your home. Make sure all animals and children are not where they can touch or knock over the containers.
Wearing a charcoal mask and gloves, pour the KOH into the water and stir until dissolved. It will give off a gas for about a minute and heat up due to the chemical reaction that takes place. Do not breathe the gas. After about 5 minutes you can take it back inside.
Step 3
Add KOH water to the oils in the slow cooker and use a stick blender on and off until light trace. It will begin to thicken and leave a "trace" as you stir you drizzle a little bit over the top.
Step 4
Cover with plastic wrap and leave alone. Check on it every 20 min. or so. Cookers have varying low temperatures so you will need to learn yours to determine the time it will take to process. It will begin to bubble around the sides and work its way into the middle. This is because heat radiates from the sides of the pot. Once it is bubbly all the way to the middle it's time to move on. It takes mine about 1-1/2 hours to fully process to the middle.
Step 5
Add essential oils and extra water. Use a spoon to stir in the water first so that it doesn't splash everywhere. Then use an immersion or stick blender to finish mixing. Allow to cool and blend one more time.
Step 6
Move shampoo into a sealable container and keep in a cool, dark location to extend shelf life. This will keep up to 3 months, depending on methods of use. The amount of extra water added will slowly separate. Simply shake before use.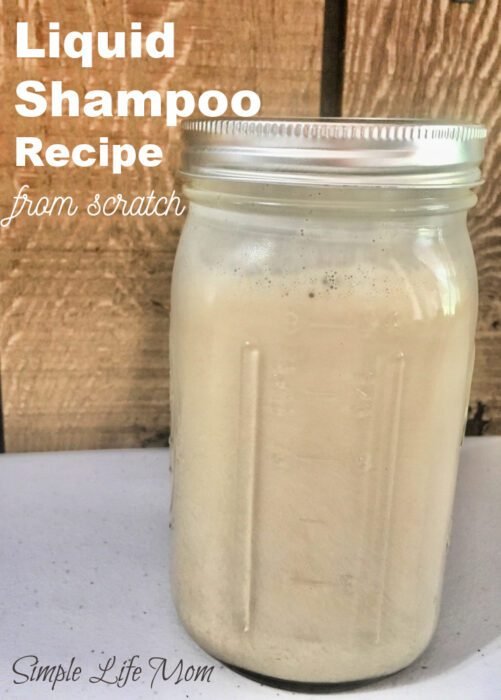 Homemade Liquid Shampoo Recipe
This recipe makes four cups, or 32 ounces.
Superfat content 8%
Ingredients:
Directions:
Add oils and butter to slow cooker on low or warm setting. You want the mixture to warm enough for the cocoa butter to melt before adding the lye.
Following all safety precautions, go outside and pour lye into water and mix until fully dissolved. Allow to cool until around 100 degrees Fahrenheit.
When cocoa butter is melted and lye water is cooled slightly, pour the lye water into the oils and blend with an immersion blender. My slow cooker is large so I covered it in plastic wrap, removing just enough to put the blender in, then tilted it so I could blend well. Otherwise, it is more likely to splash all over you. Blend on and off until it begins to thicken slightly. If it rices (breaks up) it's still ok to use. It will blend together well after processing.
Cover tightly with plastic wrap and leave it alone. Check on it every 20-30 minutes. It will begin to bubble around the edges and work its way to the middle. When it is completely bubbly then you're ready to move on. My slow cooker takes 1-2 hours to get to this stage, but cookers vary in heat levels.
When fully bubbly, remove plastic wrap and add essential oils and extra water. Stir with a large spoon first so that it doesn't splash up onto you. Then use an immersion blender to emulsify.
Cover and allow to cool. If you don't cover it again it may develop a "skin" on the top. If it does, simply blend it into the shampoo. Once cool, place in a 32 oz mason jar to seal. Remove amount for your bathroom as needed. Keep the bulk of the shampoo in a cool, dark location to extend shelf life. Typically lasts 3 months, varying depending on use and sterile practices.
To Use
Instead of using the same amount that you would use with commercial shampoos, I have found that I do not need as much. Wash and rinse.
Once finished washing, follow up with a apple cider vinegar spray diluted in half. I have one in my shop that uses aloe vera and rose water to dilute. This balances the pH of your hair and closes the hair shaft, making your hair smooth and shiny.
Let us know what your favorite scent is for shampoo and how this recipe worked for you!