When I first started making a milk soaps or milk shampoo with the cold process method, I thought there was only one way to do it. After making hundreds of batches, you learn how to switch things around, what works, and what doesn't. I want to teach you how to add milk to soap in multiple ways so that you can do it easily without the scorch and stink!
Adding milk to soap isn't just a matter of pouring lye into the milk or just adding the milk to your recipe on top of everything else. There is a process and a purpose, just as there is for every ingredient in your soap recipe.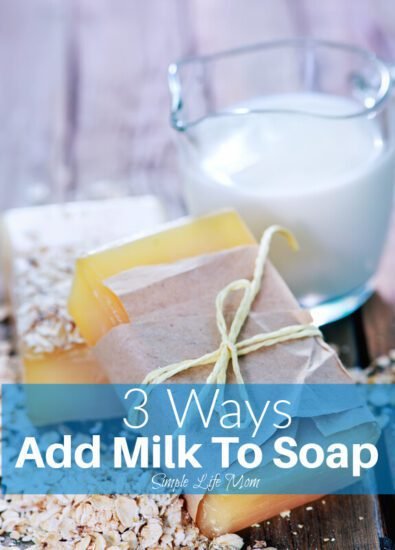 How Does Milk Effect Soap
In short, milk adds moisture and bubbles.
Milk soaps and shampoos naturally add more moisture to the skin and hair. Milk shampoos are great for curly, frizzy hair because of the control they give to fly away hair.
Milk also adds sugars to soaps. These sugars do a few different things. First, they add bubbles. This is great, because everyone loves bubbles. They also add heat. You have to be careful on hot days or if you add "hot" oils like cinnamon, because you do not want your soap to over heat. Overheating soap starts to turn dark and then wrinkle and even split on top. Very overheated soap will stay soft and never really harden, so always watch your milk soap batches. Give them a little peak and make sure they look normal as they process in the first 24 hours.
How to Add Milk
In a cold process or hot process soap recipe, milk is added in place of water in the recipe. You can add it in place of water in any cold or hot process recipe. You can replace all or just a part of the water with milk. For example, if your recipe calls for 10 ounces of water, you can replace all 10 ounces with milk (cow's or goat), or you can replace a smaller amount and add 5 ounces of milk and 5 ounces of water in your recipe. You choose.
So why isn't adding milk to soap the simplest thing in the world?
Milk that is superheated within seconds, as it is when lye is added to it, scalds. This means that the milk curds are burned, it turns green and brown, and stinks badly. The milk can still be used, but your soap will be very dark and it will stink if you don't add a ton of essential oils to try and cover up that smell.
There are things you can do so that the milk does not scald.
Method #1
The first method involves making the milk cold enough that you minimize or even eliminate any scalding as it heats from the lye.
Weigh the milk or milk and water combination from your recipe and put it in the freezer. I like to try and catch mine right before it's frozen solid. Get it out while it's still a little slushy. Add lye to this as you usually would.
Method #2
If you're only adding a certain percentage of milk and still keeping some water, then you can add the lye to the water as usual and add the milk directly to your oils. Obviously, you need to have enough water that you can still dissolve the lye properly. Not enough water and it will steam crust without dissolving.
I use this method and avoid all milk scorching if I want a light colored soap and am not worried about adding less milk and some water to the batch. The least amount of water I will use in this method is the same amount of ounces as my lye. So, if my recipe calls for 6 ounces of milk and 2.5 ounces of lye, then I will set aside 2.5 ounces of water and pour the 3.5 ounces of milk directly into the oils.
Method #3
My last method is to use powdered milk. This is super easy and involves no worry about having enough water or trying to freeze the milk. You can use a goat milk like this, or a powdered cow's milk like this.
If you're recipe calls for milk, simply change that amount to water. Every package of powdered milk has measurements of how much powder to add per cup of water. This is usually 1/4 cup of powdered milk to 1 cup of water (8 ounces). Measure out the correct amount of powdered milk and place that in a bowl and then add a little bit of the water that you measured out for the lye to the bowl so that you can mix the powder and get rid of any lumps. Add the milk paste to your oils and blend. Then use the rest of your water to make the lye water as you usually would.
That's it! Freeze, divide, or use powdered milk.
I have a number of milk soap or milk shampoo recipes ready to go:
You can also go to my soap recipe page and get a lot of recipes to use, now that you know that you can add milk to any recipe: click here.