Using a natural conditioner after washing your hair with a shampoo bar is usually necessary. This homemade conditioner recipe is versatile and easy to make. It's in spray form, so no fuss with bars and more expensive ingredients. Instead, this homemade conditioner recipe is frugal and easy.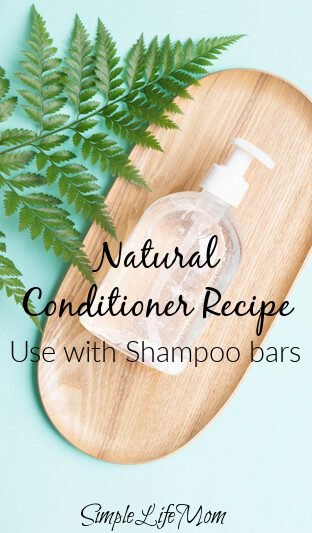 I have this spray conditioner in my shop if you'd like to simply purchase it. You can choose the scent. Click here to buy some for yourself.
Conditioner Bars
I shared the first conditioner bar recipe I ever made and many people had difficulties learning how to use it. People are so used to slathering their hair with copious amounts of product to get results.
I then created a new conditioner bar recipe with different ingredients so that people wouldn't be tempted to use too much. It's my favorite and I use it weekly or bi-weekly.
My favorite however, is a conditioner spray. A spray is easy, cheap, and fast to make. It's also extremely effective!
Why You Need a Conditioner
Shampoo bars are not extremely basic as some people like to warn about. ALL natural soap bars are only slightly off of neutral.
They are slightly basic. This helps your hair to release the oils it holds and helps cleans the shafts.
It's important to follow up with a slightly acidic conditioner to sway the pH back toward neutral and help close the shaft. The closing of the hair shaft with create a smooth feeling to the hair and repel the minerals from the water that bond to hair and give it that rough feeling.
Some people complain that their hair feels like straw after using a natural shampoo bar. This is why! They are leaving their hair in a slightly basic state. If you have hard water, then minerals from the water will bond with the hair shaft causing rough, crazy hair that no one wants to deal with. But there's a simple solution: conditioner!
This also explains why it's very unhealthy to use baking soda on your hair. That was a huge fad a few years ago. Using it occasionally and following up with a conditioner is acceptable. However, using baking soda is rough on hair shafts and it is also slightly basic. Done daily, this would eventually cause breakage and other problems.
Homemade Conditioner Spray Ingredients
I said this was simple and I meant it. I will tell you what I like to add to it, but you can make it as simple as you want to. You can easily make this recipe with 50% apple cider vinegar/50% water.
You don't want to take your hair to the other end of the pH scale and make it too acidic. This is why the acid is diluted. You can dilute it with just water, or you can add more qualities to your conditioner by adding other liquids to dilute the acid.
1. Apple cider vinegar
Apple cider vinegar is a natural, relatively cheap acid. This will give your spray the acidity it needs to help balance your hair's pH.
2. Rose Water
Rose water is wonderful for your hair (plus it cuts the scent of apple cider vinegar). It is a mild astringent, which is calming to the scalp and excellent if you have trouble with an oily scalp and hair. The astringent property also helps tame frizziness and cares for natural curls.
3. Aloe Liquid
You can also use aloe vera gel, but the liquid makes it easier to spray. It is diluted enough that the gel will work as well. Choose an aloe vera water/gel that does not have alcohol and other preservatives or bad ingredients. Read that ingredient list!
Aloe vera has vitamins that encourage a healthy scalp. A healthy scalp means better hair growth. It also adds a pretty shine to your hair.
4. Essential Oils
Essential oils are optional. You will be adding an oil to a water base. You will need to shake the spray bottle well before each use.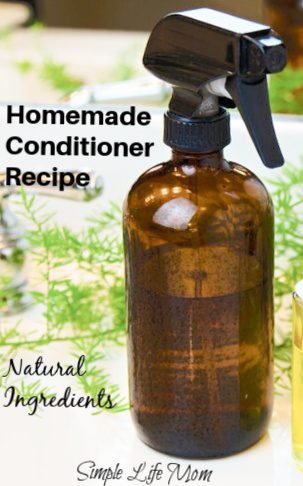 How to Use Homemade Conditioner
A conditioner spray is simple.
I encourage you to use a plastic spray bottle! The last thing you want is to drop a glass bottle and have it break at your feet in the shower.
I know a lot of people do not like to use plastic. You can use an amber glass spray bottle, just be very cautious. I actually sell this in my shop and I use a glass spray bottle. If using glass, you can simply spray after getting out of the shower and towel dry. I recommend that you spray and rinse, but it is not necessary for most hair types, especially after gently towel drying.
Spray and rinse. It's that simple. No other instructions needed.
Homemade Conditioner Recipe
Makes: 8 ounces
Ingredients:
Directions: Spray and Rinse
Shelf Life: This is a water based product, but because of the acidic content, it can last for months. I haven't tested to see exactly how long it lasts, but I would replace after 4 months.
I have this spray conditioner in my shop if you'd like to simply purchase it. You can choose the scent.
Click here to buy some for yourself.
If you'd like to try more herbal conditioner sprays, try these: