I get a lot of questions about how to add honey to handmade soap.  A lot of soap makers recognize the benefits of honey in soap, but want to know when to add it and how much to add.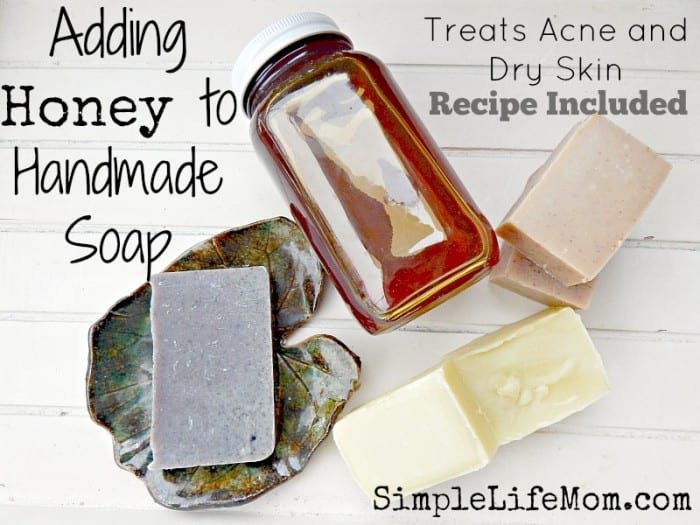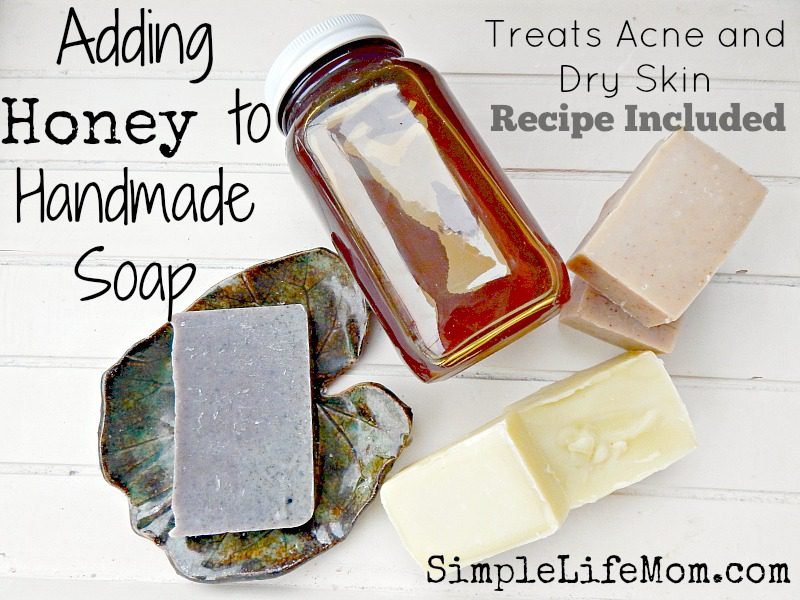 Why Add Honey to Handmade Soap?
Antimicrobial – prevents the growth of certain bacteria
Humectant or Hygroscopic – absorbs moisture from the air. Humectants are used in cosmetic products to help moisturize and smooth the skin. Honey does that naturally.
Antioxidant – by destroying free radicals, antioxidants on the skin will help protect the skin from sun damage and help it look younger longer.
Dry or Damaged Skin – because of its antioxidant and humectant properties, honey soap is great for dry or damaged skin.
Acne – because of its antimicrobial and antioxidant properties, raw honey helps kill bacteria that may cause acne and will help skin heal faster.
Soap Benefits: Honey adds to the lather, giving you a nice bubbly soap bar.
How Much Honey Do I Add?
A general guideline is to add 1 Tablespoon of honey per pound of Soap you are making.
What Kind of Honey?
Please use raw honey. Honey you buy at the grocery store has been found to have more corn sugars in it than raw honey. It also has the pollen removed, removing most of the benefits that you would obtain from using or consuming honey.

How to Prepare the Honey:
Example: If you are making a 2 pound batch of soap you may use 2 tablespoons of honey. If your recipe calls for 11 oz of water, remove 1-2 of those ounces to use in the honey.  This will make it thinner and easier to incorporate. You do not want a chunk of honey sitting on the bottom of your soap. So, dilute it with a little bit of water (that you have weighed) and remove that amount from your total water amount in the recipe.
When do I add Honey to Handmade Soap?
Just as with adding milk to soap, there are various methods of adding honey and when. I have done it in two ways and both turned out great.
Add at very light trace – dilute with some of the water from your recipe and add at very light trace.
Add to Oils – without diluting it with water, add your honey to the oils and blend well.
Tips:
Make sure you blend it very well or it WILL be at the bottom of your soap when you go to cut it.
Honey can make your soap go to trace faster, so watch it carefully!
The sugars in Honey, just like the sugars in milk, will cause your soap to darken slightly. Because of this, do not add it to the lye water. Add it to your soap at trace or to the oils before adding lye water. If you want a lighter color soap, add the honey at light trace.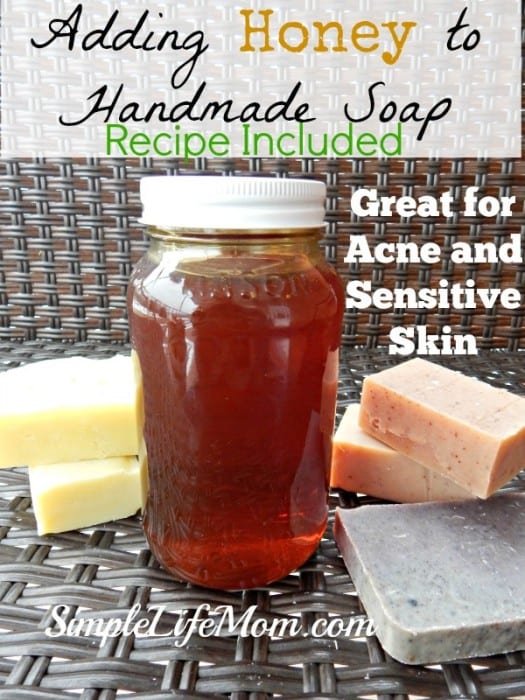 Handmade Honey Soap Recipe (4lbs)
This recipe makes 4lbs and has a superfat content of 5%.
Honey and Cinnamon Soap Recipe
How to Add Honey to Soap with this honey cinnamon recipe
Equipment
Instructions
Combine olive oil, coconut oil, tallow, shea, and castor oil in large pot and heat until all is melted. Turn off the burner and cool to 90 degrees Fahrenheit.

7 ounces olive oil,

5 ounces coconut oil,

6 ounces tallow,

2 ounces shea butter,

1 ounce castor oil

Combine raw honey and 2 ounce of water until combined.

Add lye slowly to the water (never water to lye) outside – even in the winter. Never combine in your house! Do not breathe fumes! Cool to 90 degrees Fahrenheit.

8 ounces water,

3 ounces lye

Add lye water to oils and mix with a hand or stick mixer until it reaches light trace (begins to thicken).

Add raw honey and essential oils and mix.

1 ounce essential oils of choice

Pour into mold and insulate for at least 24 hours before cutting and curing for 3-6 weeks.
For more detailed instructions on how to make cold processed soap, see:
7 Easy Steps to Homemade Soap for Beginners
You can also find a number of Natural Soap in my ShopSave