A great Love or Valentines Gift!
One thing wonderful about having this face cream close by during all seasons is the scent. Though you can change up the scent to this wonderful recipe, rose is a traditionally calming, relaxing, and great for skin care.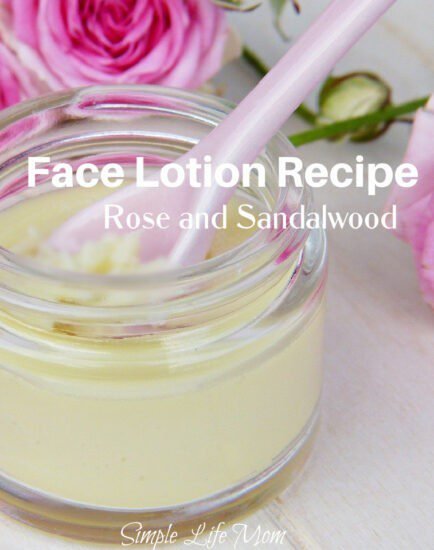 This recipe is also very hydrating. Almost all lotions in stores have so many alcohols and preservatives, it's a wonder that they help anyone at all. Instead, using hydrating ingredients like shea, bees wax (or vegan alternative) and cocoa butter are actually hydrophilic, meaning that they draw moisture to the skin and help working hands, dry skin, or hands that are washed often to stay hydrated, even in the winter!
Hand, Body, or Face?
While the difference between hand lotion and body lotion is pretty much just consistency, there can be a lot more differences between body lotion and face cream. Can be. When I make a lotion or cream specifically for my face, the base is very similar for both. The difference comes in essential oils and possibly some other herbs and hydrosols.
Since I don't like making multiple batches for the body (keeping life simple), I tend to make one amazing lotion that is great for the whole body and still sensitive enough for the face.
This recipe is just that.
It has amazing properties that will benefit the entire body. It's a smooth and thinner recipe than my favorite shea butter recipe, making it great for day wear on the face or application to the body, and it has herb and essential oil additions that make this an amazing face cream.
Ingredients for Homemade Face Cream
Apricot Kernel oil – Apricot Kernel Oil is high in oleic and linoleic acids, and vitamins A, E and C, making it very moisturizing and conditioning to the skin.
Shea butter – Shea butter is also high in vitamins A and E, as well as fatty acids and minerals. It naturally creates a thin barrier against the sun, giving your skin a small amount of protection.
Coconut oil – Coconut oil is also hydrating, cleansing, and easy to find in less processed forms. It helps the shea butter to become smooth and silky.
Beeswax – beeswax helps trap moisture close to the skin and is also rich in vitamin A. If you don't wish to use beeswax, feel free to switch to a vegan alternative of candelilla or carnauba wax.
Rose water – Rose water is high in antioxidants and anti-inflammatory properties. It's a natural perfume and fights against skin conditions through being anti bacterial and microbial. Learn how to make your own here.
Essential oils – I chose rose and sandalwood because of the grounding and calming aromatherapy effects, as well as the anti bacterial properties and abilities to reduce fine lines.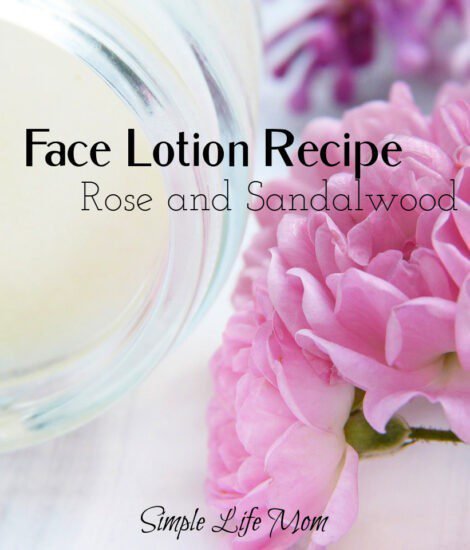 Homemade Face Cream with Rose and Sandalwood
You'll need to create an emuslification, blending water and oil together. You do not need an emulsification agent and yes this does shorten the life of the product. Instead of the 4-6 months that an oil based product without preservatives will give you, this will last 1-2 months.
This recipe makes 16 ounces or two cups.
Ingredients:
Directions:
Melt coconut oil, shea butter, and beeswax (or alternative) in a double boiler over medium heat. Place a large glass measuring cup or glass bowl over a saucepan of water to make a double boiler.
Remove from heat and add apricot kernel oil. Cool to room temperature or until it solidifies.
Add rose water and essential oils and whip with hand or immersion blender until light and fluffy. Place in a container and seal. Keep clean and out of the sun.
Note: If you're not a fan of rose scent, use a different hydrosol of your choice and change the essential oils. I like to pour boiling water over calendula flowers and strain after cool. You can do this same thing with other flower petals. Roots and leaves can sometime need longer times.
Other essential oils that are great for the skin are carrot, lavender, frankincense, tea tree, and geranium, plus many more.