I love this recipe for chamomile body butter. It's very hydrating, and a little but goes a long way. It's easy to make, so I'll walk you through the ingredients and the how-to so you can enjoy an easy DIY with great ingredients.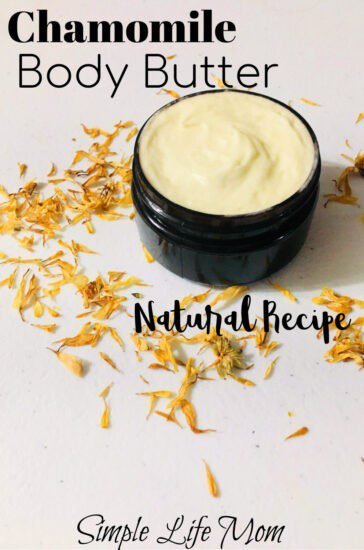 Ingredients
The number one reason I make things myself is the control I have over ingredients. Money and the frugality of buying supplies in bulk and then making for myself is obviously another huge benefit.
Shea butter can be found simply harvested with very little processing. It is very hydrating and makes a great base for lotions and body butters, creating a base layer to build from to hydrate the skin.
Coconut oil is also hydrating, cleansing, and easy to find in less processed forms. It helps the shea butter to become smooth and silky.
Jojoba is actually a wax and not considered an oil, though it is commonly called jojoba oil. Jojoba is actually closer to our own natural skin oils and gives many benefits: it is noncomedogenic and aids in controlling sebum production, thus resulting in less breakouts.
Sweet almond oil is rich in vitamin E, A, omega-3, fatty acids, and zinc.
Beeswax helps trap moisture close to the skin and is also rich in vitamin A. If you don't wish to use beeswax, feel free to switch to a vegan alternative of carnauba, candelilla, bayberry wax.
Chamomile flowers add an antiseptic and anti-inflammatory property to the lotion. It is calming to the skin and great for sensitive or damaged skin.
Essential Oils add a wonderful aromatherapy benefit to this lotion. Bergamot is very energizing and uplifting. Feel free to use another oil if desired.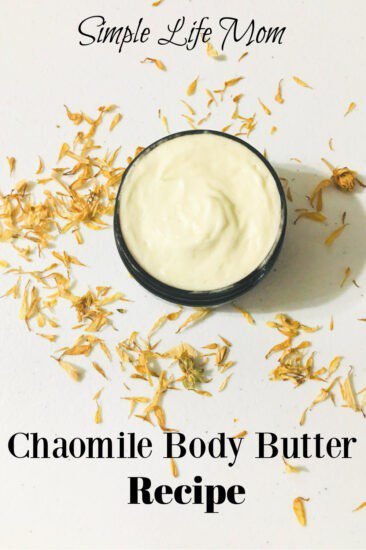 Chamomile Body Butter
This recipe makes 1 to 1-1/2 cups whipped body butter.
Ingredients:
Directions:
In a double boiler, stir in shea butter, coconut oil, jojoba, sweet almond oil, wax, and chamomile flowers or tea. You can make a double boiler by placing a large glass measuring dish in a saucepan of water or placing a bowl over the saucepan of water over medium heat. Be careful, the bowl or dish will become very hot.
After all ingredients are melted, remove from heat and remove tea bags or strain flowers. Usually they are large enough that a fine mesh sieve is good enough. Allow to cool until it starts to solidify. Remove it from the pot and place in the refrigerator or in a cold water bath to speed this step of the process. It will turn opaque.
Scrape mixture into a stand mixer or use a hand mixer and add essential oils. Whip until it becomes a light and fluffy texture (3-5 minutes).
Transfer to an airtight container and keep in a cool place. Keeps 3-4 months, depending on method of use.
Let me know if you need any additional instructions or help. Being able to make your own bath and body products puts ingredients in your hands. Enjoy the process and the great results!