Make your own organic and healthy homemade lipstick easily and with natural ingredients. It's an easy, fun project, made with cocoa butter, shea butter, and natural root powders and clays for a tinted appearance.
Over the past few years, I have been working on making everything else I use on my body homemade and/or natural as well. For more great homemade beauty recipes click here.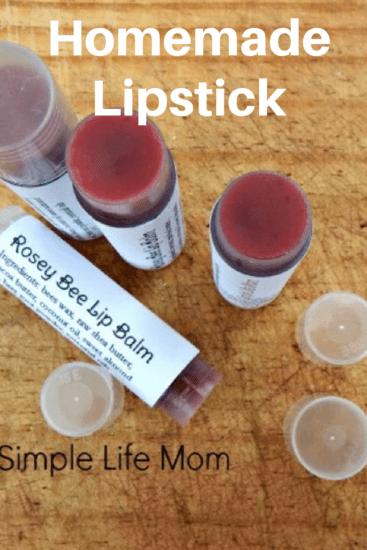 This lipstick recipe also make wonderful lip balms. They glide on smoothly and are great for healing chapped lips, or for just keeping your lips healthy. To try them first, you can get them in my shop.
Homemade Lipstick Recipe
This recipe has cocoa butter and beeswax and makes a bit of a harder stick. Choose one of the hue combinations to add to the recipe. Make the color darker than you want the end product to be. They will lighten as they cool.
If you want to make a great lipstick naturally, you are going to have to add a bit more color. Natural lipsticks seem like they really are half pigment at least, which is great, but just slightly different to make than lip balms.
There are a number of ways to get the right hue for you.
If you'd like a pink color, combine alkanet root powder with pink kaolin or rose clay, adding more rose clay. The purple alkanet root powder seems to carry the color over better and helps it stay as it cools.
For a purple color, add alkanet root powder. Too much can be grainy, so let it settle at the bottom before pouring into tubes.
For a tan color, add a little but of rose clay along with cocoa powder. You can add a pinch of cinnamon or turmeric to change the hue into what you are looking for.
Homemade Lipstick Directions:
Melt the beeswax, cocoa butter and sweet almond oil or coconut oil in a glass measuring cup in a small saucepan of simmering water. It should melt quickly because so little of each ingredient is used.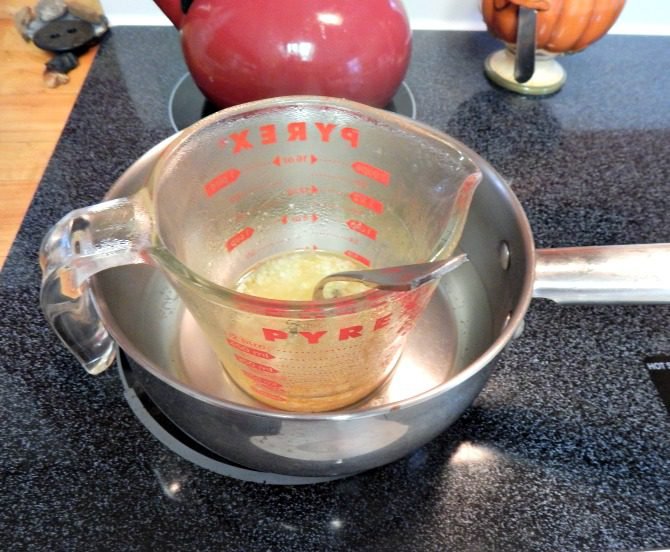 When melted, remove from heat and add any optional ingredients like color or scent.
Once all ingredients are mixed well, carefully pour into the lip containers. I try to fill it until it's almost overflowing. This reduces the chance of a hole forming as it cools and shrinks. Leave them to cool for at least half an hour. Do not allow to set in the sun or they will melt.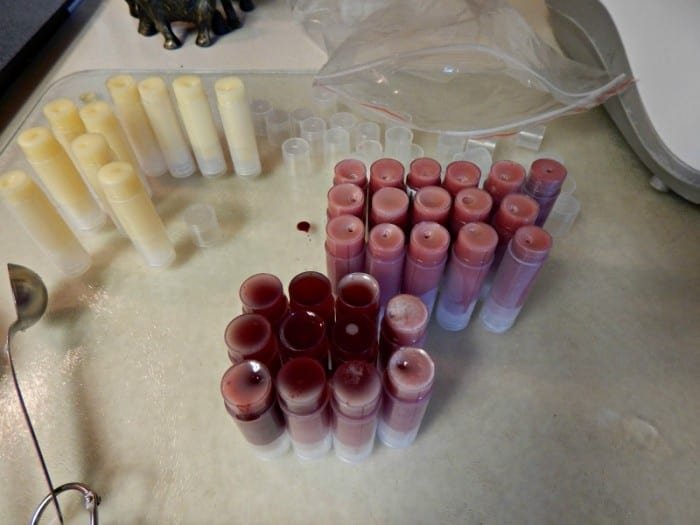 Notice how much lighter it gets when it cools!
I've gotten a better result by mixing alkanet root powder with beet root for a rosey red. But remember to make yours look very dark when it's hot so that it will be a good color when it cools and hardens.Save
Save
Lipstick Recipe #1
A naturally colored lipstick recipe
Ingredients
Brown/Tan Hues
¼

teaspoon

cocoa powder

1

pinch

cinnamon

, or turmeric until you get your hue
Instructions
Gently melt the beeswax and cocoa butter with the sweet almond oil in a saucepan over low heat. When everything is melted, remove from heat.

1 teaspoon beeswax,

2 teaspoons cocoa butter,

1 teaspoon sweet almond oil

Add the essential oil (optional) and natural colorant of choice and whisk.

5 drops peppermint essential oil

Pour into lip balm tubes or pots.
As I mentioned above, you can try these first in my shop.