A number of you over the past year have asked me to make a natural face wash that can help clear skin problems. You also want it to be liquid, preferably using a castile liquid soap.
Well, I hear you and I am excited to be able to provide!
Below is my recipe for a liquid and 100% natural face wash. I've added an herbal infusion and essential oils. If you're going to use something on your skin, why waste the opportunity to add extra nutrients?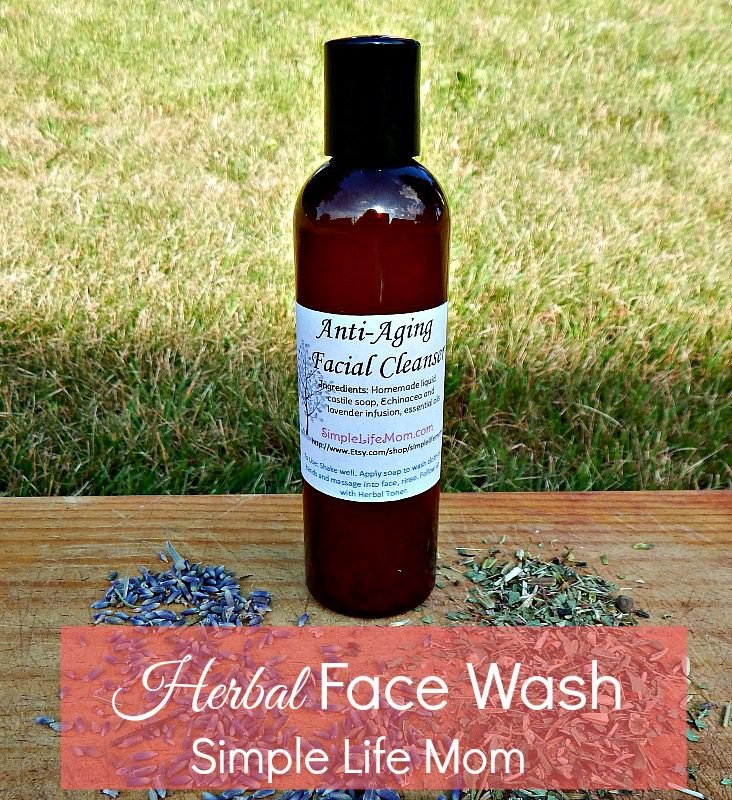 By now, if you've been following along you know that a lot of bath and body products on store shelves have a chemical brew with ingredients that are known to be toxic or even banned in other countries.
Synthetic fragrances are a big issue. They have been linked to reproductive issues, allergies, and other problems.1 There's also DMDM hydantoin (also called glydant), a preservative because of how it releases formaldehyde. I could go on, but you get the picture.
And why not make your own? It's:
super frugal. After all, if you want good ingredients you're going to pay more to buy healthier products, but it is cheaper if you make those products at home.
you can add what you want
you're more self sufficient
and after all the nourishing ingredients you can focus on adding some essential oil scents (also good for you) to make it smell however you like!
A Total Win!
This is not a super sudsy recipe. After all, you do not need bubbles to cleanse your skin. There are natural ingredients that can be added to soap to create bubbles, but they don't necessarily add any cleansing quality to the soap.
What you really need is proper pH to release dirt from your pores.
You can also buy some in my shop before you buy all of the individual ingredients if you'd like.
Natural Face Wash for Clear Skin
Herbs
You do not have to use all of these herbs, or only these herbs! You can choose just one and make your natural facial cleanser without it just fine.
German Chamomile: This is very soothing to the skin; irritations or acne can often be soothed using chamomile.
Echinacea: Echinacea is

antimicrobial, analgesic, and anti-inflammatory

. There are also reports of it healing burns, eczema, inflammation, herpes simplex, and varicose veins.2  So, whatever extra you buy or harvest can definitely be used for medicinal purposes in other recipes.
Lavender: lavender is calming to the skin and your "go to" for skin problems (making it great for acne, eczema, redness or other irritation).
Essential Oils
You can choose which essential oils fit your needs.
Normal to Dry: Chamomile, carrot, rose, palma rosa, benzoin, geranium, patchouli, rose, sandalwood, hyssop
Severe Oily Skin: clary sage, thyme, parsley, juniper, grapefruit, tea tree (anti-bacterial for acne).
Castile Soap
There are two ways to make the base liquid soap for this recipe. You can buy some castile liquid soap, or you can make your own.  What you do will decide how you add your herbs.
You can make liquid castile soap from scratch (use my recipe), using herb infused water instead of plain water.
If you already have liquid soap though, you can still make the herbal infusion below and add it to your castile soap. Heat the soap to reduce the liquid and thicken the soap back to the consistency that you prefer.
How to Infuse the Liquid Soap with Herbs
This is basically like making tea! It's that easy!
Some herbs infuse water very quickly, while others take a little more time. To infuse the herbs above, simply place 3 Tablespoons worth of herbs (any combination you like) into a glass dish or large measuring dish. Pour 1 cup of very hot water over the herbs and allow to steep for 30 minutes. Strain herbs from liquid using a cheese cloth, coffee filter, or clean cloth and you're ready to go!
Like I mentioned above, this can be added as the liquid when you are making your own liquid soap, or you can add it to liquid soap that is already made. If you'd like your mixture to be thicker, simply place it in a saucepan over medium heat and simmer on low until reduced, or you can add a tablespoon of vegetable glycerin and heat on low for 10 minutes (thickening will occur after it cools).
Natural Face Wash for Clear Skin
a natural herbal infused face wash with essential oils
Instructions
You can make liquid castile soap from scratch (use my link above), adding the herbs to the water, or follow the instructions above to infuse castile soap that's already made.

3 cups herbal infused liquid soap

Add essential oils and jojoba oil.

5 drops essential oils,

1/2 teaspoon jojoba oil

Pour into a container with a pour lid or a pump top.
Notes
Keeps 4-6 months, depending on how sterile it is kept. Keep in a cool location.
The jojoba oil is used as a nurturing element to your soap. Oils are actually amazing for cleansing your skin. If you'd rather not add the jojoba, leave it out. Not a problem. But I love how it makes my skin feel.
So that's it: liquid soap, herb infused water, essential oils, and a tiny bit of oil.   Follow up with a facial toner, Anti Aging Serum, and/or Anti Aging Eye Cream.
Rather try it out first? Find it in —> MY STORE <—
If you have any questions, please let me know. I'd love to hear from you!!!
Save
Save