Learning How to Add Milk to Soap is a great thing if you are a soap maker.  It makes a very popular soap for good reason. In fact, the wonderful lady who got me started making my own soap raises her own goats and makes amazing Goat Milk and Honey Soap.  I've always been partial to these recipes.
Surprisingly, some people don't use a ton of milk OR honey in milk and honey soaps. Others will replace the entire water requirement for the recipe.  Either way, there is just enough of each to change the color and increase the quality (Honey adds a wonderful bubbly froth to the soap and nourishes your skin.).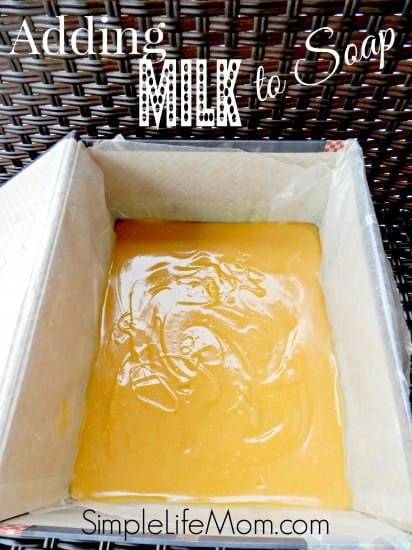 Why Add Milk to Soap?
Milk increases the moisturizing qualities of your soap.
I believe that milk helps the soap to actually cleanse your skin better.
I use raw milk which also adds extra vitamins and nutrients.  And YES you do absorb them.  How I add the milk does not kill the vitamins and your skin is a large absorbing organ that absorbs the nutrients and moisture.
Can I Use Different Kinds of Milk?
YES!  Some examples are:
Goat's Milk
Goat's Cream
Cow's Milk
Cow's Cream
Buttermilk
Coconut Milk
Powdered Goat's or Cow's Milk – different method
Expired Breast Milk (yes, it's been done)
Everyone has their favorites.  I do not have goats, but I have access to great raw cow's milk and it is more than sufficient.  Try some different kinds and take notes as to the difference in the making and the end product so you'll learn what you like best.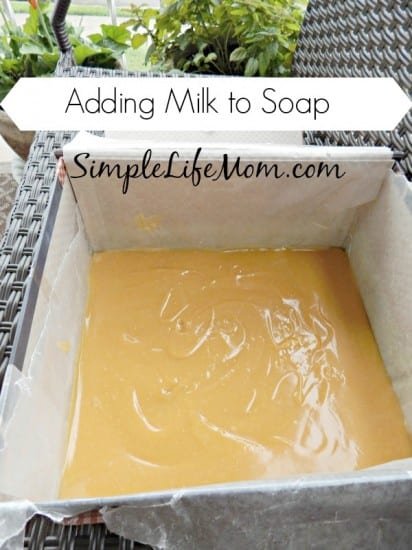 How to Add Milk to Soap Recipes
How to? Very carefully.  Actually, it's not that big a deal once you know what to watch for.  What can make adding milk difficult is that the lye spikes in temperature when added to a liquid and it can scorch the milk sugars, causing a very orange color and bad smell.  The smell will not stay in the soap, so that's not anything to worry about.  But it's hard to add natural coloring when the soap is going to end up being very dark.  Plus, you can kill all the good nutrients in the milk when you allow it to be scorched.  The soap in the pictures looks more yellow in the picture than it really is, and soap always gets lighter as it cools.  These Raw Milk and Honey Shampoo Bars were fresh out of the pot 🙂
First, decide how much water you want to replace with milk in your favorite recipe.
Here are a few methods:
Add the lye to the milk or milk/water combination VERY slowly!  I'm meaning, add a tiny bit and stir, wait 5-10 minutes and add more.  Add a teeny bit more and wait.  Continue until you have added all the lye.
Measure and Combine your milk and water.  Put it in the freezer until it is half frozen (not solid).  I've read that some people put it in ice cube trays and add a cube at a time to their water.  Slowly add the lye, watching the temp to make sure it doesn't go too high.  Remember, if you make it too cool you can always put the lye mixture in a hot water bath to increase the temp. slightly if you need to.
If you are using a powdered milk product, make sure it is of good quality with  no nasty extra ingredients.  Either reconstitute with the water needed and follow method one (above), or add at trace. If you add at trace, make sure you add a little bit of water and stir before putting it in the pot, otherwise you will have lumps.
If you are using expired breast milk, use method one or two above.  I have not tried this, but I've read about a number of people using it and it working great.
Problem Shooting:
If your milk looks like it is starting to curdle, you are adding the lye too quickly.  It's still ok to use as far as my experience goes, but you need to watch for clumps.
If it starts to look bright yellow, green, or brown it means it's heating up too fast.  Don't add any more for a while.
Any questions? Let me know and we can put our heads together and hopefully figure it out 🙂
Save