I've put together so many amazing Fall soap recipes over the years. I wanted to put them all together for you. Even I didn't remember all of them that I've made over the years so this was a fun reminder and inspiration to make some that I haven't made in a while.
These soap recipes are great for Autumn, Winter, and all the holidays year round, but they definitely give off a wonderful Fall and holiday scent for the home.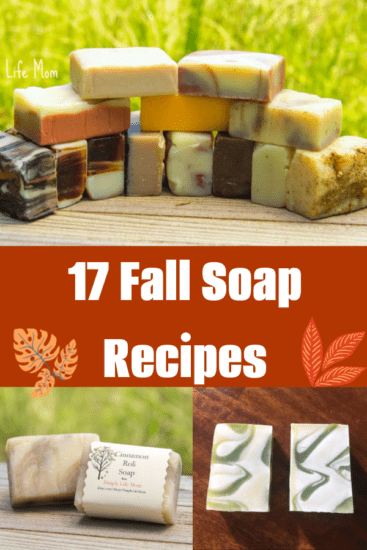 These soaps are ready is 3 weeks, but feel free to hot process any of them to have them ready as soon as they are cooled. They'll continue to harden over the next days and weeks, no matter which method you choose to use (hot or cold process).
Fall Soap Ingredients
I suppose you could make soap just for the crafting fun, but if I'm going to go to the trouble of making my own soap, then I want to make sure that the ingredients are pure and exactly what I need.
Vegan or Tallow
Some of these recipes are vegan, while others are made with tallow or lard or they may be mostly vegan but have beeswax. They all make amazing soap bars. If you'd rather have a tallow bar or a vegan bar, simply use your favorite recipe, while enjoying the color design and scent of the recipe you like.
For example, If you want to make a cedarwood soap with a tree design in it but you don't like that it has tallow, use a vegan recipe, but use the design of the tree and the scent from the cedarwood soap. As long as the soap amounts are the same then you can interchange coloring and scent.
If the only thing you don't have or don't want to use is beeswax (a humectant and great for making a moisturizing soap), then substitute that with a vegan wax.
No Artificial Anything
I do not use artificial scents or colors like fragrance oils or dyes.
There are also a lot of questionable or outright horrible ingredients that some people use in their soap (like titanium dioxide or dyed micas). I don't use those either. Why taint a beautiful thing?
You'll see healthy ingredients like shea butter, cocoa butter, coconut oil, mango butter, and more. Scents are made with essential oils and coloring made with clays, root powders, and other herbs.
Enjoy!
How to Make Soap
If you need some help taking the first steps in making soap, you can learn how to start making soap here. I also have multiple books out, including a few ebooks in my shop.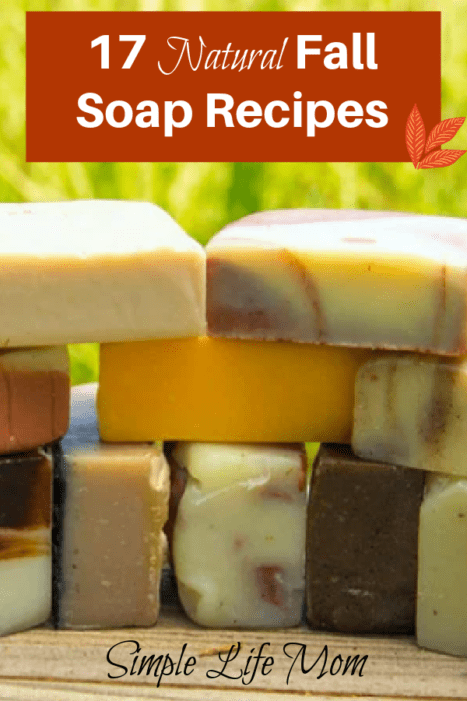 Fall Soap Recipes
These recipes make 2 pounds or 3 pounds of soap. Check the recipe. As I said above, these can be cold processed and used after about 3 weeks when they are hard enough to last, or hot processed and used as soon as they cool and harden (usually 2-3 days).
They make wonderful gifts!
Make a cinnamon swirl in the middle of your soap bars, making them look almost edible! These are cute and smell amazing.
This has become one of my favorite soap bars. I sell them in my shop each year. They have a sunset swirl of orange, purple, yellow, and pink and are scented with all the lovely scents that make you think of Autumn.
Always a winner! Pumpkin spice soap is very popular each year throughout the holiday season. This recipe uses pumpkin puree and is scented with nutmeg, cinnamon, and clove.
If you want a pick me up, then cedarwood in your morning shower is the way to go. This has a fun tree design up the middle of each soap bar.
I love the smell of chai tea, with cardamon, clove, and cinnamon. This recipe uses real chai tea.
If I'm going to diffuse any essential oils in the home to create a Fall scent, orange and clove are my go to oils.
Apple cider is one thing that my kids love in the Fall. This is a version that reminds you of those sweet scents.
There's nothing like a walk in the woods in the cool crisp air of Autumn. Bring that into your home with this soap bar.
The unique combination of orange, patchouli, and ginger essential oils creates a very woodsy and calming scent to this soap bar.
10. Gingerbread Soap
These gingerbread soap bars are great to add to molds. Make gingerbread soap people!
11. Pumpkin Cinnamon Layered Soap
A layer of pumpkin and a layer of cinnamon. A very popular Fall soap.
12. Cranberry Vanilla Swirl Soap
Pink swirls are twirled within vanilla cream for a pretty soap bar.
Speckled with cinnamon and scented with vanilla, these sugar cookie soap bars are pretty and smell so good you'll have to remind your guests that it's just soap.
Who doesn't like hot chocolate? Hot cocoa goes with all seasons, but especially those cool Fall and winter days. Cocoa powder and cocoa butter alone add a cocoa scent to this soap.
Cranberry juice in soap does not make your soap pink, but it does add a creamy texture and bubbly soap.
Vanilla is always a fan favorite. Adding a maple scent just makes this a delicious scent for everyone. It also has a naturally dark cream color.
17. Apple Cider Soap
This is a more pure apple cider scent than the spiced apple cider recipe above. I actually use apple cider in this recipe. The sugar adds extra bubbles.
Enjoy these soap recipes! Let me know which one is your favorite.