Some of you may have heard of the term French-milling or hand-milled soap before, but are unsure of what it is, how it's different from other soap processes, or why anyone would want to hand mill soap.
Hand-milling is a valuable skill to know, whether you are a soap maker, someone who wants to be a little more self reliant, or just someone who would like to be a little less wasteful and use items more purposefully.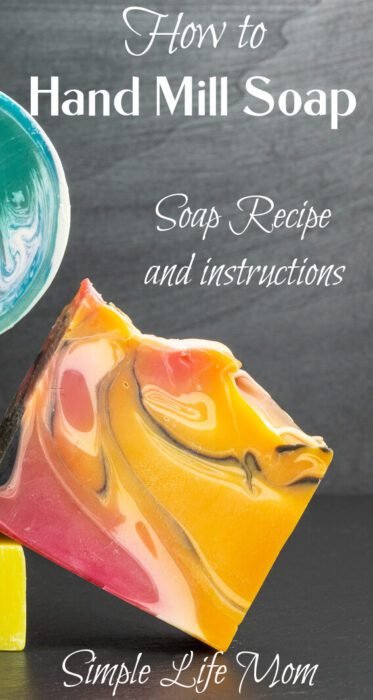 Personally, I started hand-milling soap out of necessity when I first started cold processing soap. I used to call it hot processing, because part of the process is the same as hot processing and the end product looks very similar. But hand-milling is different from hot processing soap.
Hand Milling as Frugal
Hand milling involves taking pre-made soap and repurposing it. It is taking soap pieces that you have around the house, that you've collected from bathrooms when no one wants to use the tiny pieces any more, soap that you have that you want to add scent to, or a botched batch of soap that you are salvaging.
The gold is that if you have a botched batch of cold processed soap (it's too lye heavy, it didn't set up right because of temperatures, seized in the pot, you forgot to add scent or color, etc) then you can hand-mill that soap! This means less worry about wasting expensive ingredients when starting new soap projects. This is why I tell people that almost every soap batch can be salvaged if things go wrong: hand-milling!
What Is Hand-Milled Soap
Hand milling involves cutting up or "milling" soap through a food processor so that it is in small pieces. I like simply cutting the soap into small chunks. Using a cheese grater or milling machine makes tiny pieces that melt very quickly, but I find that they are quicker to burn if the temperature is not correct. I stick to small pieces.
These cut up pieces of soap are then added to a slow cooker on the warm setting. A small amount of water or other liquid is added and then plastic wrap or a cover with a very good seal is added to the top to prevent moisture from escaping. This soap melts from the outside edges where the heat is from the slow cooker and slowly moves to the middle of the pot. When everything is melted, any extras like scent or color are added and the soap is placed in molds.
It's a very simple melting process to repurpose or renew soap.
Hand-milling vs Hot Process and Melt and Pour
How is melting soap and pouring it into soap molds different from melt and pour?
Essentially, the difference is that you are not using a soap block that is specifically made for melt and pour. Because it does not have the added glycerin that melt and pour soap blocks have, the soap needs to be processed with a little moisture added and the end product is more chunky and rustic looking, similar to hot processed soap. You CAN process melt and pour in this way with great success.
How is hand-milling different from hot process soap that is also made in a slow cooker?
Hot processed soap is made from scratch with lye added oils that are in a slow cooker. Hand-milling is using soap that is already made, but that you want to melt and repurpose.
As I said above, hand-milling is a frugal skill to have. I've used it to save botched batches, especially when I was first getting started with cold processing soap and experimenting a lot with ingredients and colors.
Hand-Milling Soap Recipe
Hand-milling is a simple process of cutting up and then melting pre-made soap. If you want more in-depth instructions and a lot more hand-milled soap, melt and pour soap and cold process soap recipes, check out my book, Easy Soap Making by Kelly Cable.
If you'd like to dive into cold-process, check out Natural Soap Making Book for Beginners and other soap recipes and tutorials here on Simple Life Mom.
This recipe is for 2lbs of soap. I've added yogurt, one of my favorite additives for hand-milling, to add a smoother texture to this batch. Vegans can use almond milk yogurt.
Feel free to add color if you are hand milling a non-colored and unscented batch of soap. You can find a melt and pour soap block that can be used in this recipe in my shop.
Lemon Yogurt Hand-Milled Soap
Makes: 2lbs
Equipment needed:
slow cooker
cheese greater or knife
immersion or stick blender
scale
small bowl to weigh essential oils
measuring cup
soap mold
rubber spatula
Ingredients:
2lbs unscented, uncolored soap
1/4 cup plain yogurt (vegan alternative: almond milk yogurt)
0.75 ounces lemon essential oil
Directions:
Turn slow cooker onto lowest setting. Cut soap into small pieces or grate with a large hole cheese grater and place into a slow cooker.
Add yogurt and stir.
Cover with plastic wrap or well sealing lid. Do not lift the plastic wrap or lid until all of soap is fully melted (It will become bubbly starting from the sides and work its way to the middle).
While soap is melting, prepare mold. When soap is melted, remove cover and add essential oils and blend with a stick blender.
Scrape into mold and let cool. Allow to cure for 7-14 days to harden. You can use as soon as it is cool, but it will last longer if it cures for a few days.
If you want to add color to this soap, check out Adding Color to Homemade Soap or Herbal Soap Colorants.